Croatia is increasingly popular for Brit­ish travellers, and we decided to jump on the bandwagon. But rather than head for the Dalmatian coast islands, we opted for the intriguing peninsula in the far north, known as Istria.

There are regular flights from the UK to the region's capital, Pula, where you quickly pick up the Italianate feel, thanks to its well-preserved Roman amphitheatre, Italian menus and elegant architecture left behind by 450 years of Venetian occupation.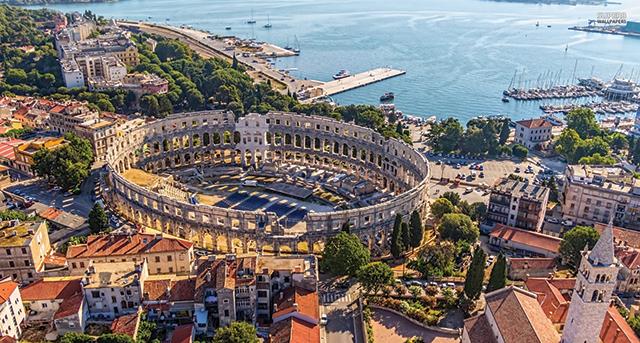 The imposing amphitheatre in Pula dates back to 68 AD

Venice is less than three hours away on a high-­speed ferry these days but Istria very much has its own identity.We stayed close to the town of Sveti Lovrec, a 40-­minute drive north of Pula. It's a beautifully pre­served example of a medieval fortified town. Within its walls, the cobbled streets are deserted and silent but for the tolling of the church bell, while a couple of mini­ supermarkets, bars and an excellent pizzeria lie outside the ramparts.

Don't be fooled, though - Sveti Lovrec erupts into life in early August when the town holds its annual Beerfest - a bit like a huge, unruly wedding.

The peninsula's rugged coastline means that the beaches tend to be small, pebbly affairs. If you're looking for golden sands, head to Dalmatia and the islands. But the geology here throws up far more interesting features. Take the Limski Kanal, for example: a spectacular six-­mile, fjord-­like estuary that cuts inland a few miles south of Sveti Lovrec. You'd think such an enormous channel would be hard to miss, but on our first attempt by car we overshot the turning and ended up in the port of Vrsar, with my partner Nick squinting into a map on his iPhone.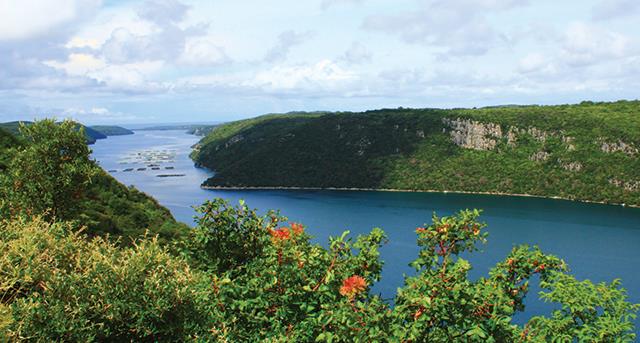 A boat ride down the cobalt waters of Limski Kanal is a must

While negotiating a three-point turn, we were struck by the number of naked families in front of us and it became clear that we had driven into Koversada, a huge nudist colony.

We quickly returned to Vrsar to get on a boat instead; trips run all day every day from the harbour and will take you on a cruise along the Kanal and also to the beautiful town of Rovinj. The town juts out into the sea, a stunning cluster of Venetian houses clinging to a rocky isthmus, crowned with the spire of St Euphemia's Basilica at the top.

We disembarked and ascended the picturesque cobbled streets, enjoying wonderful sea views from outside the Basilica and the cooler air within it. We also discovered the joy of cevapcici (sausage-shaped 'burgers' served with raw onion and pepper sauce) outside a bistro halfway up the hill.

Later, the boat dropped us off to inspect a pirate's cave allegedly used by Captain Morgan and now conveniently housing a bar. From here we enjoyed views of the calm waters and densely wooded banks of the Kanal, and also views of naked pensioners in speedboats: it seems enthusiasm for naturism is everywhere.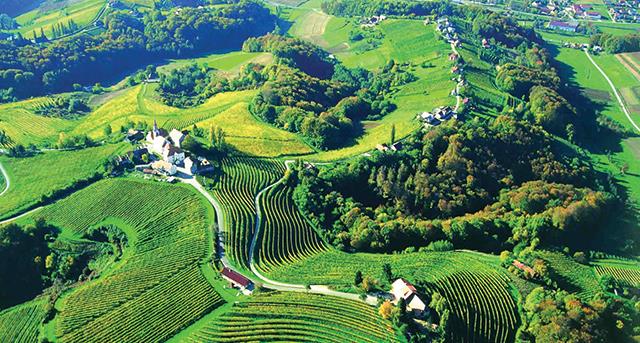 Istria boasts pretty hill-top towns and an undulating landscape

Along the northern bank, restaurants serve up beautifully fresh seafood and it isn't ridiculously expensive. The same goes for most of Istria's restaurants; high quality, low prices. There are treats for the meat-eaters, too: with suckling pigs roast on spits at roadside grills. Another great boat excursion is to the Brijuni islands. This little archipelago, a couple of miles off the coast, has a long and fascinating history.

The Venetians quarried the stone here to build their own city; then, in the late 19th Century, an Austrian entrepreneur turned the islands into an exclusive beach resort, which, after the Second World War, became General Tito's private summer residence.

On Brijuni he entertained everyone from Fidel Castro to Elizabeth Taylor. A little museum houses a terrific exhibition of photos of Tito with his glamorous guests. Tito's parakeet Koki is still alive too and available for a chat in his aviary.

It's once you leave the coast and drive inland that you realise why Istria is often dubbed 'the new Tuscany'. We headed north to hook up with some of Nick's friends, and were stunned by the endless sublime vistas.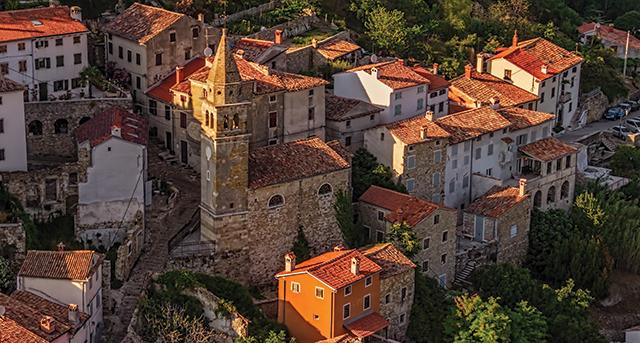 The ancient town of Groznan

One such town, Groznan, is reached only by a winding dirt track and is a haven for artists and musicians. The sound of a cello echoed through the empty streets as we went to meet Mike and Marijana, and sat on a hillside terrace sipping prosecco and gazing at the preposterously beautiful town of Motovun a few miles away.

Later we visited a wonderful restaurant, Konoba Mondo, in Motovun, and had a terrific evening enjoying Istrian produce that inspires its comparisons with Tuscany - first-rate olive oil, world-class wine and truffles galore. As we devoured plates of pasta, we could actually hear the truffle-hunting dogs in the valley below.

Istria is hospitable, charming, a bit off the beaten track and very much on the way up. Tuscany had better watch out…
First published in the Daily Mail -  April 2016
More articles below...