This was not the golden age of travel. Our soft-sleeper carriage had basic bedding and no shower – just a shared sink and one Western-style WC. On a table between the bunks was 'breakfast': cheesy crackers, crisps, a yoghurt drink and a tin of mixed kidney-type beans.

But what our train lacked in luxury was more than made up for by the raw experience of seeing Vietnam up close and personal, as the single-track line weaved through city centres and so close to houses and motorists that you could almost reach out and shake hands.
Working the rice paddy fields
There were 40 of us on our rail tour from Hanoi to Saigon via iconic Halong Bay, then by speedboat up the Mekong Delta into Cambodia. We met as strangers – seven singles, one tour manager and the rest married couples – but friendships were quickly made.

On the way to Hanoi, Vietnam's capital, we passed lush rice fields, the 'hedges' a network of irrigation channels. Water buffalo still plough the land.

Our hotel was minutes from Hoa Lo Prison – the famed 'Hanoi Hilton' (now a museum) that held American prisoners of war in the Seventies, including 2008 presidential candidate John McCain.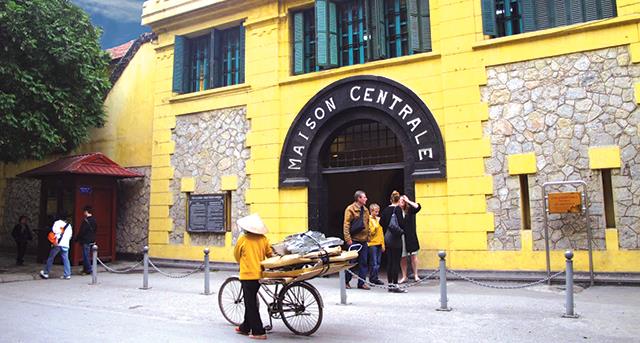 Hoa Lo Prison, more famously known as the 'Hanoi Hilton'
A coach tour took in Ho Chi Minh's mausoleum, modelled on Lenin's tomb in Moscow, and the humble stilt house where 'Uncle Ho' lived.

Travelling in traditional tuk-tuks gave us a close-up view of the narrow old city streets, where locals eat, drink and chat on little plastic stools, or have streetside pedicures in plastic washing-up bowls. Then there's the scooters. Vietnam (a little larger than Italy) is home to 88million people and 35million mopeds and scooters.

Crossing the road is not for the faint-hearted. Our guide joked that traffic lights were merely 'a suggestion'. The trick, he said, is to look confident and walk on: the traffic will weave around you.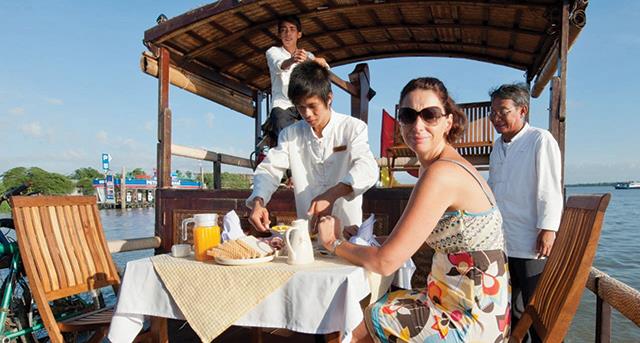 Cruising down the Mekong river
From Hanoi we took a two-day cruise of Halong Bay, with islets of limestone karst pillars rising dramatically from a mist-shrouded sea.

Legend has it the bay was formed when the gods sent dragons to protect Vietnam from invaders. The dragons breathed out jewels, which formed into thousands of islands. Today, it's home to floating fishing villages, rare wildlife and cruise ships.

We visited a floating village, on a sampan rowed by a local girl. Then we boarded the Reunification Railway. You can travel the 1,070 miles from Hanoi to Ho Chi Minh City (Saigon) in 33 hours, but Great Rail Journeys broke it into four days.

We spent one night in a privately run sleeping car aimed at tourists, a notch or two above the regular 'softsleepers'.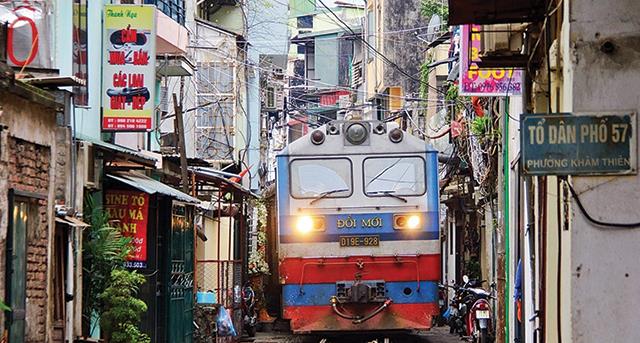 Tight fit: the train inches through the streets
Tip: make sure you secure your door. A Vietnamese woman, seeking a free bed, frightened us in the dead of night when she tried to climb into our vacant top bunk.

But mostly we stayed in hotels along the way, all comfortable with great food. Vietnamese cuisine is one of the healthiest in the world, relying on fresh ingredients and simple flavourings. In the town of Hoi An, my friend Ruth and I went shopping. Ruth had four perfect copies of a favourite dress made in different fabrics, and a young shoe shop girl insisted I hop on the back of her moped – 'Don't worry, I'm a very safe driver' – so I could get another pair of shoes from my hotel while they copied the ones I was wearing.

Our last leg took us into Cambodia along the Mekong river in a speed boat, where we witnessed the harshness of rural life, with stilt shanty houses lacking both running water and electricity.

Elsewhere was evidence of a coming modernity, with the cities leading the way. Even on our train, we got a sense of what might soon be.

My advice is to catch that Reunification Train while you can – before the country changes beyond all recognition. It's charming now, just as it is.
First published in the Daily Mail - August 2016
More articles below...