Room service at my M Social hotel was brought by a robot called Auria. Welcome to Singapore.

It rang me up to say that it had arrived at my door. I popped open a flap in its domed head, took out my morning copy of The Straits Times, thanked it, and off it toddled down the corridor.

Robot room service at the funky M Social Hotel
Glancing through the paper, my eye alighted on what I could only assume was a sensationally ground-breaking article entitled Where To Have Spontaneous Fun in Singapore.

Downstairs at the breakfast bar of the hotel half an hour later, I accidentally smashed a coffee mug.

The relentlessly cheerful coffee station guy - or quite possibly a more advanced type of robot - fell about in paroxysms of delight as if it was the funniest thing he had ever witnessed.

I took another mug from the rack and the coffee machine finished off my cappuccino with a foam portrait of my face.

After breakfast, my city guide was waiting in the lobby. She was wearing a safari outfit with mosquito net veil.

Our day commenced with a ten-minute bumboat (water taxi) ride to a neighbouring island called Pulau Ubin, which means Granite Island.

On the main island of Singapore, five million polite and hard-working souls live together on 274 square miles in multi-cultural harmony - closely monitored by CCTV. Pulau Ubin is a fraction of the size and has 38 inhabitants. The island is a recreation park with walking and cycle trails and viewing platforms raised above the mangroves.

The Merlion statue in the bay, an iconic image of Singapore
Singaporeans as a rule aren't keen on either walking or cycling, said the guide, and neither was she. Plus she was terrified of being bitten by a mosquito. So she had arranged a minibus and driver.

The elderly driver, a native of the island, spoke in a harsh local dialect that made him sound furious about everything.

Soon after we'd set off, he saw a detached orange blossom lying on the track. 'Flower!' he shouted, slamming on the brakes. 'What sort of flower?' I said. 'Flower! Take photo!' he ordered.

A little further on, an adolescent wild pig was rooting around a litter bin. 'Pig!' he shouted. Guessing it was tame, like everything else in Singapore, I got out of the minibus and gave it an affectionate pat.

The other highlights of our island tour were some busy crabs, an old quarry, and an abandoned Thirties bungalow of stockbroker Tudor design.

Five exhausted Singaporean women - the only humans we encountered - flagged us down and implored us to give them a lift back to the bumboat jetty.

In fairness to Singaporeans, why would anyone want to visit raw nature when they can see 10,000 neatly labelled species of plant, including 1,200 types of orchid, arranged among the manicured lawns and flower beds of the magnificent Singapore Botanic Garden, while a full orchestra on the bandstand is playing a medley of hits from all your favourite musicals?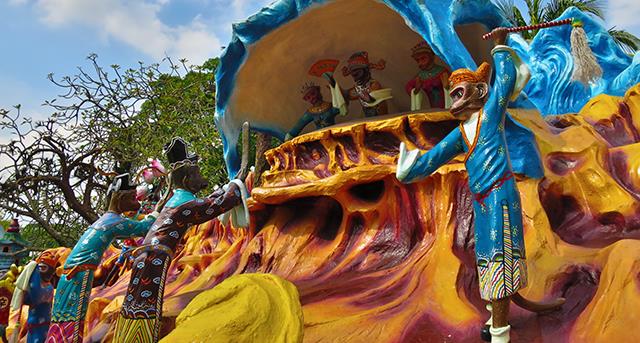 Haw Par Villa with its gory dioramas of a torturous version of hell
In the afternoon the guide took me to see the grisly Courts of Hell at Haw Par Villa, built in the Thirties by two Burmese-Chinese brothers with the proceeds of their Tiger Balm fortune.

The Courts are gory dioramas graphically depicting the torments and eternal torture of sinners in a Confucian version of Hell.

Every Singaporean child is brought here as a warning. Previously they were put in a sinister boat which entered Hell through a dragon's mouth; now they walk.

The guide speculated quite plausibly that this ghastly attraction was the main impetus behind Singapore's morally-driven economic miracle.

An hour later, chastened and shriven, I took my seat for the evening's Formula One race - to my mind a worse kind of Hell than the one I'd just visited.

Coincident with the start of the race on the Marina Bay Street Circuit was a violent rainstorm.

I legged it back to my room at the M Social, called Auria and asked it to bring up a beer and a sandwich.

Then I switched on the telly and watched the race via a camera mounted on the leading driver's helmet.

But only for about five minutes.
First published in the Daily Mail - February 2019
More articles below...