Japan is back with a bang - or should that be an elegant puff of pink - as this spring is the first in years that tourists will be able to experience its famous cherry blossom season.

The short-lived event - known as sakura season - sparks a huge national celebration, and in the build-up to it there's even a dedicated forecast on the TV weather report. Japan Meteorological Corporation has predicted that Tokyo will burst into bloom from about March 22-30, and in Kyoto from March 27 or 28, peaking on April 5.

As the pink buds pop, visitors descend on Japan's most photogenic sights and parks, while locals roll out blue tarpaulins under the trees for convivial hanami (cherry-blossom viewing) parties with friends and family - and a fair amount of sake.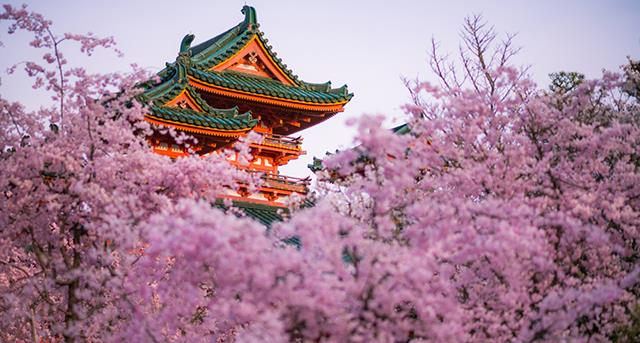 Heian Jingu Shrine draped in weeping blossom
It seems impossible not to be swept up in sakura season. 'This will be our busiest cherry blossom season ever,' says James Mundy of specialist travel agent Inside Japan Tours.

And it is most acute in Kyoto, a city famous for its Unesco world heritage listed ancient structures such as the Daigo-ji Temple and Heian Shrine whose surrounds become draped in weeping blossom.

Kyoto's 60,000 hotel rooms are almost filled, but luxury travel companies are still offering itineraries that include the country's top blossom-viewing spots.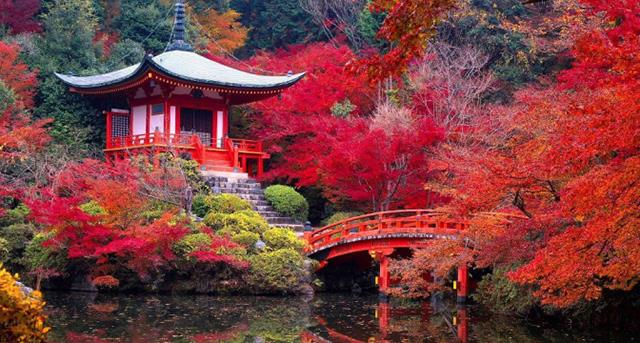 Daigo Ji Temple set in stunning gardens
'Kyoto is the trickiest piece in the puzzle,' says Mundy. 'We often put a halt to cherry blossom sales around late February as places across Kyoto fill their rooms. There's still availability now, but time is of the essence.
'Tokyo is also busy, but securing accommodation there is less of a problem. '
Alternatively, consider staying in Osaka, which is just 15 minutes away by bullet train.

Or get the temple backdrop to your cherry blossom photos in the ancient city of Nara, just 35 minutes from Kyoto by train. There you'll find similarly beautiful spots, including Nara Park with its famously inquisitive deer, and a giant Sakura Buddha statue at Tsubosakadera Temple, which becomes enveloped in pink blossoms.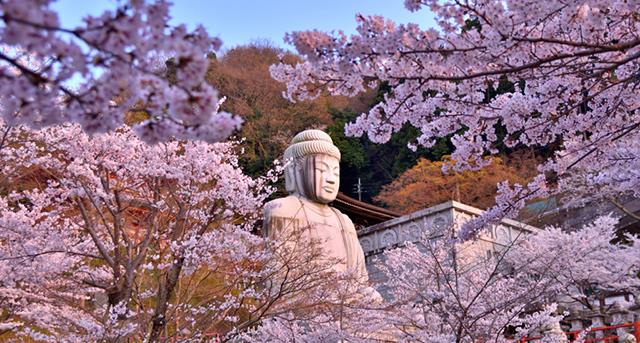 Sakura Buddha statue atTsubosakadera Temple enveloped in pink blossom
Cruise liners have also returned to Japan, and the ports of Osaka and Kobe are convenient gateways to Kyoto.

Princess Cruises 18-day 'Kyushu, Shikoku and Japan Explorer Spring Flowers' itinerary that departs Tokyo and reaches Osaka at the beginning of April, just in time for the blossom peak in Kyoto.

Regent Seven Seas Cruises' 14-night 'Sushi, Sake and Shimizu' trip calls at Kobe, which is perfect for Kyoto, but also Himeji, whose spectacular White Heron castle will be wrapped in blossom.

But while the main cities will be heaving with visitors, Japan is awash with stunning destinations as the sakura zensen - cherry blossom front - sweeps up the country like a weather system, triggering trees into bloom at different times - from Kyushu in the south in late March to Hokkaido in the north at the end of April. In Kanazawa, on the Sea of Japan coast two and a half hours from Tokyo by bullet train, the cherry blossom arrives after Tokyo and Kyoto, usually around April 1.

And there's always cherry blossom season 2024 and beyond. Book now and you'll have the pick of trips - although be warned that some have a sizeable waiting list of travellers keen to tick off sakura season from their bucket list.

The message is: spring into action now if you want to be among them.
First published in the Mail on Sunday - January 2023
More articles below...