It's raining and suddenly my terrace is flooded with sound - heavy droplets drum down, frogs chatter, birds hiss and cicadas chant in chorus. A high-pitched wail from some jungle creature pierces the sultry, twilight air and halts my swim. Peering over the edge of the infinity pool into the waterfall and jungle below, I feel like I'm living an episode of Planet Earth. 
Ever bewitching, Indonesia has the power to simultaneously arrest every sense. I'm treated to this dusk performance while taking a dip in my private plunge pool, just one of the many fabulous features of the luxurious treehouse-style suites at Four Seasons Resort Bali At Sayan in Ubud.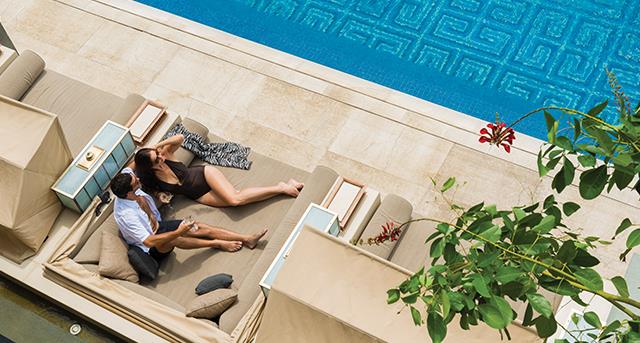 Soak up the best ofBali and Sundara Beach Club

From an unassuming entrance on a dusty street, guests travel along a road flanked by treetops oblivious to the Bond-style lair that lies beneath the canopy. The main building has been designed to resemble a huge rice bowl laden with unexpected surprises on each level – Jati bar, Ayung Terrace restaurant and a spa all overlook the lush greenery present at every turn.
In harmony with its locale, the hotel offers a day in the life of a Balinese farmer experience - learning how to plant and farm a rice paddy field, followed by a traditional lunch and then a revitalising Chakra ritual. 
Our friendly guide Santika leads us to the outer edges of the hotel, which spill into Ayung Valley's green paddy terraces. 
After a tour of the herb garden, packed with fragrant and healing plants, we learn about 'taksu' a spirit said to dwell within each of us. Then it's time to don a traditional farmer's hat and wellies as I vigorously turn over the turf, letting the water swell over my 'rice patch'. 
Following a lunch of rice, fruits and meat, I head to a small spa overlooking the water. Frangipani suffuses the air and after completing a heath survey, I have a Manipura Chakra ritual focusing on my digestive system. I'm given ginger and honey to drink before being scrubbed with Himalayan salt and sea oil and wrapped in mud. Eventually I take an alfresco herbal bath before I'm kneaded with a soothing massage into utter relaxation.
I also try anti-gravity yoga, which involves swinging and contorting myself in a hammock. It involves a lot of time upside down and soaring through the air.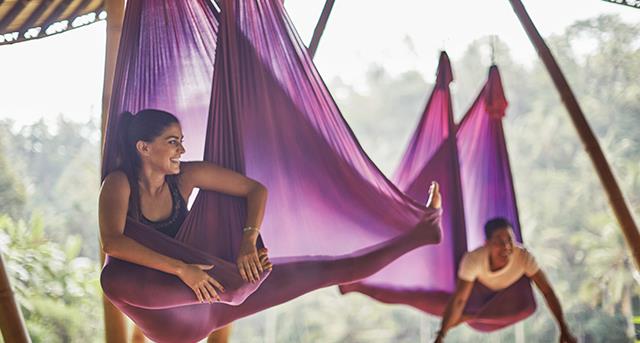 Enjoy a session of anti-gravity yoga
I regain my balance with a Buddhist nun who arrives to meditate with my yoga group. Although she's only in her thirties emanates an ancient wisdom. Melodiously, she encourages us to appreciate the present, to listen to distant water trickling, chickens clucking and her singing bowl lilting across the incense-infused air. Some of my group are so moved they weep.
It's hard to deny the island has an intoxicating energy, drenched in timeless mysticism. It's why there are so many yoga retreats here and travellers following the trail of the cult movie Eat,Pray, Love.
I'm holidaying at both hotels on the island that Julia Roberts stayed at during filming. My contrasting, yet equally luxurious, second address is a laidback beach haven, Four Seasons Resort at Jimbaran Bay, favoured by celebrities including Nicole Kidman, Nicolas Cage and Cameron Diaz.
The dreamy retreat overlooks the bay's enticing white sands and cerulean waters with the jade outline of Mount Agung in the misty distance. 
Guests are housed in villas with private gardens and the resort is built in the style of a Balinese village. Despite there being 147 villas and nine residences, while sprawled out on a sun-lounger I feel like I have this slice of paradise all to myself.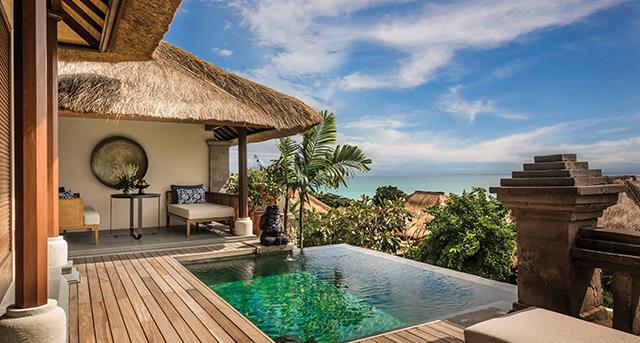 Take a dip in your own private pool at a villa in Jimbaran
Energetic guests can try paddle-boarding, kayaking and surfing lessons. I opt for Hatha yoga, revitalised as I meditate to a soundtrack of waves crashing against rocks.
Uluwatu monkey temple is nearby. From the lofty pinnacle of the park, you're rewarded with breath-taking ocean panoramas. Tirta Empul temple in Tampaksiring, bustling with pilgrims, is also worth a visit.
Closer to Jimbaran is Pedang Pedang - the hidden beach of fantasies. After a climb down a winding staircase you're confronted with a paradise expanse that stole a scene in Eat, Pray, Love.
Blessed with a cinematic backdrop, intriguing spirituality and glamorous hotels, the magic of a spa break in Bali will linger with you long after you've left.
First published in the Mail Online -  July 2017
More articles below...