Freedom  is a loaded word in Hong Kong. Ever since the UK handed the former British colony back to China 20 years ago there have been protests over democracy.
They are likely to get louder. But this sense of being caught between two worlds is why the city remains such a fascinating place to visit.
A New York minute is still a Hong Kong second (an American expression that acknowledges that the pace of business life in Hong Kong is, astonishingly, even faster than that of New York); the Star Ferry on Victoria Harbour dutifully delivers 20 million people a year between mainland Kowloon and Hong Kong Island. And it all works perfectly, from the efficient MTR tube network stretching to the border, to children in crisp uniforms walking to school in crocodile lines.
China and Hong Kong have put their differences aside to build a 31-mile, multi-billion-pound bridge linking Hong Kong with Zhuhai and Macau. The mega-structure is due to open this year.
Life is being breathed into the once run-down Old Town Central. Where the British planted their flag in 1842 a younger generation is descending on craft beer shops and hipster cafes. 
A full-colour graffiti of Bruce Lee pays homage to the martial arts icon, who was raised in Kowloon.
For Bruce fans, there is also an exhibition on his life and career at the Heritage Museum until summer 2018. 
Rural scenery accounts for 70 per cent of Hong Kong. Mountain ascents are at your fingertips; queue for the rickety tram up Victoria Peak and you'll be rewarded with a view of futuristic towers rising from the greenery.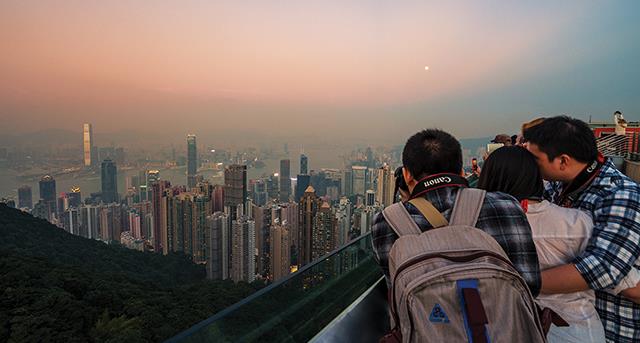 Take the tram to the top of Victoria Peak for a rewarding view
Pound the rusty-red dirt of the Dragon's Back trail near To Tei Wan village for a more ambitious climb (from one to six hours, depending on the chosen route).
At Nan Lian Garden in Diamond Hill, Chinese zither music sets a sedate pace on paths around laurel, koi ponds and pagodas. 
Dim Sum cafe chain Tim Ho Wan serves the world's cheapest Michelin-starred food. Two venues have this mark of quality - but avoid their queues by tucking in at the Hong Kong Station branch. Bottomless tea is 30p and the pork buns are £2 for three.
Or join the refined crowd at gallery-restaurant Duddell's, which merges Cantonese food with a modern atmosphere.
An old ping-pong hall in Sai Ying Pun is now the trendy tapas-and-gin hangout Ping Pong Gintoneria, while Japanese yakitori restaurant Yardbird, in Tai Ping Shan, is the place to be seen.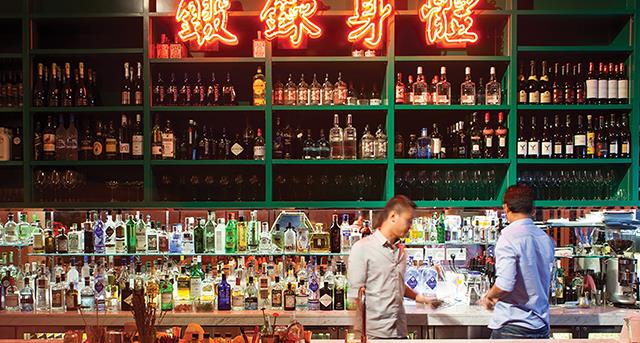 Try Ping Pong Gintoneria - the trendy new tapas and gin hangout
Seek out the speakeasies around lively Hollywood Road; Mrs Pound's chop-shop facade is a world away from the neon glamour inside, while Stockton is down a hidden alley. Newly-opened Kwoon, which seats about ten, turns out great cocktails to order.
With no sales tax, designer stores are a magnet for serious shoppers. Spend half a day in Mong Kok. The Ladies' Market, selling chopsticks and silk garments, is close to the Goldfish Market - where you'll be eyeballed by reptiles and glistening fish. Pulling favours from the spirits is big business. Fortune tellers tucked between market stalls help with life's major decisions and Taoist temples inhabit the unholiest of alleyways, their incense burning like beacons in the dark.
Hollywood Road's Man Mo Temple is the oldest and most revered. Reputedly home of the literary spirit, it is the scene of parents laying celery and spring onions to boost their children's school grades. 
The Big Buddha of Lantau pulls in the crowds, but Lamma Island, where a small community is built around a fish farm, is an escape from the chaos.
Seafood restaurants here look more like aquariums. But there's one fish that isn't for the table - a 2.74m oarfish, mounted inside the temple, which was so rare when it was caught that the fishermen declared it a god.
First published in the Daily Mail -  September 2017
More articles below...