The long transition from war zone to fashionable holiday place has happened several times before, but never perhaps with such pace and style as that accomplished by Vietnam and Cambodia.
Until relatively recently Vietnam's Mekong Delta summoned up thoughts of the epic 1979 war movie Apocalypse Now, in which Martin Sheen's soldier journeys upriver on a patrol boat in search of a renegade officer played by Marlon Brando.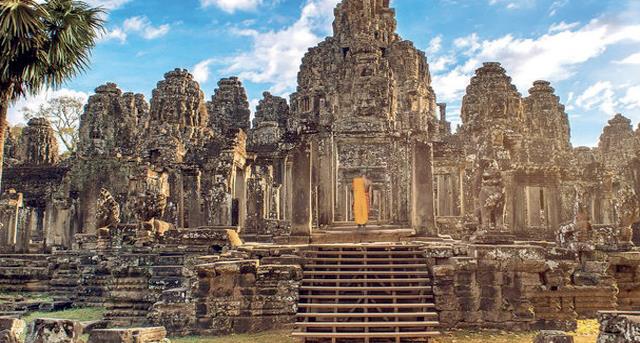 A highlight is to watch the sun rise over Angkor Wat
A BIT ABOUT THE MEKONG
The Mekong played a key role in the war. Former US Secretary of State John Kerry commanded a Swift patrol boat on the river 50 years ago - he was so appalled by what he saw during his period of combat that he became a fervent anti-war campaigner. He subsequently entered politics, becoming the Democratic nominee for President in 2004.
Last year, Kerry returned to the Delta and discovered that the free-fire zone he had served in was now the starting point for one of the world's great cruising experiences.
The 2,700-mile Mekong begins as snowfall on the Tibetan plateau among the Himalayas - and ends at the Mekong Delta in Vietnam where it flows into the sea. Like most rivers, through history it has been a source of life and hope. Its waters play a vital part in irrigation: in the Mekong Delta the rice fields thrive because of it. Politically, it acts as a border between countries - it passes through six.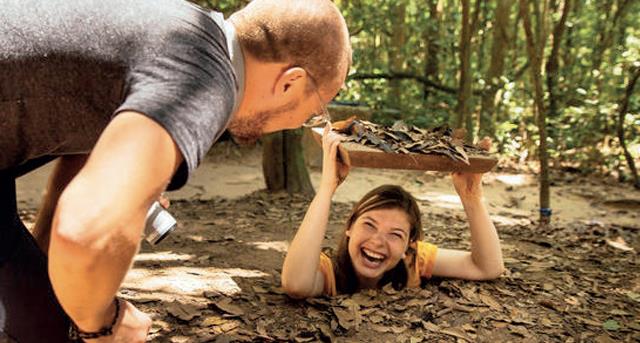 Visit the Cu Chi Tunnels near Ho Chi Minh City
ALONG THE RIVER
A Vietnam and Cambodia river trip needs at least a fortnight to do it justice - beginning for example in Ho Chi Minh City, formerly Saigon, and ending in Siem Reap near the extraordinary Angkor temple complex. A highlight of any trip here is to watch the sunrise over Angkor Wat.
As with most river cruises, a key attraction is the service on board.  Much sought after is the cuisine of Luke Nguyen - an acclaimed chef, author and TV personality who serves his own brand of local cuisine paired with quality wines. In Ho Chi Minh City, passengers can enjoy an exclusive dinner at the stylish Xu restaurant, inspired by Luke, with a range of exquisite dishes that offer a contemporary take on traditional Vietnamese favourites.
There is also the possibility of having a Vietnamese cooking class on some boats, as well as a dance show by children from a local orphanage, a water blessing by a monk and a visit to a local farmer's home.
Guests can visit the Cu Chi tunnels, which were used by the Viet Cong. There is also a chance to enjoy the Rex Hotel, famous as the place where during the Vietnam War the American military command held its daily news conference, referred to by war correspondents as the Five O'Clock Follies thanks to the absurd optimism of the American officers. The Rex's rooftop bar was a well-known hangout for military officials and war correspondents.
There are more harrowing reminders of troubled times in Cambodia, where tours are available from Phnom Penh to the Killing Fields at the village of Choeung Ek, the site of a Buddhist memorial to the victims and a genocide museum commemorating the genocide.
A memorial park has been built around the mass graves of many thousands of victims, most of whom were executed after interrogation at the S-21 Prison in Phnom Penh. Tuol Svay Pray High was turned into a torture, interrogation and execution centre. Of the 14,000 people known to have entered, only seven survived.
But the most memorable feature for most visitors will be arriving at Siem Reap, from which tours depart to Angkor Wat.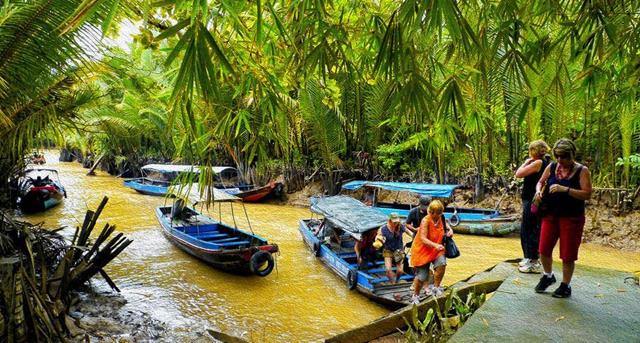 Take a tour a long the Mekong Delta
SIEM REAP
Siem Reap used to be a stopping-off point. Thanks to the growth in tourism it has become a destination in its own right. It has attracted a burgeoning community of Cambodian and international artists: the Angkor Wat International Film Festival, for example, has become a major event.
The prime attraction, however, is the temple complex at Angkor Wat, where you will be taken to watch the sunrise. The temples are on top of a hill; on arrival you will enjoy a fabulous view over Tonle Sap lake, the Kulen Plateau and paddy fields.
Built more than 1,000 years ago, the temple is beautiful, particularly when the frangipani trees are
 in bloom.
First published in the Daily Mail -  September 2018
More articles below...