Overview
New England is not only a great place to visit in the colourful Fall as you will see on this great 13 day tour which begins and ends in the historic city of Boston. On your travels you will visit Salem, scene of the infamous witch trials, the coastal town of Kennebunkport, Bar Harbor, the beautiful White Mountains, the famous ski resort of Stowe, the Green Mountains of Vermont and the towns of Newport, Falmouth and the picturesque Berkshires. And you will discover so much to see and do during an action packed itinerary.
Enlarge map
Day 1
Boston
After arriving at Boston's Logan International Airport drive to your hotel in the city. Today you can visit the Boston harbour and take an organised walking tour. The HarbourWalk links the water's edge to the city's open space system. Another option is visiting Faneuil Hall Marketplace which is made up of a collection of boutiques, restaurants and pushcart vendors housed in a converted 18th century warehouses. Here you can enjoy the street entertainers that frequently perform just outside.
Day 2
Boston
Today is free for you to explore this historic city. Follow the red footsteps of the Freedom Trail, one of Americas' first historic walking tours. This is the perfect introduction to Colonial and Revolutionary Boston and takes you to 16 historical sites covering two and a half centuries of America's most significant past. Visit Paul Revere's House, the oldest building in downtown Boston which was the home of Paul Revere and his family from 1770 to 1800. Revere left here for his famous midnight ride. Walk through history as you visit each of Boston's sites and stop at the dock where it all began, the Boston Tea Party, the revolution that changed the world.
Day 3
Boston to Kennebunkport
Boston and drive north towards Salem. The infamous Salem was home to the witch trials of 1692 when a group of girls and women in Salem Village, who had been dabbling with the occult, began acting in a strange manner. A local doctor claimed they were afflicted by the "evil hand" setting the stage for the accusation of approximately 190 people for witchcraft. Well aware of its infamy, Salem has a number of attractions centered on this uneasy time, including haunted tours and re-enactments. Then drive on passing Gloucester, America's oldest fishing port, toward Kennebunkport which has many historic and fun-filled attractions.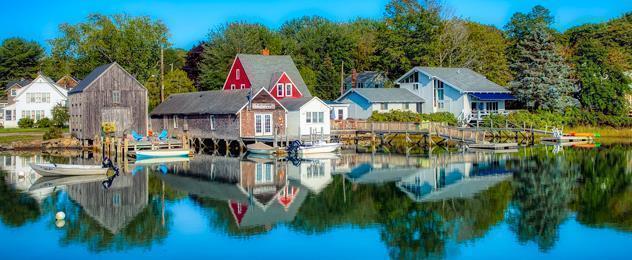 Day 4
Kennebunkport to Bar Harbor
This morning get to know Kennebunkport and all its natural wonders like Spouting Rock and Blowing Cave, which lie on the popular shore walk. This port river also separates Kennebunkport's Dock Square from the Lower Village, both of which are packed with stores, restaurants and historic sites. Take a look at Walker's Point as well, a peninsula extending from Ocean Avenue into the Atlantic Ocean and best known as the summer home of the Bush Presidential family. In the afternoon continue to Bar Harbor which is a favourite holiday destination offering spectacular beauty and natural wonders for those who like to spend their time outdoors.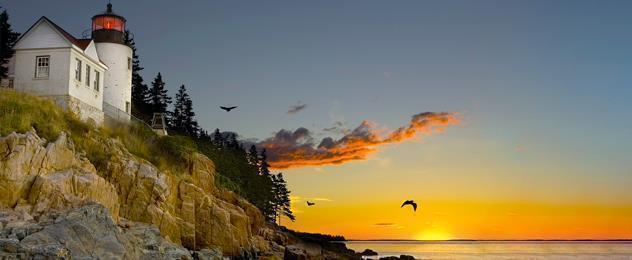 Day 5
Bar Harbour
Today you can explore Bar Harbor and its surroundings at your leisure. Visit Mount Desert Oceanarium which includes a lobster museum, a marsh tour, and a lobster hatchery. For a touch of nature, visit Acadia National Park, New England's only national park which has 6,000 acres of mountains, rugged coastline, islands, forests and lakes where you can hike, bike, canoe, fish, and explore the trails. You could rent a bicycle and explore the area as the locals do, take an entertaining walking tour of downtown or explore Maine from the water side by paddling a canoe or kayak either on your own or with an experienced guide.
Day 6
Bar Harbor - White Mountains
Leave Bar Harbor behind and continue on your journey through coastal Maine to Jackson. Today take a drive to the White Mountains National Forest. Better known as the Whites, in central New Hampshire, this is one of America's most popular public lands. The White Mountains rise in dramatic relief to the north of the state's central plateau. Take a train ride through this scenic area on one of the Valley routes to Conway or Bartlett, or the legendary Crawford Notch excursion, travelling in the comfort of open or enclosed restored passenger cars.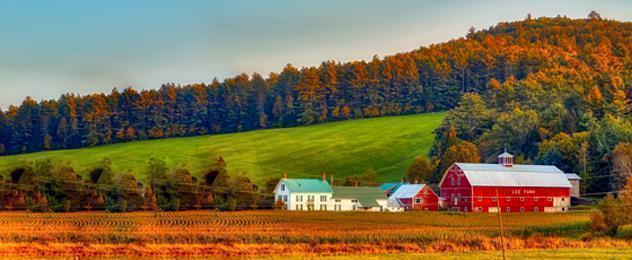 Day 7
White Mountains - Stowe
As you leave Jackson this morning, through the White Mountains, visit Franconia Notch State Park where a cable car brings you to the top of Cannon Mountain in less than 10 minutes. On a clear day you can see as far as the mountains of Canada. At the arrival point you will find spectacularly scenic walking paths and a 360-degree observation deck. You can also visit Mount Washington, the highest Mountain peak in the Northeast, during the day. Then continue to the Stowe area in Vermont for an overnight stay
Day 8
Stowe to Green Mountains
Leave the Stowe area and drive towards the Green Mountains. On your way, you will pass Moss Glen Falls, a roadside attraction featured in just about every photographic portrait of Vermont ever published. You can enjoy a horseback ride through a gorgeous trail. The best viewpoint is along the boardwalk and you can also visit the Smugglers' Notch State Park. This park is great for hiking and offers several short, medium and long trails varying in grades. An overnight stay has been arranged in the Green Mountains area.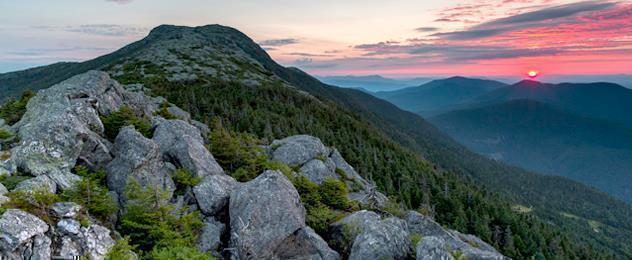 Day 9
Green Mountains to The Berkshires
Today you drive to a new state to visit The Berkshires in Massachusetts. a beautiful place at any time of year. The Berkshires is known widely as a cultural hub of museums, historic sites, music, dance and art venues. In addition to arts and culture, the region also offers outstanding opportunities for golf, hiking, backpacking, mountain biking, fishing, whitewater rafting, canoeing and kayaking. All of these activities take place amid spectacularly scenic rural hills, dotted with mountain streams and lakes.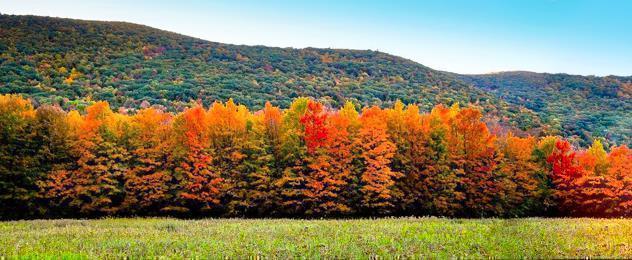 Day 10
The Berkshires to Newport
Leave the Berkshires and drive to Newport known for its numerous Gilded Age Mansions. Home to spectacular coastal scenery, awe-inspiring architecture, a thriving waterfront downtown, and welcoming hospitality, Newport is considered by many to be a shining gem in the coastal crown of New England. Enjoy the peaceful waters of Narragansett Bay aboard the elegant Newport Dinner Train or visit Bannister's Wharf, which is now the hub of Newport's harbour-side shopping and dining. Here you can find eclectic boutiques and numerous restaurants from sophisticated to casual.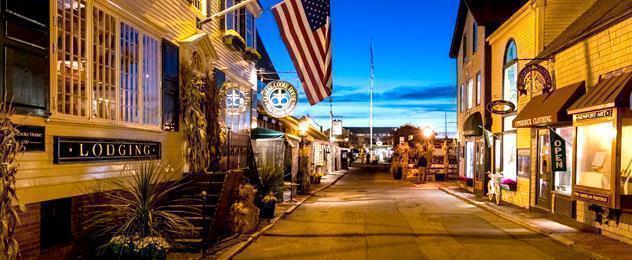 Day 11
Newport to Falmouth
Leave Newport and drive toward Cape Cod. People come here to feel inspired, to walk the pristine beaches and to revel in the arts. Lighthouses, cultural landscapes, and wild cranberry bogs offer a glimpse of Cape Cod's past and continuing ways of life. Swimming from the beaches, walking and biking trails are popular activities here. Hyannis Harbour is also bustling with activity, fishing and sailing charters, and the Kennedy Monument is found here. Main Street is home to shops, restaurants, and a few nightclubs. There is also Hyannis Port, home to the Kennedy Compound.
Day 12
Falmouth
Today you can decide between visiting Martha's Vineyard or Nantucket Island, which are next to Cape Cod and reachable by Ferry from Falmouth. Both are also full of charm and typical New England atmosphere. The best way to see the prettiest spots on the islands are on foot, bicycle or a combination of the two. Go horseback riding on the beach at sunset, look for sunken ships and lost schooners on a scuba excursion or ride the surf on a boogie board. Whether you want to cast your line for a feisty bluefish or soar above the island in a biplane, you will find an activity that suits you.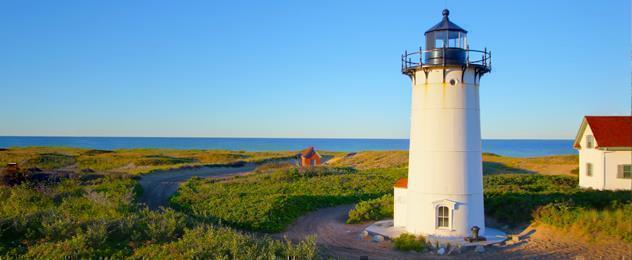 Day 13
Boston & departure
On your last day of the tour you may want to visit historical Plymouth Rock on your way to Boston. Pilgrim Memorial State Park is at once the smallest and the most visited parks in Massachusetts and in the park is Plymouth Rock, symbolising the spot where the Pilgrims disembarked from the Mayflower when they first landed on what was to become American soil. Then make time for a beer at the famous Cheers Bar in the city before heading to the airport for your flight home.