Overview
This 5 day cruise around the Western Galapagos on the M/V Santa CruzII is a great way to experience these fascinating and exotic islands. The 43 cabin Santa Cruz was built exclusively for Galapagos Island cruising and boasts superb service, expert crew, knowledgeable guides, and the very best international cuisine as well as Ecuadorian specialties. The sun deck features a bar and Jacuzzi and a platform for dolphin and whale watching while the dining room and lounge are elegantly appointed and there is also a well stocked library. A flexible programme allows for different activities every day and there is even a glass bottom boat so you can watch the marine life throughout the cruise.
Enlarge map
Day 1
Baltra & Santa Cruz
Your Galapagos adventure begins when you arrive by plane on Baltra Island and immediately transfer to the dock to board the M/V Santa Cruz II. After a welcome introductory briefing and lunch Baltra Island Cerro Dragon (Dragon Hill) (Santa Cruz Island) The north shore of Santa Cruz hosts the fascinating landscapes of Cerro Dragon (Dragon Hill). The first part of our walk passes a brackish-water lagoon frequented by shorebirds, ducks and flamingos, while further inland, the trail offers a beautiful view of the bay and the western islands of the archipelago, as well as the chance of observing land iguanas
Day 2
Isabela & Fernandina Island
Since there is no landing site at Isabela Island, the coastal exploration is by panga, while the naturalist guide explains the dramatic geology of the area with remains of lava flows and tuff stone layers. This is the nesting place for flightless cormorants. Wildlife here also includes sea lions, Galapagos fur seals, penguins, blue-footed and Nazca boobies and noddy terns. Yo may also be able to take a snorkelling outing along the cliffs of partly-sunken Ecuador Volcano to see green sea turtles and oceanic sun fish. After lunch on board visit Fernandina Island, the youngest island of the archipelago, for a one-mile walk over dark lava and see the marine iguanas, sharing their space with sea lions, sally light-foot crabs, hawks, penguins and the flightless cormorant.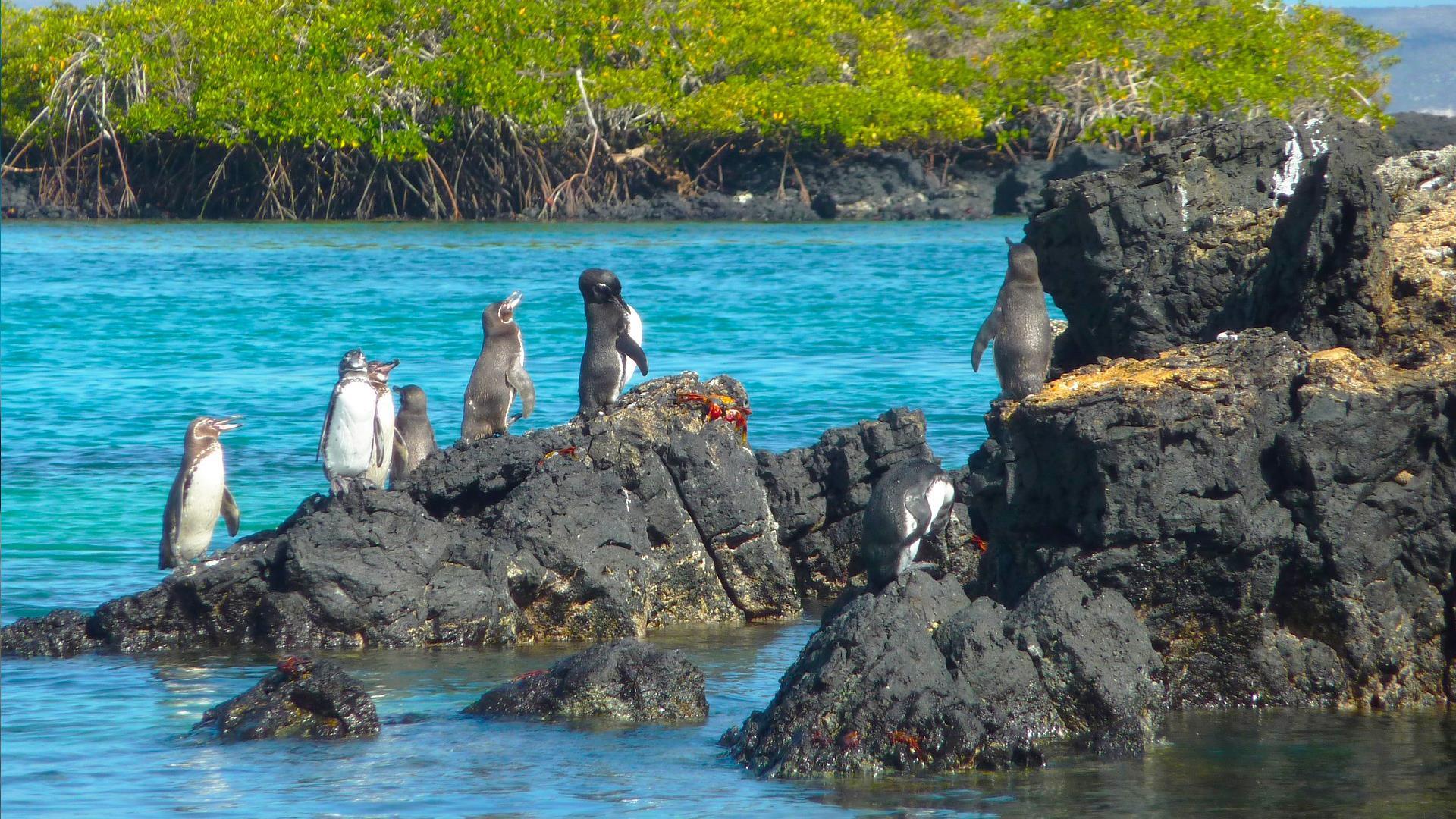 Day 3
Santa Cruz Island & Charles Darwin Centre
This morning visit the Charles Darwin Research Station and the giant tortoise pens, where tortoise celebrity Lonesome George lived within an impressive giant prickly-pear cactus forest which is home to many land birds. These are the headquarters of scientific investigation, conservation and the National Park administration. After lunch at the poolside of the Finch Bay Eco Hotel take a bus ride to the Highlands of Santa Cruz Island to enter the famous Giant Tortoise Reserve, and see the impressive migrations these giant reptiles must endure every year for feeding and reproduction. The enclosure is framed with lush vegetation and many unique land birds can be seen, such as the rare woodpecker finch, one of the world's few tool-using species.
Day 4
Floreana Island
A morning visit to Post Office Bay, where a short walk leads to the historic barrel where mail can be left for guests from other vessels to be hand-delivered to its destination, a unique two centuries old tradition. Near Post Office Bay, explore the north shore of Floreana along narrow channels teeming with life. After a wet landing and a short walk up to a volcanic cone, you reach the Baroness's Tower, from where the entire northern shore can be seen. After lunch on board visit Cormorant Point, an olivine-crystal beach for an easy walk to a brackish lagoon where lots of rare birds can be seen and a beach where turtles emerge from the sea to nest. You can also take a glass-bottom boat to Devil's Crown. Tonight enjoy a farewell cocktail before dinner.
Day 5
Baltra Island
Your wonderful cruise around the Western Galapagos islands comes to an end today when the M/V Santa Cruz arrives back at Baltra Island. Say farewell to the crew and new found friends before being taken to the airport for the flight back to the mainland. Here you can continue your holiday and stay on in Ecuador, visit another country in South America, or go to the airport to catch your flight home having visited one of the most fascinating and exotic places on Earth.