Overview
Feeling adventurous? Well here's your chance to go on a Great Beach Drive Down Under with lots of exciting activities along the way. Beginning and ending in Brisbane, you will travel along the spectacular Sunshine Coast with the chance to go surfing, skydiving, horse riding, diving, sailing, and four wheel drive off roading. This nine day trip makes a great add on to any holiday in Australia and will leave you with so many wonderful memories.
Enlarge map
Day 1
Brisbane
Your adventure begins when you pick up your rental car at the Brisbane City Depot or Brisbane Airport Depot and begin your drive along Australia's Nature Coast. Your destination today is beautiful.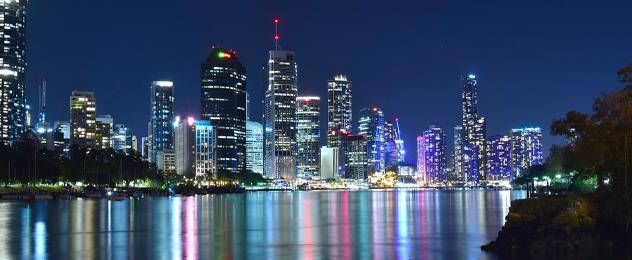 Day 2
Rainbow Beach
A full day at leisure with plenty of time to explore Rainbow Beach between adventurous activities. While at the resort you can try paragliding, hang gliding, skydiving, surfing, fishing, riding, walking or take a 4WD adventure. There is great diving at Wolf Rock and the surf at Double Island Points has a great long right hand break.
Day 3
Fraser Island
This morning you leave Rainbow Beach and make your way to River Heads and check in at the Kingfisher Bay Resort. From here you go off to explore incomparable Fraser Island – the largest sand island on earth. This World Heritage-listed icon has ancient rainforests, more than 100 freshwater lakes, huge sand blows, rock pools and an amazing 75 mile beach highway - complete with a shipwreck and cliffs of stunning coloured sands.
Day 4
Fraser Island
Enjoy time at leisure to explore Fraser Island and its surrounds .Activities you can try today include a Fraser Island tour, an adventure tag-a-long tour, or hire a 4WD. You can also take a scenic flight over the island or cruise across the Great Sandy Straits, view famous sites including shipwrecks and swim in freshwater lakes. All the time keep a look out for the native Australian Dingo.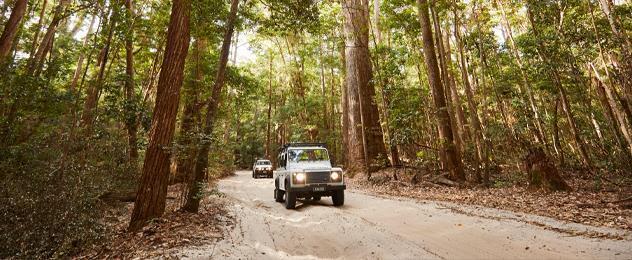 Day 5
Hervey Bay
Today you say farewell to Fraser Island's Kingfisher Bay Resort and travel to River Heads. Here you will find safe sheltered waters making it an aquatic paradise perfect for year round swimming. Activity options today are endless and include diving, sailing, watersports and fishing. Visit cosmopolitan and alfresco cafes, shops, parklands, picnic areas, playgrounds, piers and a vibrant marina.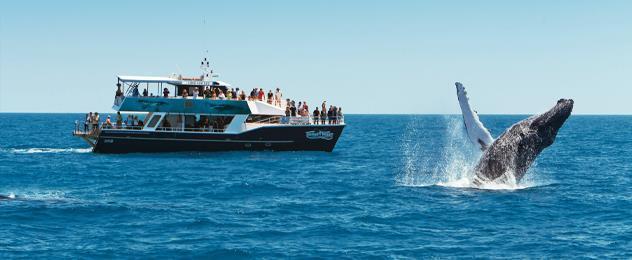 Day 6
Hervey Bay
A full day at your leisure in Hervey Bay to explore the area and it's surrounds including Maryborough, birthplace of the famous novelist and creator of Mary Poppins. Enjoy the experiences along the Magical Mary trail, home to historical precincts and beautifully preserved colonial streets and visit Mary River which offers a number of water and outdoor pursuits.
Day 7
Tin Can Bay
Leave Hervey Bay today and travel south to the little village of Tin Can Bay which is renowned for its water activities and delicious seafood. The Bay's calm waters provide the perfect opportunity for sailing, swimming, fishing and even dolphin spotting. Here you can hand feed the rare Indo-Pacific humpback dolphin, visit Poona National Park to explore tidal pools and see wildlife at Tinnanbar with sea turtles and the second largest protected area for dugongs.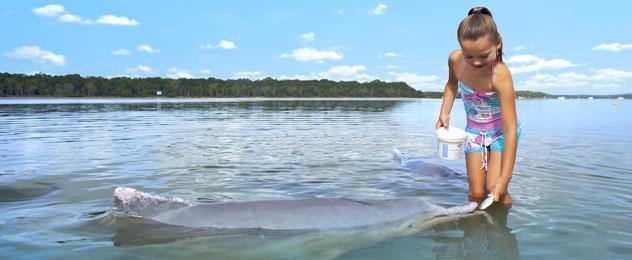 Day 8
Sunshine Coast
After breakfast enjoy a full day exploring Australia's beautiful Sunshine Coast area. Today you can be as lazy or active as you like. Maybe go riding on the beach, stop for a trip around the the Noosa Everglades on a kayak, canoe or bost and view the amazing array of abundant wildlife including whales, dolphins, birds of prey, kangaroos and monitor lizards.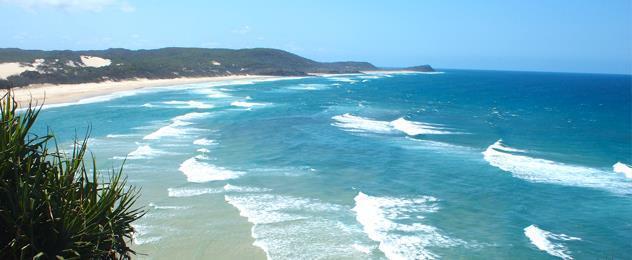 Day 9
Noosa Bay to Brisbane
Today is your last of the tour so make the most of it. Leave Noosa and travel along the coast via Sunshine Beach, Coolum Beach and Maroochydore to reach the town of Caloundra, where you rejoin the Bruce Highway and travel to Brisbane. In the city or airport you can drop off your car, carry on with your holiday Down Under or catch your flight back home.