Overview
Laos is a country as yet untouched by the modern demands, stress and pace of life. Its beauty lies in the Lao people, century-old traditions and heritage, and its lush, pristine landscape. All this you will experience of this action packed six day tour of the 'Land of a MIllion Elephants'. This imaginative trip will give you a superb insight into this fascinating country and can be taken while enjoying a longer holiday in neighbouring countries like Thailand, Vietnam, Burma or Cambodia
Day 1
Arrive Vientiane
On arrival in Vientiane you will be met and transferred to your hotel. Located on the Mekong River and with a population of 600,000, Vientiane is Laos' capital and largest city. In spite of new developments, it retains an 'old world' feel unlike other Asian cities. Enjoy some free time this afternoon to meander along the Mekong waterfront promenade, visit Talaat Sao also known as the morning market, or simply relax by the hotel's pool and settle into the laid-back atmosphere that Laos is renowned for. This evening, meet your tour leader and fellow travellers for a drink and tour briefing.
Day 2
Vientiane
TReady yourself for a day of discoveries, with a morning stop at a local café. Over a robust brew, learn about the difference between the arabica and robusta beans, introduced by the French to the Bolaven Plateau in Laos' far south, at the beginning of the 1900s. A morning coffee has become an innate part of Lao culture, and the beans grown in the south are regarded as some of the finest in the world. Begin your sightseeing in earnest with a visit to exquisite Wat Sisaket, Vientiane's oldest original temple (built in 1818), and the only one to survive the Thai invasion of 1828. Across the street, explore Haw Pha Kaew, the former royal temple of the Lao Prepared 9 Sept 2014 monarchy and now a museum. Following this, see the golden-spired stupa, Pha That Luang, the most important national monument in Laos and symbolic of both the monarchy and the Buddhist religion. Cap off your morning touring with the grand Patuxai Monument, reminiscent of the Arc de Triomphe in Paris, before enjoying a break for lunch. In the afternoon, explore the COPE Centre, which provides prosthetic limbs for victims of exploded ordinance and brings attention to the tragic after-effects of the Indochina war. Later, visit the vibrant Phaeng Mai textiles workshop and boutique to see expert artisan weavers in action. Learn about the importance of the weaving tradition to Lao culture. Take a short tour of the facilities, learning about silk worm rearing, silk cultivation, and traditional Lao weaving styles. Cap off your day with a traditional Lao baci welcome and blessing ceremony in a local house, to honour your arrival in Laos and to wish you safe travels in this magical country. Mingle with your hosts and feel free to ask questions through your local guide.
Day 3
Vientiane to Luang Prabang
Today fly to Luang Prabang, Laos' most beautiful and engaging city. Surrounded by mountainous forests and standing at the confluence of the Khan and Mekong Rivers, it has a tranquil, old world charm. This fascinating town has a legacy of the European presence with well-preserved French architecture blended delightfully with more than 30 gilded Buddhist temples creating a town rich in atmosphere and history. Take a short walk around the ancient town seeing some of the temples and chat with a monk at the famous Wat Mai to gain an insight into the Buddism. In the evening take a tuk-tuk to the garden setting of Tamarind cooking school, for a traditional cooking class, have fun learning about Lao ingredients and prepare your own dinner!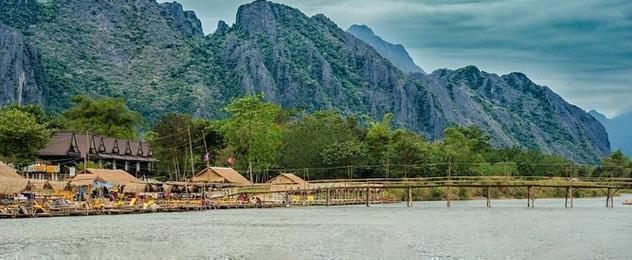 Day 4
Luang Prabang
Begin the day with a typically Lao experience, dining on a sumptuous breakfast feast of freshly made local noodles, at a venue often frequented by our Travel Indochina guides Energised, walk to the very tip of the Luang Prabang peninsula – little visited yet one of the most beautiful parts of town. Here, at the scenic junction of the Nam Kham and Mekong rivers, learn about the origins of Luang Prabang and its former royal history. Walk to nearby Xieng Thong temple, regarded as the most beautiful temple in Laos, and an architectural masterpiece. Then, walk the length of the Luang Prabang peninsula along a quiet backstreet to the Royal Palace Museum, full of fine examples of Lao art and furniture, and the former residence of the now deposed royal family. End the morning with a boat trip up the magical Mekong to the mysterious 'cave of a thousand Buddhas' at Pak Ou. Here, in a tradition that has lasted centuries, local people add annually to a repository of Buddha statues. The trip to the cave will take up to two hours (depending on current strength) and you will lunch en route on traditional dishes from Hmong, Thai Leu and Lao Loum cultures. On the return to Luang Prabang, stop on the far side of the Mekong for a short forest walk, and a stairway ascent of hill-top Wat Chompet, for unique views of languid Luang Prabang town and the peninsula it sits on.Late this afternoon, enjoy free time to relax with a drink or do some shopping at the night market.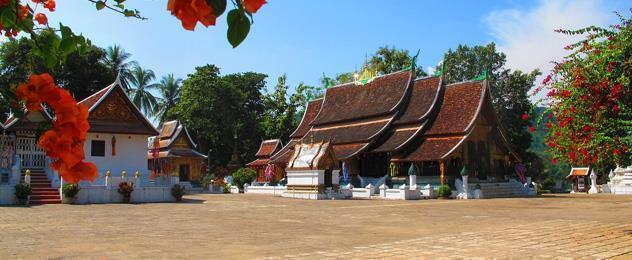 Day 5
Luang Prabang
Rise early this morning and see robed Buddhist monks collecting alms, following an ancient ritual. Then, at its most active, explore a local morning market on foot, and learn about some of the delectable Lao fruits and snacks which make up the local diet. Feel free to sample! The rest of the morning is yours to enjoy. Linger over breakfast, explore Luang Prabang's quiet alleyways and rustic architecture, or delve into smart boutiques, bakeries and cafes. Discover why this beguiling town is one of Travel Indochina's favourite Asia destinations. Early afternoon travel to Kuang Si Falls, the most beautiful of the waterfalls near Luang Prabang. Have a chance to swim and relax, surrounded by turquoise waters and jungle, and also visit a nearby bear sanctuary to see Asiatic Black bears rescued from the illegal wildlife trade. Gain a greater insight into this native species. Insider Experience – Unique: Early evening, take part in a gentle game of petanque (similar to bocce), a popular pastime for Lao people. At the end of the game, stroll the short distance to a tranquil Buddhist temple for sunset drinks and snacks overlooking the magical Mekong and distant mountains. Travel back to town to freshen-up, and at a sumptuous farewell dinner reminisce with your group on your journey through the highlights of Laos.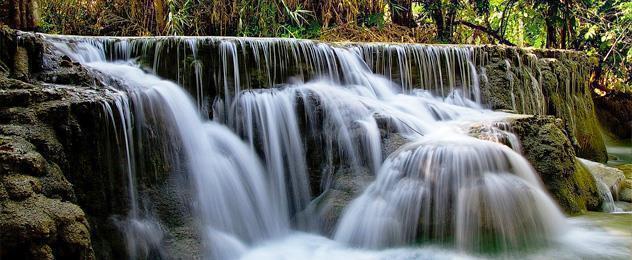 Day 6
Depart Luang Prabang
Today your wonderful six day tour of Laos comes to an end. Possibly time for some more sightseeing or shopping for souvenirs before you are picked up at your hotel and driven to the airport to catch an onward flight or begin your journey back home. This great tour makes a good add on to any longer holiday in South East Asia and ensures that you see the highlights of this fascinating and mysterious country.