Overview
You'll discover vivid nature, voluptuous landscapes and a vibrant culture on this intriguing six day tour around Laos. This is a country with an optimistic future which cherishes the many traditions that have disappeared in a frenzy of development elsewhere in the region. There's still a timeless quality to rural life, where stilt houses and paddy fields look like they are straight out of a film set. Here you find a country untainted by mass tourism . . . Asia in slow motion.
Enlarge map
Day 1
Arrive Vientiane
On arrival in Vientiane you are met and taken to your hotel. Located on the Mekong River and with a population of 600,000, Vientiane is Laos' capital and largest city. In spite of new developments, it retains an 'old world' feel unlike other Asian cities. Enjoy some free time to meander along the waterfront promenade, visit Talaat Sao market, or simply relax by the hotel pool and settle into the laid-back atmosphere. This evening, meet your tour leader and fellow travellers for a drink and briefing.
Day 2
Vientiane - Vang Vieng
Explore the charming capital starting with a tuk tuk ride from your hotel to the iconic Patuxai Monument. Walk down Lane Xang Avenue, stopping at the morning market and visit Wat Si Muang and Wat Si Saket, before stopping at the Presidential Palace. Get re-energised with a Lao coffee and croissant at Chao Anouvong Park and visit a series of temples before reaching the Mekong riverbanks. Then hop on your tuk tuk and ride back to your hotel and prepare for your journey to Vang Vieng.
Day 3
Vang Vieng – Luang Prabang
This morning after breakfast take a scenic walk across the Nam Song River to visit the Hmong village of Ban Phan Thao. Trek along a small canal and enjoy breathtaking views of limestone karst mountains and luscious rice fields. If you wish you can visit some of the caves. Reach the rice paddies of Ban Nadoa Village and Tham Chang Cave then travel by road through majestic mountains and visit other Hmong villages on the way to Luang Prabang.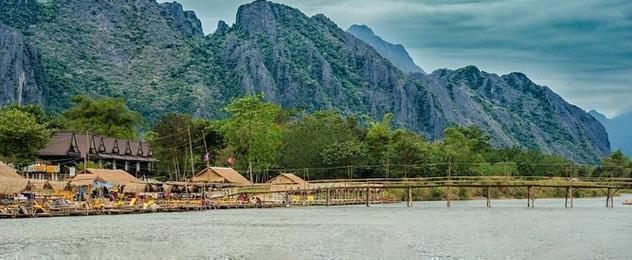 Day 4
Luang Prabang
One of the highlights of the tour today when you discover the many charms of Luang Prabang with a leisurely walk around the old quarter. Start with the vibrant morning market, the wonderful city main street and stop at the National Museum. After exploring here you visit Wat Xieng Thong, considered the finest temple in the country. And to round off the day jump aboard for a scenic boat ride experiencing a memorable sunset cruise along the mighty Mekong River.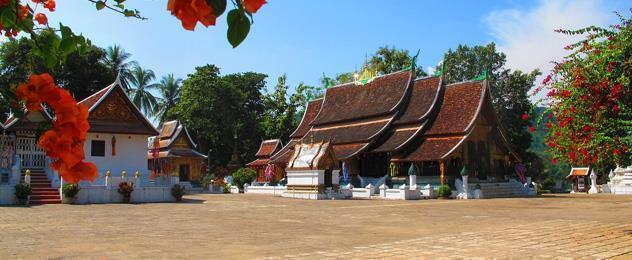 Day 5
Luang Prabang
A short drive to the outskirts of Luang Prabang today takes you to the multi-tiered turquoise-coloured Kuang Si Waterfall, considered one of the most beautiful in south east Asia. Here you can also visit the Bear Rescue Centre to see Asiatic bears. On your way back, see the fascinating world of Lao textiles come alive with a visit to Ock Pop Tok Weaving Centre and stop at Buffalo Dairy for ice cream made from real buffalo milk. In the evening, see a bamboo presentation with dinner and a 'baci' ceremony.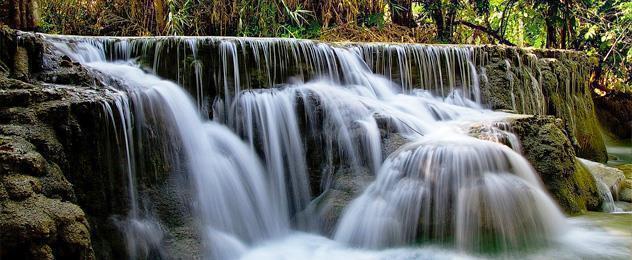 Day 6
Depart Luang Prabang
Today your memorable six day tour of Laos comes to an end. Possibly time for some more sightseeing or shopping for souvenirs before you are picked up at your hotel and driven to the airport to catch an onward flight or begin your journey back home. This great tour makes a good add on to any longer holiday in South East Asia and ensures that you see lots of the highlights of this fascinating and mysterious country.