Los Angeles, California - home of Hollywood, Beverly Hills, sprawling beaches, Sunset Boulevard and A-List celebrities.

Our plan was to try out the two very different lifestyles California has to offer; laid back surfing and sparkling city nights.

First destination was Huntington Beach, with a backdrop of surfers, sun and sea. Palm trees line the promenade, tanned and toned beach bums laze on the sand. Surfing is the most popular pastime and the wetsuit brigade catch the waves from as early as 5.30am.

The beach-front Regency Hyatt is the perfect place to stay for families and couples.

We woke early on day one to try ocean-front yoga with Jordan Batha from Toes on the Nose. Towels and mats are provided and she'll take you through a series of moves achievable for even the most inflexible, all to the soundtrack of crashing waves.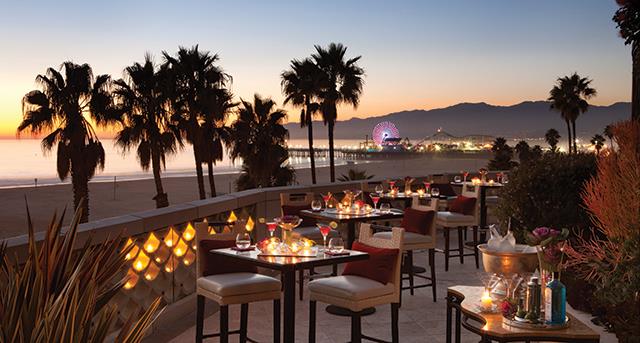 Hotel Casa del Mar in trendy Santa Monica
It was the perfect way to work up an appetite for breakfast at the Water Table, one of the Hyatt's several restaurants, where the crab hash and zesty lemon and blueberry pancakes are a must.

We changed into swimsuits for a paddle-boarding session with pro surfer Rocky McKinnon. Rocky quickly gets you enthused about the sport, a favourite of Cameron Diaz and supermodel Kendall Jenner.

After a morning of exercise we went to ocean-front restaurant Dukes, named after the 'Father of International Surfing' Duke Paoa Kahanamoku.

The Mai Tais (rum, Curacao and lime juice) are highly recommended and pack a punch. The fiendishly fresh Poke Tacos are great, garnished with the creamiest guacamole. If you've room for dessert, pop over to the nearby Ice Cream Way, where ice cream is frozen in front of you using jets of liquid nitrogen.
Toasting marshmallows on Huntington Beach
By night groups of friends gather around one of the 500 fire-pits. Using them is free but you have to be early to reserve your space. So instead we checked out the Waterfront Resort. They not only provide a cast-iron pit but all the wood you need as well as the ingredients to make s'mores – toasted marshmallows crushed between a Graham cracker with a square of chocolate.

The next morning, Pacific Waters Spa was on the agenda. There you can kick back in the salt water Jacuzzi, use the steam room or book a treatment. Try a Pacific Waters facial - you'll come out glowing.

Two days later, and after a stop at the Red Table for more fish tacos and braised beef short ribs, it was off to West Hollywood and the Mondrian hotel. Minutes from Beverly Hills, it has played host to Leonardo Dicaprio, Rod Stewart and Courtney Love. Its Sky Bar has views over the city.

After a quick shower – you'll find two in your room from which to choose – it was out to experience Hollywood's electric nightlife. We soon found ourselves rubbing shoulders with the stars – or at least sitting close to them.
EP & LP rooftop bar
A trip to E.P & L.P brought sightings of Gerard Butler and Orange Is The New Black star Ruby Rose.

The taster menu at E.P featured delicate abalone and delicious scallop and clam curry.

After dinner we slipped upstairs to the roof terrace, L.P, for more celebrity-spotting and lethal cocktails, with a view over the twinkling city. Later we visited The Red Dragon, an underground club easy to miss as it's accessible only through a car park. Once inside it has the opulence of a Mayfair club but without the crowds.

Lunch next day was at Gracias Madre, a vegan restaurant - where the cauliflower cheese with cashews dispels any notion that vegan food is boring. 

Next stop was the Kinara spa, a favourite of Halle Berry, where the service is ultra slick.

In the evening we walked the short distance to The Eveleigh, where sea urchins are the order of the day. They're served with lemon wedges which, when squeezed over them, cause their spikes to move despite the fact they're very much dead.
Skybar at the Mondrian Hotel
If you'd rather not watch your food move, I'd suggest the burrata and peaches and fries with truffle aioli.

A short taxi ride took us to Pump, a bar owned by Lisa Vanderpump, star of the Real Housewives of Beverly Hills - there's even a TV series about the staff.

Nearby is the Abbey. This raucous gay bar has played host to the likes of Lindsay Lohan and Joan Collins - two days after our visit Caitlyn Jenner was seen hosting a table of friends. Dancers in barely-there underwear keep guests entertained but for pictures the rule is: 'Tip before you click.'

In need of a pick-me-up next morning, Cecconis provided perfect Bloody Marys. It's part of the Soho House group, with a cool yet understated crowd and a killer brunch. The perfect way to say goodbye to LA. 
First published in the Mail Online - March 2016
More articles below...