Sir Howard Arriving at our Thames B&B, we're told by the landlady that in the event of an earthquake, we should assemble at the cattle grid.
We're not in England's Thames Valley - this is the historic town of Thames, 90 minutes' drive south-east of Auckland on New Zealand's North Island.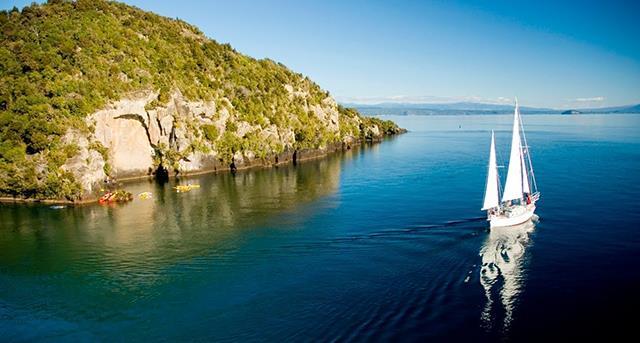 North Island is a top sailing spot
SO MUCH TO SEE & DO
This country's spectacular, exotic beauty was forged by earthquakes and volcanoes over millions of years. The South Island looks and even sounds like the Scottish Highlands. Parts of the North Island resemble Jurassic Park. 
It's no surprise that Kiwi filmmaker Peter Jackson used his native country as the backdrop for The Lord Of The Rings. About a third of New Zealand's four-and-a-half million people live in Auckland, with the rest spread over a country slightly bigger than the UK.
Our trip was part normal holiday and partly to follow the British Lions rugby tour.
Arriving in Christchurch, we found it still scarred by the tragic 2011 earthquake - a constant reminder of how this lovely land came into being.
Driving south to Dunedin - so Scottish we had haggis and whisky for breakfast - we spent a glorious day exploring the craggy Otago Peninsula. We saw rare royal albatrosses with wings like wind turbines crash-land on a cliff to feed fluffy chicks too fat to move; we watched baby-blue penguins waddle up the beach at dusk for a cuddle, honking amorously; and we nearly tripped over a snoozing sea lion on windswept Allans Beach.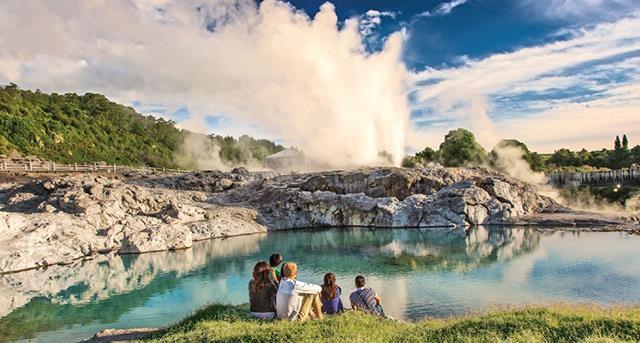 Sit back and enjoy views of the beautiful geysers in Rotorua
SWEET REMINDERS
New Zealand's endless miles of neat wooden bungalows, with pretty Victorian ornamentation, white picket fences and soporific verandas, filled me with nostalgia for my childhood in a wooden bungalow by the River Thames near Windsor.
There are two sets of initials a visitor to New Zealand should know: the All Blacks rugby team are the ABs - and SBs are sauvignon blanc wines. 
VINEYARD TOURS
The New Zealand SB boom is exemplified by the Woolshed Vineyard, which produces Mud House wines in the Marlborough region at the top of the South Island. The Woolshed ranch was once a sheep farm, but the sound of shearing has been replaced by that of SBs being swirled round the palate by brilliant young winemaker Cleighton Cornelius. 
Mud House was sporting enough to sponsor the British Lions - another reason to buy its excellent wines, including sauvignon blanc and pinot noir. After sipping several, we took a ferry to the North Island, passing many hidden sandy coves glinting in the moonlight.
Next we headed north to Rotorua, New Zealand's unofficial Maori capital. The Maoris came to New Zealand some 500 years before Captain Cook landed here in 1769, but no one is sure where from. Guesses range from Hawaii to Indonesia. 
Maori chiefs handed sover-eignty of New Zealand to Britain in the 1840 Treaty of Waitangi.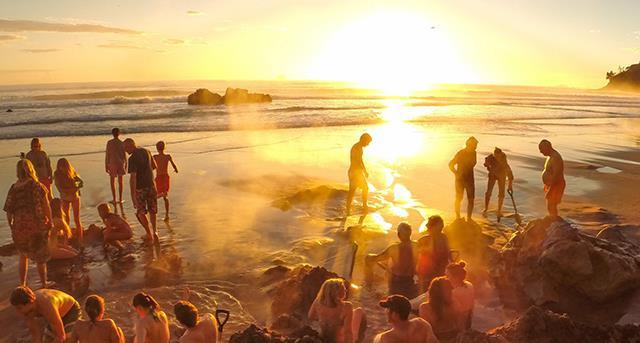 Have your own beach bath at Hot Water Beach
A WARM WELCOME
Some say that NZ has made a greater success of integrating two ethnic groups with starkly contrasting cultures than any other country.
A fun way to experience New Zealand's natural underfloor heating is at Hot Water Beach, on the Coromandel Peninsula. Dig a hole in the beach, let the cold waves dilute the boiling sand and you have your own bubble bath. But beware: get the mix wrong and you'll be scalded where it hurts.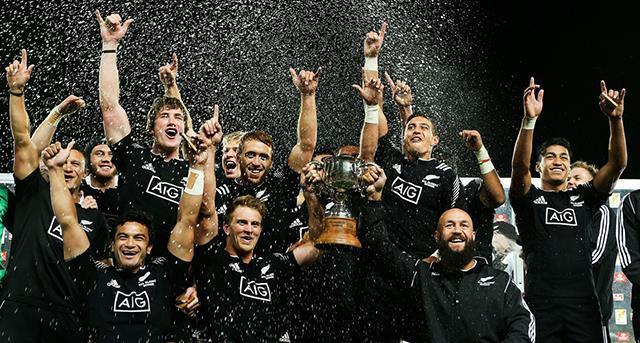 Simon wrapped up his trip watching the All Blacks
A FUN FINALE
We ended our tour in Auckland, where we joined thousands of British rugby fans who swapped beer, banter and ballads with the locals in harbourside bars and restaurants.
We stayed in Auckland's Ponsonby district, a kind of mini-Notting Hill with yet more quaint bungalows. They make for a novel skyline, with skyscrapers and the ocean right behind them.
We twice bumped into ex-Irish and Lions rugby pin-up Brian O'Driscoll in Ponsonby as well as AB star Beauden Barrett - though a friend laughed off our celebrity sightings, saying: 'There are so few people in New Zealand, you soon get to meet them all!' 
First published in the Mail on Sunday -  October 2017
More articles below...