The breathtaking Mount Ngauruhoe looms over a wilderness of desolation.
Offset against the cerulean sky, this active stratovolcano has a dark, conical shape and clouds bubbling around its blood-red crater like dry ice in a lab experiment. It's the sort of volcano my son Edward would draw.
Also known as a composite volcano, a stratovolcano is one built up by many layers of hardened lava, pumice stone and volcanic ash - and known for periodic explosive eruptions, with the lava flowing from it cooling and hardening before spreading far due to its high viscosity.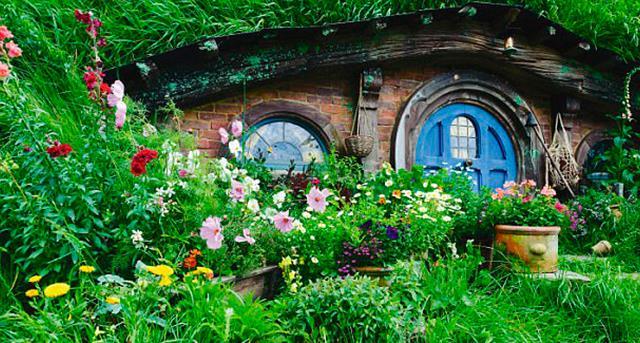 A hobbit house in Hobbiton, Waikato

Edward clambers on to the bus that will escort us to the start of our trek with a spring in his step. 'That's Mount Doom,' he says to the bus driver, just in case he didn't already know.
Edward has only just turned seven, but he has already watched Peter Jackson's The Lord Of The Rings trilogy and its prequel, The Hobbit. His bedtime reading is Tolkien's The Hobbit - illustrated but unabridged.

I suppose I shouldn't be surprised at his literary preferences,  given that his father is both a movie buff and a voracious reader.
We are about to attempt the Tongariro Alpine Crossing in New Zealand's North Island. Apparently the best one-day hike in the country, it's a 12-mile adventure across the Tongariro National Park.
Hike to Ruapehu, an active stratovolcano

 
This is the setting for Mordor in the Lord Of The Rings trilogy, and Mount Ngauruhoe stars as Mount Doom, where Frodo, the hobbit entrusted as the ring-bearer, is tasked with destroying the ring.
The driver pulls Edward back by the hood of his waterproof. 'Hobbits aren't allowed on board,' he says, gruffly.
Edward gasps. 'I'm not a hobbit. I'm a child.' 'You know this isn't a child-friendly hike?' says the driver, concerned. This time, he's addressing us, not Edward. 'If it were easy-peasy-lemonsqueezy, it wouldn't be called Mordor,' pipes up Edward, before we can articulate an adequate reply.

I prefer glamorous heels to hiking boots any day of the week, so I harbour a secret wish that poor weather might mean the trek being called off. But  I'm a little miffed to find that even a cyclone won't put daddy and Edward off visiting Mordor.
However, a delay while waiting for the weather to improve buys us time to explore the fascinating caves at Waitomo, where the luminous bottoms of glow worms create stellar constellations in the darkness. Also demanding our attention were the bubbling muds and jewel-coloured geothermal pools at Waiotapu as well as the bird sanctuaries inhabited by threatened species of fluffy, nocturnal kiwi birds in Otorohanga Kiwi House.
We cruised the Lake Taupo caldera (a caldera is a deep collapsed volcanic crater, which in this case has formed a lake) aboard a Romancing The Stone sailboat.
But a highlight for Edward, after a stay in a homely, picturesque farm, was a visit to Hobbiton, the film set of The Hobbit. He was totally at home among its undulating hills, enchanting vegetable patches, flowering gardens and quaint houses with hobbit-sized doors.
North Island is often skipped in favour of South Island, but it it needn't be. The Tongariro crossing averages eight hours and comprises steep, rope-assisted climbs to the 6,200ft summit.
It's not a trek for the faint-hearted, but the gritty volcanic landscapes, scorched crater ridges, gem-coloured sulphurous lakes and tussock grasslands merging into forests of mountain beech and kaikawaka are spectacular.
Never mind that I'll be stiff tomorrow. Even after the trek, Edward was still tingling with excitement and daddy was completely in his element.
'Even the hobbit made it?' says the driver, congratulating us at the end of our adventure.
Perhaps hobbits and children are not so dissimilar, after all.
First published in the Mail on Sunday -  March 2018
More articles below...