What you have to under-stand,' a fellow guest says to me, 'is that Oman is the Scotland of the Middle East.'
We are on the Jabal Akhdar with vultures circling around us. The view below is a vast canyon of steep precipices and gorges mixed in with tiny villages clinging to the cliff side, surrounded by terraces cut into the rock.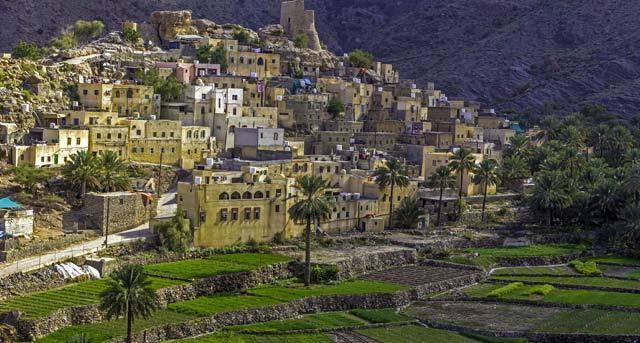 Ancient villages cling to the mountain
With a cloudless sky, the air is desert-dry. We are at nearly 7,000-ft above sea level. The scenery is breathtaking and every bit as dramatic as the Scottish Highlands. For those who want to holiday in a quiet part of the Middle East without being overwhelmed by bling, Oman offers a serene (and safe) option.
In 1986, Charles and Diana flew by helicopter to this spot to spend the day in glorious isolation. Did it remind the royal pair of Balmoral? Thirty years on, there's a luxury hotel here and the view has been accessorised with a palatial spa, fountains and gardens, cocktails and gourmet food.

The Anantara Al Jabal Al Akhdar hotel is owned by the Oman army's pension fund and featured in the BBC series Best Hotels In The World.
The guests include Western ex-pats from the UAE, as well as Middle Eastern families, in search of temperate temperatures.
High altitude, cool climate
The royal picnic spot has become a terrace with a glass balcony, sofas and a fire-pit, while a cocktail trolley is wheeled out for sunset when the mountains turn a rosy pink.

The hotel has also thoughtfully provided blankets – temperatures can veer towards the Scottish and it's always about 15 degrees lower than in the capital, Muscat, two hours away. A combination of sunglasses and down jackets is the sartorial norm.

The scenery is dramatic but the atmosphere is calm. Oman's citizens - all 4.6million of them - belong to the gentle Ibadi practice of Islam. Oman has oil, but it has always been one of the most understated parts of the Middle East.

The Anantara is very luxurious, with 82 rooms that face the cliff, full of power showers and kingsize beds. Oman is famous for its marble and there's plenty of it on display. There are also 33 spacious villas, some of which have private pools.

An enjoyable blend of glamour and lycra-based activity, this is a hotel with its own via ferrata - an abseiling and zip-lining route that sees adventurous guests popping out by the infinity swimming pool after a couple of hours.
There's also a two-hour walk between a series of deserted villages, involving  rock scrambles and balancing along narrow waterways. But it's worth it. We walk in the middle of steep terraces used by farmers to cultivate roses which have an intensity of scent that's famous.

We also see walnut and pomegranate trees, a reed-fringed spring and, as we inch around a rock with a sheer fall below, a tiny waterfall, fed by the short period of rain that usually comes in February or March.

In the 1950s, the children who lived here faced a three-hour climb to get to school. But only a handful of people live in the villages these days. Most have built new homes in the hills above the hotel, but come back to farm the land.
The ancient houses are still there, with mud walls and beams made from juniper wood.
Centuries-old irrigation
Jabal Akhdar translates as Green Mountain, but the terraces are looking a bit parched, despite an ingenious water canal irrigation system called falaj that the farmers use and which has been developed over centuries. A desalination plant is being built to help the farmers.


Roses are cultivated in the Jabal Akhdar mountains
Back at the hotel, on Diana Point, as it is known, I fall into conversation with Andrew Bickerdike, who lived in Oman in the 1990s when he served with the Sultan's armed forces and was back on Jabal Akhdar for the first time since then. He says: 'Getting up here on the small local tracks took the best part of a day back then.'
On our last morning, there's a misty start to the day and clouds gather. Finally, a few drops of rain turn into a downpour.
Instantly, you can tell who is Omani and who comes from the real Scotland. Out on Diana Point, whole families are huddled under umbrellas, in a state between gratitude and amusement.
'We've never seen rain in Oman before,' say a young Omani couple as they pull the hoods up on their puffer jackets.
First published in the Mail on Sunday - June 2019
More articles below...