The winds of change have blown strongly in Cuba in recent years, bringing heady days for both the country's creaking authorities and its 11 million inhabitants.

As this sort of modern revolution has ended its isolation from the rest of the western world, Cuba has become one of the most fascinating holiday destinations.

My Spanish wife Montserrat and I were determined to venture first beyond the capital, Havana, to see part of Cuba visited by those adventurous enough to endure a two-and-a-half hour journey, during which vast potholes and wandering chickens are just two hazards.

We were heading for Vinales, a small town in a national park 113 miles west of Havana, known for its limestone mogote hills that look like huge haystacks.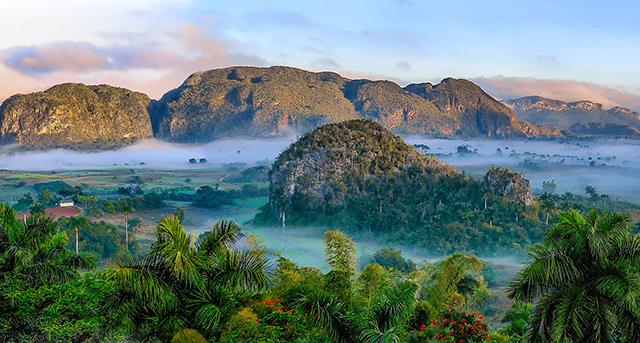 Early morning mist shrouds the prehistoric landscape of Vinales with its limestone mogote hills
Nothing prepared me for this prehistoric landscape. I half expected a tyrannosaurus rex to come charging round the corner. Luckily, the only giant creature we en-countered was a hutia, a massive rodent so tame it happily nibbled on leaves we offered.

The Vinales region is a twitcher's delight, and we saw hummingbirds, mockingbirds and tiny Cuban todies, with their pink flanks and red throats singing a distinctive, soft call of 'pprreeee-pprreeee'.

We were staying in a red-roofed cabin at the state-owned Los Jazmines hotel. The cabin was made of concrete after its wooden predecessor was destroyed by Hurricane Gustav in 2008.

We were here to celebrate a significant birthday for Montserrat. But as she opened our cabin's curtains the next morning and saw the mist rising from the valley below, becoming 40 seemed a breeze.

We visited one of the tobacco fields that produce the crop for the finest cigars in the world. Winston Churchill favoured the Romeo y Julieta brand.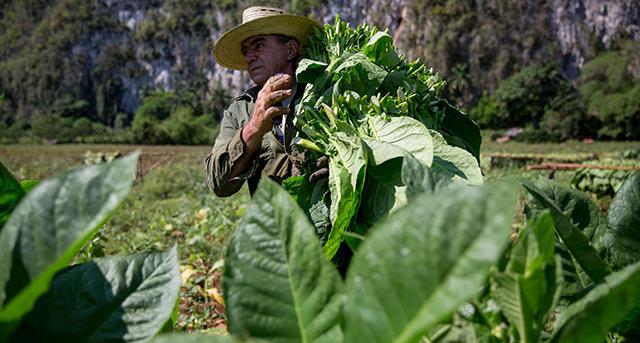 Harvesting tobacco leaves which are made into the finest cigars in the world
Leading grower Ivan Hernandez talked us through the process and showed us how to roll a perfect puro - not using the apocryphal method involving the thighs of a virgin.

Before President Kennedy imposed a trade embargo on Cuba in 1962, he is said to have asked an aide how long it would take Castro to cave in. 'One year,' the aide replied. 'Well then,' said JFK, 'I want 365 cigars to keep me going.' 

Until the revolution, Cuba was a tropical playground for American gangsters. Al Capone had a holiday home in Varadero, which is where we went next – a 12-mile peninsula of sugary sand two hours' drive to the east of Havana.

There, we stayed at the all-inclusive Grand Memories hotel, full of friendly holidaymakers from Canada, which normalised relations with Cuba in the Seventies.

We hopped in a taxi to La Casa de Al, a restaurant in a villa that once belonged to Capone. The waiter made me an offer I couldn't refuse – of paella, Cuban-style. It was indifferent, but, given that this hoodlum hangout was decorated with photos of Capone and his henchmen, I didn't kick up a fuss.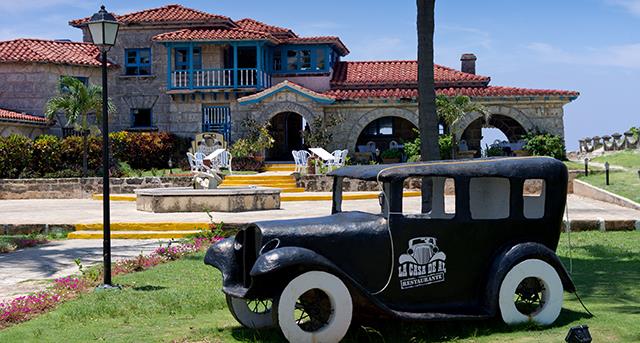 Al Capone's former villa, now a popular restaurant dedicated to his memory
Varadero's beaches are beautiful. We sunbathed, swam and danced to salsa until it was time to move on to Havana. 

Hard-drinking novelist Ernest Hemingway became indelibly associated with Cuba. He is said to have sunk 12 mojitos in one hour at the tiny La Bodeguita del Medio bar, but we enjoyed just one or two, to the sounds of a Latin band, before moving on to Hotel Ambos Mundos.

Room 511 has been preserved as an atmospheric museum to the author, who lived there for seven years. It's complete with his typewriter and fishing rods.

For a taxi back to our hotel, what better than one of the 60,000 or so classic American cars that survive from before the embargo? Ours was a 1958 cherry-red Dodge Regent, whose driver, Carlos, was old enough to remember life before the revolution. 'People were so poor in the countryside,' he told us. 'Castro improved their lives.'

For 20 pesos (£14), he took us on an idiosyncratic tour of some of Havana's lesser-known attractions, including John Lennon Park, where an elderly lady is employed to give tourists a pair of metal-rimmed glasses to put on the bronze statue of the late Beatle. The government gave her the job after fans kept pinching the Lennon specs.

While Cuba has become more open, it seems determined not to lose its unique character.

'We're not going to have Cuba filled with McDonald's and Kentucky Fried Chicken,' said our guide earnestly. 'We will never let that happen.'

However, as more and more free-spending Americans visit, the pressure to change could well prove overwhelming. All the more reason to go now.  
First published in the Daily Mail -  July 2019
More articles below...