The hashtag 'solotravel' has become increasingly popular among women who are doing the Spice Girl thing, high-kicking the glass ceiling with their platforms, in their personal and professional lives.

A constant conundrum is safety. There can sometimes be the chance of a physically intimidating aspect to travelling alone, whether you are male or female.

I decided that my first 'solotravel' adventure would be around South America.
I managed to retain my status as a single woman travelling alone without being alone – by signing up to join a G Adventures tour group for most of my trip. The group I joined was organised to cover a lot of ground in minimal time, with local knowledge about the destinations and incredibly convenient modes of transport.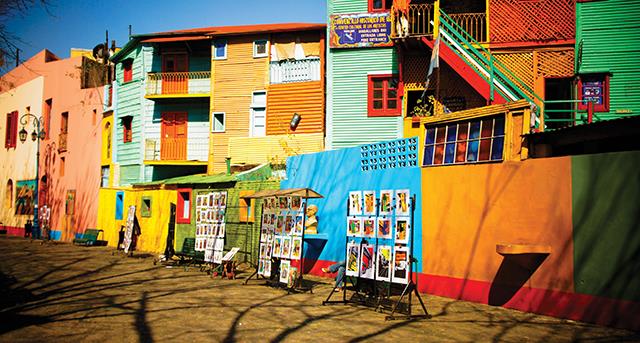 Colourful La Boca in Buenos Aires
The nine-day tour began in Buenos Aires, where I arrived a few days early to get my bearings and explore off the beaten track before my G Adventures itinerary kicked in.

G Adventures helpfully booked me into the same hotel included in the tour so I didn't have to worry about moving rooms, and was able to take advantage of the airport transfer too.

The hotel itself was in the Centro, which, as it sounds, is about as central as you can get. I spent time familiarising myself with the local architecture, which is possibly what makes the city feel so European and, of course, with the local cuisine.

Taking a much needed break from the rhythms of the Tango
A guided tour
A few days, and a few too many steak and Malbec dinners later, it was time to meet my tour group.

There were about ten of us in total, mostly travelling in pairs or alone. We were shuttled around the city in a small people carrier with our guide, who was to stay with us for the full trip, and a local guide who offered more insight to the sites as we passed them.

From the colourful corners of La Boca, to the solemn grave of Eva Peron in Recoleta Cemetery, the day was captivatingly varied.

For the evening, we were taken off the beaten track to a tango club where we were immersed with the porteños (a nickname for local people of Buenos Aires) - and they go about showing us up for our comparatively poor dance moves.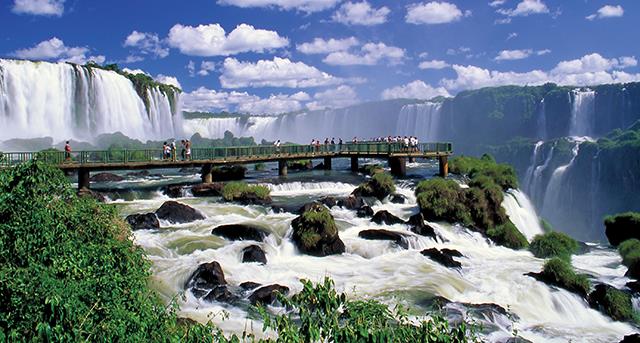 The Iguazu Falls are impressive whatever your viewpoint
Next we hopped on a flight north to Iguazu Falls. We spent time in both the Argentine and Brazilian national parks, where the magnitude of the falls is equally present.

Samba in Sao Paulo
The next flight we boarded landed us in Sao Paulo, but we weren't stopping here.

We drove north to Paraty – and just happened to arrive in time for the town's annual music festival.

The cobbled streets were alive with samba and somehow I managed to forget that only hours earlier we had been learning about the Afro-Brazilian community, who still reside in the town – until our main guide there joined us for some dancing!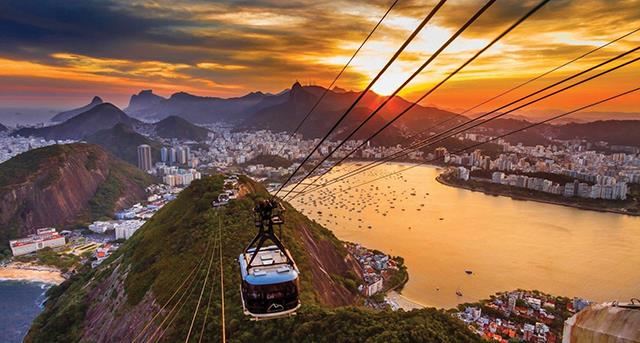 Sunset from the Corcovado
Rio de Janeiro
Another longer stint by road, and we had made it to our final stop, Rio de Janeiro.

Here, we were given a full city tour in our van, of which we have now become fond, and finish the day watching the sunset over the Christ the Redeemer statue. Our hotel was suitably and centrally set in Copacabana, where we rested for a little while before meeting once more for a samba show dinner.

Our goodbyes are maybe more emotional than I'd have expected, but then I realise the things by which we have been bound together on this trip. The enticing rhythms of Argentina and Brazil have provided us with enduring memories.

There have been the breathtaking views of the falls, energy bursting from samba-ing streets (and being taught the quick-footed ways of the samba ourselves), as well as the passion and knowledge pouring from local guides who have accompanied us along the way.

And perhaps most poignantly, the difficulties and poverty faced by so many in the areas we have visited, as well as the signs of corruption in these countries, particularly Brazil.

This is something that will stay with us all. And it's important that it does. Even if it is just to remind us how lucky we are to be able to visit these corners of the world.
First published in the Daily Mail - March 2017
More articles below...