Some of us simply can't do a whole English winter any more. For me, there is the added business every December and early January of being on the panto treadmill, three shows a day, in Guildford.
What's more, this year, the Grim Reaper had been scything like Poldark through my address book. I needed a break. I needed sun. Then someone suggested Goa is a goer. 'Goa?' said our son. 'Isn't that where you take stimulants and rave?' Well, excuse me if I rave.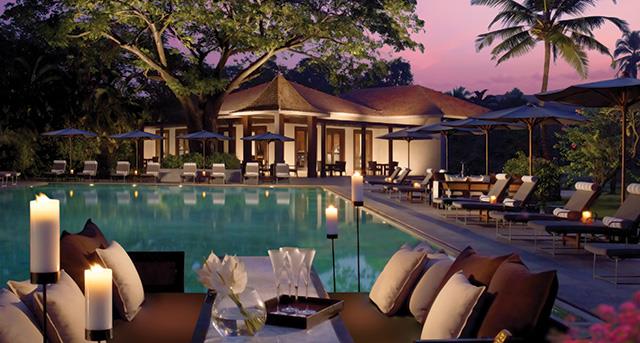 Dine outside next to the club pool at The Leela Hotel

THE LEELA HOTEL
The Leela Hotel is wonderful - despite the fact that Putin visits. Sir Mark Tully, the BBC's voice of India, stays, as does Sonia Gandhi, who arrived shortly after we left.
My wife Kate and I flew there non-stop  and then had an easy 75-minute transfer.
Many of our fellow passengers were heading for package hotels up the coast, rather than sweeping into The Leela's discreet gates at the end of the peninsula.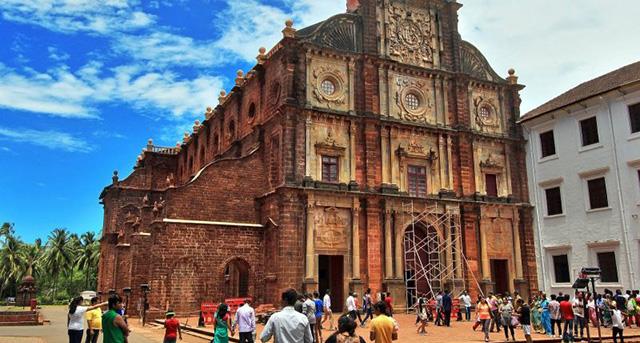 The Basilica of Bom Jesus in Old Goa
A BIT OF BACKGROUND
The Leela was built 26 years ago and has benefited from less strict planning controls than exist now. It was able to secure a private beach then, not possible now, so that means it can put as many sun loungers on the sand as it wants.
Hotels now, fronting public beaches, can park no more than a dozen loungers. But for Leela guests, there are more than enough loungers for everyone.
Croquet is the only nod to the Raj, but the guests nevertheless are 50 per cent English: you can tell by their Boden linen. An elderly lady archaeologist from Pimlico, an accountant from Bromley, a yoga teacher from Hampstead. All regulars for decades. 'What makes this place,' they chorus, 'is the staff.' The astonishing ratio is 3.5 staff to each guest, lifting your finger before you're even aware that it needs lifting.
Of the rest? Russians (in bling), Euro-randoms (Italians leading the charge) and wealthy Indians. Their children are perfect: well-behaved and virtually invisible.
Goa offers an abundance of beautiful beaches

AT THE BEACH
The beach is perfect, too – no lacerating coral, the breeze cooling without sandblasting. At sunrise, there are dolphins. Sea eagles frame themselves beautifully between palm trees.
Sandpipers dart. Beach guards keep hawkers away. At night, you watch the lamps on the fishing boats and owlets hunting.
The huge rooms are scattered around 75 acres, overlooking lagoons where pink lilies bloom.
There are private villas, too, within the – yet more exclusive – Club, for Bollywood stars and Mr Putin. Silent buggies convey the elderly from joy to joy.
Conferences are discreetly arranged, wedding pavilions erected and down by morning. Indian ceremonies are welcoming and their tribute bands do a creditable Radio Ga Ga.
We attended not one, but two, Punjabi weddings of radiant couples we had never seen before, nor shall again, but may blessings rain upon them. My meditation class was too singsong to be intelligible, but the four-year-old Indian boy in front of me had it sussed. The gym is so deserted that the trainers are truly personal. In the top-flight spa, Kate had a magnificent holistic massage, with oils, bells and probably whistles.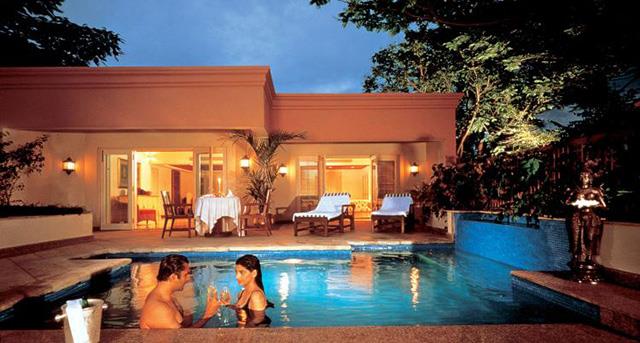 Enjoy a romantic meal for two by the pool at The Leela Hotel
CULINARY DELIGHTS
All You Can Eat was never like this. Thyme-scented lentil soup with roasted walnuts? Goan kingfish? A bewildering vegetarian menu, creamy dhals, dhingri palak? Desserts? How about rabri (cardamom condensed milk) and dates in soft, white fudge?
Trips to the Goan capital Panaji with your own driver are astonishingly inexpensive and you can shop there for textiles, paper and incense.
Ten miles on and Old Goa, with its Portugese churches, is unmissable. 'Another day in Paradise,' says the daily Leela newsletter. Nonsense. Paradise can't compete with this. Paradise won't have so many staff.
First published in the Mail Online -  July 2018
More articles below...