Built on a stunningly beautiful bay with crystal clear Mediterranean waters stretching as far as the eye can see, the five-star Hillside Beach Club takes attention to detail to new heights.

The much-loved 20-year-old Turkish property has an impressive 60 per cent return rate, with many visitors checking in each and every year.
It's perhaps unsurprising then that a recruitment drive for a Chief Instagram Officer inspired more than 70,000 applicants to send in picturesque snaps.

The high-tech hotel even has an app for spa, water sports or yoga reservations (as well as a daily newsletter for the not-so-tech savvy) and one for ordering supplies on the beach.

Every luxury cushioned sun lounger comes with a waiter call button.
With 750 rooms high above the sea, the hotel has breathtaking views across a beautiful bay, but their almost obsessive attention is their true speciality.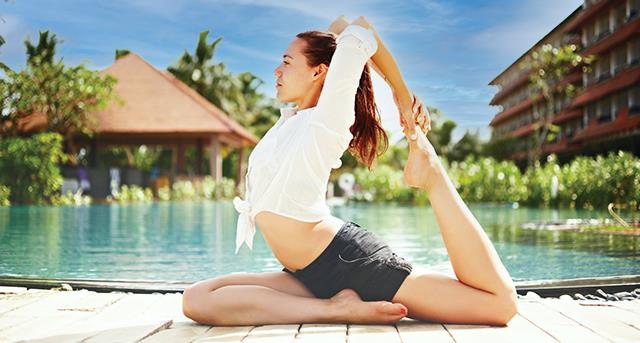 The perfect place to practice yoga
My companion was my shrewd fashion buyer friend - also with a close eye to detail. And we're already planning our return.

Not just because the air-conditioned, wi-fi enabled one-hour transfer came complete with chilled water and mints. That was simply the first of many brilliant touches to come.

A recent Yoga convert, I loved that  there was yoga first thing in the morning on the Silent Beach and in the evening on a shaded balcony.

There were many places to relax in the sun - one big pool, three beaches and two floating jetties. The Silent Beach (no mobile phones or children) was the utmost in tranquility.

Nestled next to the Nature Spa, therapists walk the beach handing out ginger tea and firm shoulder massages.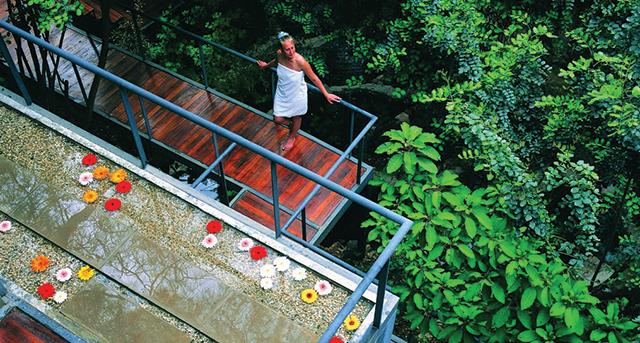 Sanda Nature Spa
Serenity Beach, a short boat ride away, is adults only too. The boats leave every 15 minutes and a simple lunch of barbecued lamb or chicken kebabs with salad awaits.

For those seeking an action-packed break, there's windsurfing and diving - as well as coaching for kids as young as eight. There are snorkelling tours, night diving, sailing courses and guided catamaran tours, water-skiing and wakeboarding.

For days out, there's an eight-island boat tour and romantic sunset cruise. Add to that hiking, trekking and mountain biking, an off-road jeep safari and a cultural tour to ancient ruins and there's little chance you'll be bored. Shuttle buses take guests to downtown Fethiye, 10 minutes away.

The food at Hillside offers some-thing for everyone and your main challenge is how to avoid putting on weight in one of three restaurants.

International cuisines bustle with delicious traditional Turkish fare at the main buffet. Don't miss the Borek; fat filo pastry cigars filled with soft cheese, lemon and herbs. The humus, tzatziki and traditional Turkish salads are also a delight.

Cherries were everywhere with guests encouraged to help themselves to huge handfuls.

A Turkish night in the buffet was packed to the rafters with the best shish, kofte, chicken and lamb kebabs you've ever tasted. Outside stalls recreated a bustling Turkish bazaar, selling woven rugs and jewellery.

At Beach Bar, we enjoyed a candle-lit Italian feast of a set menu right on the beach watching an incredible sunset while we ate starters of anti-pasti, gazpacho, burrata, bruschetta, sun dried tomatoes, Italian cheeses and carpaccio and a second course of clams, jumbo prawns and courgette fritters.
Beach dining at the relaxed family-friendly Beach Bar
Unable to pack in the main course of lobster, we did force ourselves to enjoy as much tasty Italian ice cream as we could manage. We even spotted a shoal of flying fish while we ate.

Dinner at adults-only Pasha is right on the seafront and offers another exceptional set menu of freshly-baked herb bread, Turkish salads, calamari, jumbo prawns, octopus, and seabass.

For dessert we tried a little chocolate fondant, creamy goats milk ice-cream and Turkish pumpkin terrine.

Every day at around 4.30pm chefs wheel out Turkish bagels, cakes and cheeses to be enjoyed with traditional Turkish tea.

You can take your pick from one of two on-site spas, the luxurious metropolitan Sanda Spa offering traditional Turkish hammam, a Jacuzzi, sauna and Elemis treatments, or the Sanda Nature Spa, high  in the hills surrounded by pine trees and waterfalls.

I went for a deeply relaxing Lemon and Honey facial and I came away feeling the most stress free I have in years.

My guest had the Balinese Boreh – a warming aromatic traditional body scrub made from herbs and spices – which she gave equally rave reviews.

Safe to say we didn't manage too much conversation that afternoon as we snoozed and read the day away on the Silent Beach in a state of absolute relaxed bliss. 
First published in the Mail Online -  February 2016
More articles below...