On the final evening of our three-day cultural tour of Valencia, dolled up and festive, we went for a slap up dinner at the swish Marina Beach Club.
Clearly the club is a place to see and be seen. This great barn of an upmarket seaside restaurant was packed with beautiful young Valencian nouveau riche shouting happily at each other.
When the waitress begrud-gingly shoved a bottle of wine on the table, the wrong one, we passed a glass between us pretending it was the Holy Grail.
But were we downhearted? Not a bit. After 72 hours of sightseeing, we were stuffed to satisfied surfeit with Valencian art and culture. We had seen everything - and what a thrill it all was.
We'd been to the Chapel of the Santo Caliz in Valencia Cathedral and gawped at the actual Holy Grail. We'd visited the late medieval Lonja de la Seda, or Silk Exchange, a masterpiece of civil Gothic architecture. Under shade trees outside the Silk Exchange, we'd watched traditional Valencian dancing.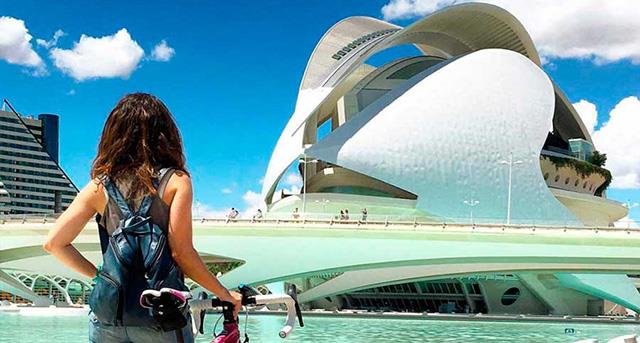 Take a cycle tour and admire the city's incredible architecture
We'd eaten tapas at the Colon covered market, a landmark of Art Deco architecture.
We'd visited the Bombas Gens Centre D'art, an old water pump manufacturer with an Art Deco facade converted to a gallery with 1,500 works of modern art by 150 artists, including Robert Mapplethorpe.
Bombas Gens's incongruous transformation from heavy industrial workshop to bourgeois art space nicely typified the gift-wrapping of Valencian cultural and historical heritage for the 21st-century tourist.
We'd even been taken on a guided walking tour of Valencia's rather bizarre, council-maintained graffiti. Afterwards, we were privileged to meet foremost Valencian street artist Vinz Feel Free.
Wearing a tracksuit top and jogging pants, Mr Feel Free personally conducted us around his new exhibition at the Carmen arts centre, a palatial former convent.
Had recognition, respectability and paid employment softened the poacher turned gamekeeper's Leftist credo? His giant prints and photographs of nude pelota players with superimposed animal heads said an emphatic no.
We visited the Silk Museum and learned about the laborious silk-making process from mulberry tree to silk moth cocoon to weaving loom to museum gift shop.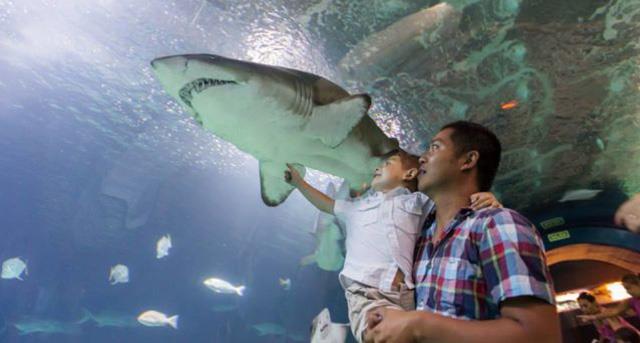 Take the kids to Oceanografic - an oceanarium with many marine habitats
And at the Museum of Fine Arts, a spokesman for the Valencian tourist board, solemn with excitement, confided to us that the city's hidebound conservative council had been slung out, and a Left-wing one elected in its place.
He had a dream of bright sunlit ideological uplands dotted with costly, consciousness-raising public art. The public art we'd already seen was, it's no good denying, of startling banality. I hope his dream is realised.
The river Turia once flowed through the centre of Valencia. In 1957, it naughtily overflowed its banks. As a punishment it was diverted away from the city centre and the river bed was planted with public gardens. The old bridges remain; the gardens and embankments have been sown with public art and post modern architectural statements such as Valencia's ambitious new opera house.
Designed by celebrity architect Santiago Calatrava, the Palau de les Arts Reina Sofia is his homage to the homicidal sci-fi creature in Alien. As well as the Turia Gardens, Valencia has dozens of green spaces, including two botanical gardens, the Monforte gardens, the magnificent parks Glorieta, Cabecera, Alameda and Viveros.
In the latter, we sat in a packed grandstand and were tortured for an hour and a half by the vibrant Armenian-Lebanese electric violinist Ara Malikian playing maniacal covers of Led Zeppelin and David Bowie.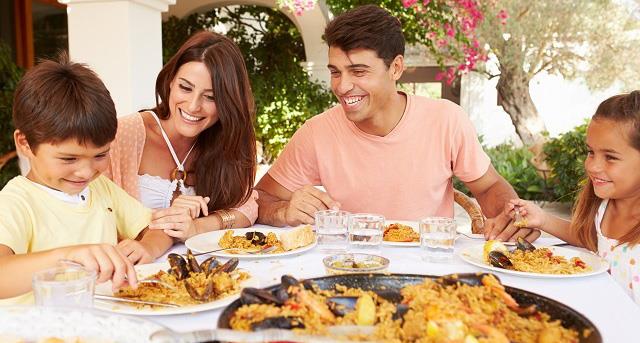 Try some traditional Valencian paella
Valencia is the home of paella and where Spanish women still waft air over themselves with elaborate fans.
If you go in the warm months, you'll need a parasol and fan. 
First published in the Daily Mail -  August 2018
More articles below...