My aim was to combine relaxation with a health break to boost energy levels - so I packed my bags and headed to Marbella in Spain for four days of sunshine, yoga and 'wellness'.

Much of Marbella - or 'Marbs' as it's known by the TOWIE crowd - is a far cry from what the ITV reality show would have viewers believe. A friend and I checked in for a three-night Discover Yoga programme at the Puente Romano, a five-star resort boasting a Six Senses Spa - synonymous with high-end pampering.

It's a combination of Hatha yoga, meditation and breathing techniques and treatments including a signature massage and facial, and promises to leave us de-stressed and reconnected.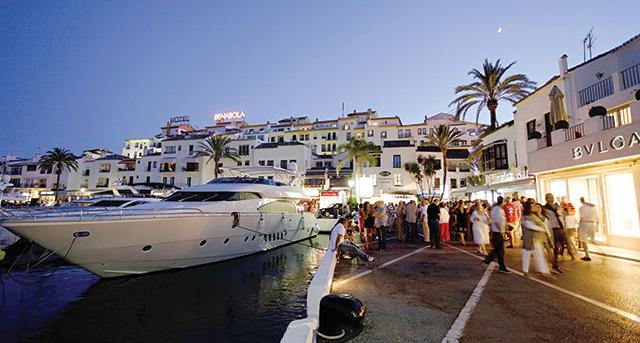 The lively marina at Puerto Banus is a magnet for the rich and the famous
Puente Romano, just 30 minutes from Malaga airport and part of The Leading Hotels Of The World, is spread over 55,000 square metres, in the style of an Andalusian village, surrounded by subtropical gardens, waterfalls, four swimming pools and nine restaurants.

It leads guests to the long stretch of sandy beach – the 'Golden Mile' that connects Marbella to Puerto Banus (where you will spot someone from TOWIE in the summer), and where guests can book watersports such as jet skiing, paddle-boarding and sailing.

The resort is also renowned for its tennis stadium, which hosts professional tournaments with top players, including Serena Williams and Novak Djokovic, and which also doubles as a venue for summer concerts.

It also has 14 courts, two golf courses and an equestrian centre.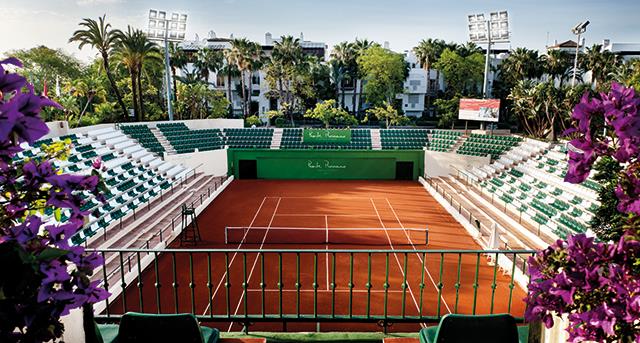 Puente Romano has impressive tennis facilities attracting top players
There are 259 rooms spread over 27 three-storey villas. Our room boasts a large bathroom featuring double shower and tub, and we have twin beds and a spacious lounge area leading to a terrace, perfect for drinks in the summer.

As well as yoga (usually held on the beach, but, as we're in early season, it's in a studio with panoramic views), our package includes treatments at the divine Six Senses spa.

The soothing spa music gets us in the mood as soon as we walk through the glass doors, to a lounge area featuring a floor-to-ceiling timber wall with cosy seats.

We get changed and head to the main wet area – it's pretty impressive. It features a bright blue hydrotherapy pool with a huge 'rainfall' window looking out over the Mediterranean.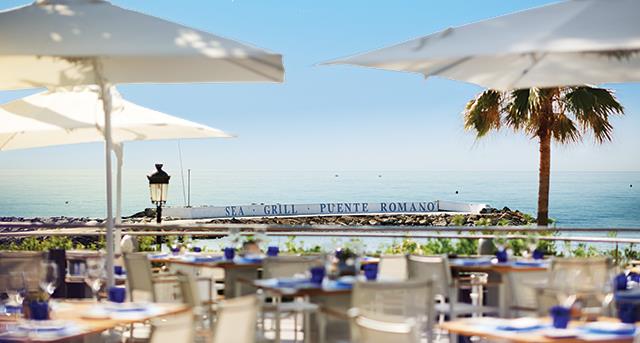 Enjoying a healthy breakfast overlooking a calm Mediterranean Sea
I try out each of the jets promising to relieve the stress in my shoulders and legs, before moving on to ones that massage my stomach, thighs and arms.

There's also a cold plunge pool (which I'm not brave enough to try), ice showers (ditto), a herbal steam room, a sauna and a hammam.

Or there are heated loungers, taking in the stunning architecture boasting high ceilings and local décor.

My therapist comes to find me and leads me to one of the six treatment rooms, which are all modern in design with blue and white painted tiles.

Included in our stay are a signature massage, which goes some way to work out the knots in my back, and an Indian head massage, which left me relaxed but with very oily hair.

I also booked a collagen rejuvenation facial, which lasted 80 minutes. Although I came out looking refreshed and relaxed, I'm not sure it knocked off the 10 years I was hoping for.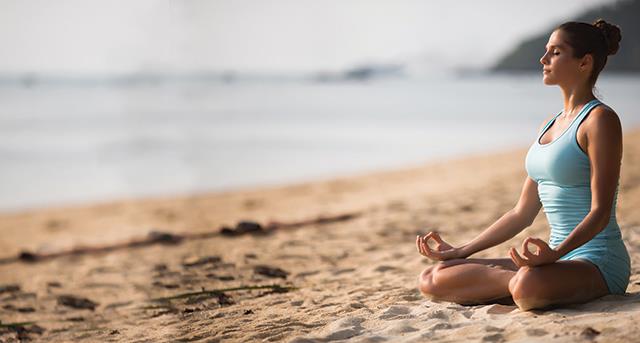 Everything about Puente Romano is designed for energising the mind and body
Next we book in for our first yoga session.

As a beginner, I'm not expecting to feel or see anything in the way of results, but our teacher is amazing.

As well as breathing exercises that reduce stress, she teaches us the basics of meditation, which she says will help us switch off after a busy day. Before long, we're stretching and doing various poses, each designed to energise the body.

I went into the class feeling tired, and by the end of it, I feel wide awake and like I've had a decent workout – so there's definitely something in it.

Our stay has been short but there's been one aim in mind – relaxation. But what Puente Romano offers guests is the option to do as little or as much as they please when it comes to 'being good'.

Obviously, as it's based in one of the biggest party resorts in Spain, it means that it's perhaps not the ideal location if you're looking for a complete detox.
But if you want a good night out, with a couple of mojitos, there are plenty of very loud bars just a short walk away.

And although there are healthy options on the menu at the restaurant where we dine for breakfast, guests can also order a full English followed by slices of sugar-filled cakes – washing it all down with a glass or two of bubbly.

But for those who like to mix their detox with a little retox, it's an ideal place.  
First published in the Mail Online -  September 2016
More articles below...