Where do we stand on nudity? I quite like it myself, when traipsing from the bathroom to the bedroom on a balmy night or swimming in a moon-lit sea when no one else is around.
But that's not the Formentera way. After a superb lunch at the Gecko Hotel and Beach Club – our extremely comfortable billet on  Migjorn beach on the island's southern flank, with glorious Mediterranean views – we head off for a leisurely postprandial but are soon distracted by a couple lying naked in the sand.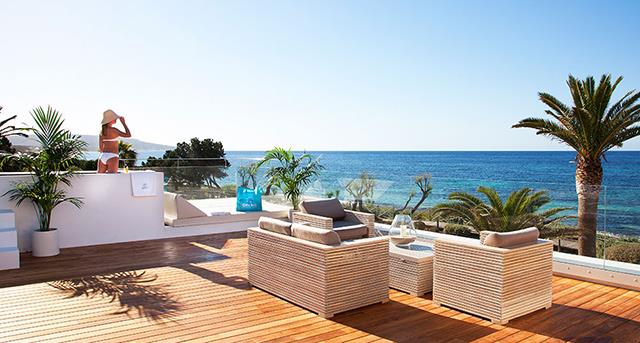 Gecko Beach Club and Hotel
THE NAKED ISLE
The man is all legs akimbo, his female companion spread out as if slumber has taken hold midway through a yoga stretch. They are far from the exception.
But, then, this 12-mile long island (a mere 30-minute ferry ride from Ibiza) has long been one of the let-it-all-hang-out capitals of Europe. And one of the most paradoxical.
It's where the languid, carefree spirit sits alongside a strict policy to protect the seagrasses; where construction of new buildings is limited; where you'll find no mega music clubs, not even (unlike its loud neighbour) much in the way of nightlife.
LAIDBACK VIBES
It is the smallest of Spain's Balearic islands – and is popular as a day-trip destination for people staying in Ibiza. Formentera is particularly well known for its clear waters and long stretches of beach backed by dunes and pine trees. Compared to busy neighbours Ibiza, and Mallorca, nothing much seems to happen on Formentera – and that is meant as a compliment.
The main hub is Sant Francesc, a sleepy village that always manages to wake up in time for drinks and dinner. On a Sunday evening, a group of boys is playing football in the square, using the town hall door as one of the goals, with the white-washed fortress church of Sant Xavier looking on.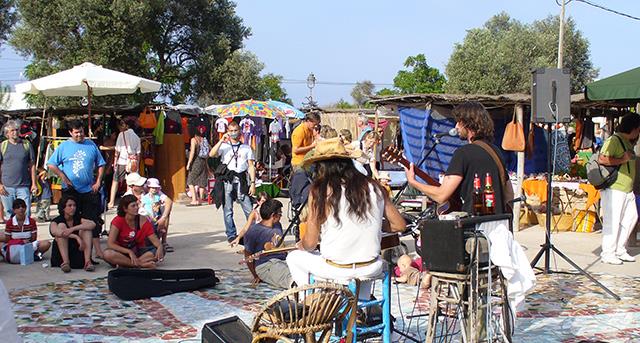 Visit the Hippy market in Molar on Sundays and Thursdays
There's not, to be honest, a great deal in the way of culture on Formentera – although the Sunday and Thursday Hippy Market in Molar is a good window to the island's soul. The market is more chic than shabby, with whole families coming out to browse and, crucially, to browse at what everyone else is wearing.


GECKO BEACH CLUB
Back at Gecko – a favourite of Sienna Miller – it's all about pared-down luxury. Rooms are on the small side but most come with balconies and some have plunge pools. There's a long, wide pool in the garden on one side of the hotel, a huge lawn with cabanas on the other.
The sea is right there, and at first it's not especially luminous, but walk through the reeds and it soon clears invitingly. Where the water famously is compared with that of the Caribbean is along the northern spit, especially Illetes beach.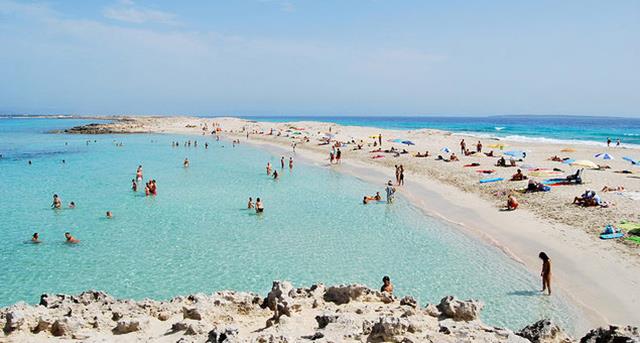 Ses Illetes Beach
ACTIVITIES
We hire bicycles for a day (€6 per bike) and pedal over to Illetes, stopping for a coffee in Es Pujols, the nearest thing Formentera has to a resort town. It's really one main street that leads down to the sea. Unspoilt, unshowy.
A word of warning about Illetes. Time your arrival with care, ideally before the day trippers arrive from Ibiza or after they have left. We make the mistake of turning up at midday and its beauty is somewhat overpowered by the crowd.
We eat our last lunch at a simple Chiringuito right next to the hotel called Kiosko 62, where you perch on stools. My lamb burger does a brilliant job of offering Formentera up on a plate. Cooked pink, it arrives without ceremony in a plain white bun with a slice of tomato on the side. Simple, unpretentious and utterly delicious.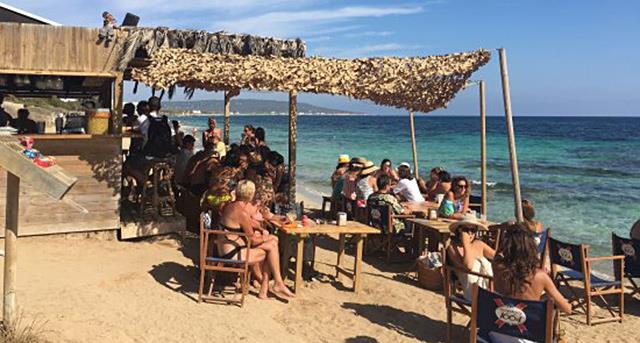 Casual dining in the sunshine at KIosko 62
Another extremely popular spot for lunch is Juan Y Andrea which is something of an institution. Open since the 1970s it serves Mediterranean specialties like fresh lobster in glorious surroundings overlooking Illetes beach.
The tables are arranged on the beach and the white-suited waiters walk barefoot. The venue attracts everyone from shipping magnates to movie stars, from ex-Presidents to honeymooners, much like the island itself.
Make sure you book ahead to avoid disappointment.
First published in the Mail Online -  June 2018
More articles below...