You have to admire the pluck. Porto Montenegro, once the main base for the Austro-Hungarian navy, is now home to super-yachts, gin palaces, infinity pools, nightclubs, fleets of helicopters – and a frisson of controversy.

It has Monte Carlo in its sights; St Tropez and Porto Banus, too. The development, at Tivat, in the Balkan state of Montenegro, is the first state-of-the-art deep water marina in the Adriatic. It will eventually have berths for 650 yachts, 150 of them super yachts up to 150-metres long.

It's part of a community of luxury apartments, shops, restaurants and entertainment amenities. An 18-hole golf course is also planned nearby.

The rumour was that Casino Royale was filmed there, an appropriate connection because Fitzroy Maclean, sometimes thought to have been his friend Ian Fleming's model for 007, fought in the Second World War with partisans in the hills along the Dalmatian coast. In fact, Daniel Craig performed his dashing feats elsewhere but the image has not done Montenegro's ambitious tourist industry any harm.

Canadian gold-mining billionaire Peter Munk, a refugee from Nazi-occupied Hungary, is the chief investor. A friend of Munk's from Toronto says that when he visited Porto Montenegro seven years ago, the site resembled Pearl Harbor after the Japanese attack.

Not any more. Its first five-star hotel, The Regent, recently opened and Lord Rothschild, an investor, was there to witness it.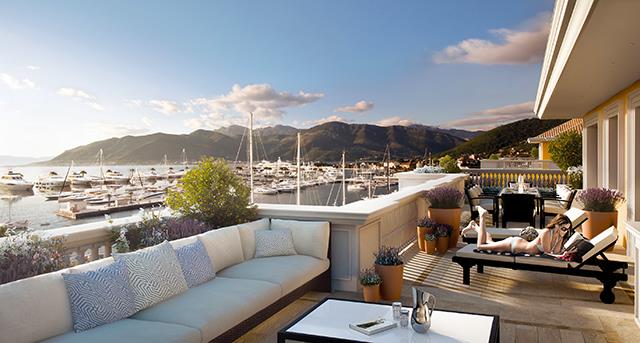 View from the Regent Hotel
'It's a miracle.' he said. 'I look forward to coming back here again and again.' Sadly, there was no sign of his old friend Oleg Deripaska, the Russian oligarch.

The latter has a house here but has fallen out with Montenegro prime minister Milo Dukanovic over an aluminium smelter he bought, later putting many local people out of jobs.

Porto Montenegro is the deepest natural harbour in Southern Europe and Kotor Bay is said to contain 42,000 species of fish. Tivat has a small airport, although most visitors use Dubrovnik airport 27 miles away.

Nearby, the town of Kotor is a UNESCO World Heritage site with charming cobbled streets and baroque, Venetian and Austrian architecture. It's surrounded by spectacular mountain scenery.

Two cold war submarines are now open to the public, and the sawmill and repair yard have become a maritime museum.

Lord Byron described Kotor Bay as 'the most beautiful encounter of land and sea'. What he would make of modern Porto Montenegro we ?will never know. But it's some spectacle.
First published in March 2015
More articles below...