My very first mistake is to arrive in Verona with two men. One is tall, dark and handsome.The other is fair, with mesmerising green eyes.

'Which will you choose?' winks a lady at the elegant Hotel Colomba D'Oro as we check in. I smile hopelessly at my two gentlemen of Verona, and in unison we declare that we are all just friends. They look rather too relieved for my liking.

By the time Lucy, the fourth member of our party, arrives, I have protested my singleness to half a dozen passers-by. One sends me straight to the House of Juliet, of Shakespeare fame. There is no Romeo waiting for me beneath the balcony (a delicious 20th-century addition to the medieval building), but there is a wall of love notes and romantic wishes.

To write or not to write? I opt instead to make for Juliet's statue. Rub her right breast, they say, and you will be lucky in love. Before I can reach her, I am shoved out of the way by a throng of wedding guests. A beaming bride and groom have appeared on the balcony overhead.
Messages of peace and love in every language can be found on the wall at Juliet's house
We leave the fray and head for dinner. Verona's specialities are donkey ragu and hearty horse stew. I order risotto. Across the square from our table at Antico Caffe Dante an orchestra plays on a loggia.

After a bottle of Valpolicella, we are glad we have travelled with an empty suitcase - and have space to take some supplies home. The next day, we stock up at a charming wine shop called Signorvino.
NEON LIGHTS
In the last of the evening light, the four of us head over to Piazza delle Erbe via the so-called 'Arch of the Rib'. You could easily miss it, but if you gaze skywards you will see a mighty whale rib dangling precariously above from the middle of the arch.

Legend has it that the bone will fall on the first honest person to pass beneath. Deciding that impalement is no reward for virtue, we are glad to be exposed as hucksters.

During the day, Piazza delle Erbe is Verona's main market square. Stalls selling watermelon and strawberries, sunflowers and Venetian masks stand in the shade of enormous cream parasols. At night, there is more room in which to appreciate the palaces which surround them.

Before the Venetians took over in 1405, the most prominent family in Verona had been the Scaliger. Many buildings were raised in their honour, then redecorated during the Renaissance.

The facade of one, Casa Mazzanti, is adorned with the kind of frescoes you'd sooner associate with a Renaissance interior. Statues of Roman gods, meanwhile, peer down from the gorgeous Palazzo Maffei at the piazza's north end.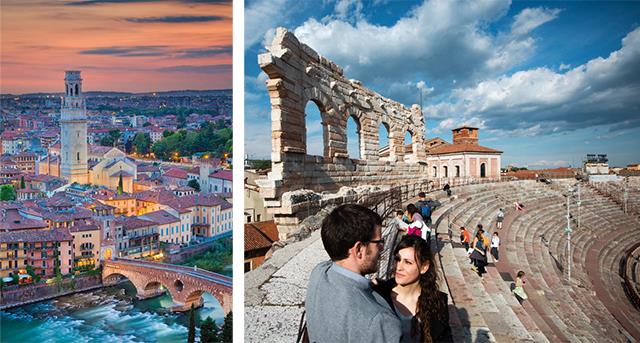 Visit the ancient Arena during the Summer opera season
In fact, it is hard to avoid the Romans in Verona. Mesmerised by its ancient gates, we venture the next morning to the Arena. It is even older than Rome's Colosseum.

We are too early for the opera, which is performed here in the summer months, but not in the sun. After a few minutes sitting here, we are already developing a Donald Trump glow.
CITY OF LOVE
Originally, I visited Verona to research a book on Catullus, the erotic Latin poet who grew up here. Verona's airport, Valerio Catullo, proudly bears his name. Juliet Capulet may be Verona's most famous star-crossed lover, but Catullus was its first.

Remembering how Catullus despaired in his relationships, 'I hate and I love', I reach the conclusion that Verona isn't a city of love at all. From my lonely seat in the Arena, I resolve to rechristen it the (exceedingly beautiful) city of heartbreak.

On our last night, I realise that I have lost my notebook. I run through all the places we have visited that day. Did I leave it in the hills beyond the River Adige, where we went for a thigh-bruising walk? Or at Museo di Castelvecchio, among all the paintings by Bellini and Pisanello?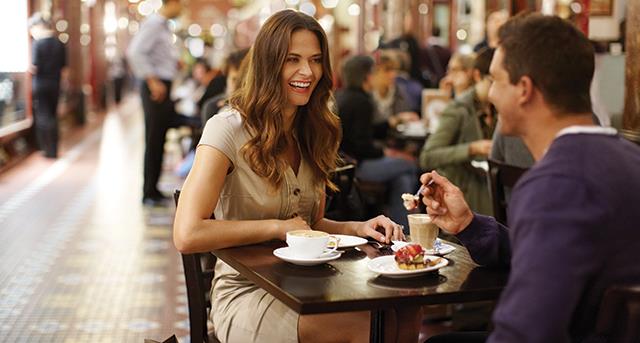 Cities don't come much more romantic than Verona
Finally, I return to the bar where we had enjoyed our aperitivi: Aperol Spritz all round. Inside, I find the jolly, pot-bellied owner waving my battered book.

'I thought you would come back for it,' he says. 'You are a writer. And you are very beautiful.' He may be no Romeo Montague, but he's better than a whalebone through the heart.

*Daisy Dunn's book, Catullus' Bedspread: The Life of Rome's Most Erotic Poet, is published by William Collins, £9.99.
First published in the Daily Mail -  April 2017
More articles below...