It's known for sun-soaked beaches, crystal clear waters and ancient landmarks... but Greece has also won a special place in the hearts of those who love a holiday that excites their taste buds.

On Kefalonia, the largest of the Ionian Islands in western Greece, Assos is one of the most beautiful villages. At the Assos Restaurant, you'll be seated in a courtyard beneath vines which create a cosy canopy. It's tempting to try everything, from skordalia (garlicky mashed potato) and tirokafteri (feta cheese and red-hot chilli peppers) to spetzofai (a delectable sausage and tomato stew).

Another gem in Assos is the Platanos Restaurant. This is the region's oldest bistro, where you'll be welcomed by Panayiotis Kokolis, whose father owns the restaurant.
Fiscardo is in an area so beautiful that the Greek government has protected it by law
The fishing village of Fiscardo and Vatsa Bay, with its freshwater streams,  are definitely places to try for fish dishes. At the latter you'll find quirky diners among the conifers and olive groves, serving up fish fresh from the boats. 
On Rhodes, the Grande Albergo delle Rose (Italian for the Grand Hotel of Roses) is at the northern tip of the island and serves gourmet food. A fabulous rose garden encircles  the history-laden building, where previous guests have included Winston Churchill and shipping magnate Aristotle Onassis.

A little less grand, but quite charming, is the Marco Polo Cafe, in the cobbled alleyways of Rhodes old town. It's a courtyard bistro with a fountain - perfect background noise for a romantic dinner for two.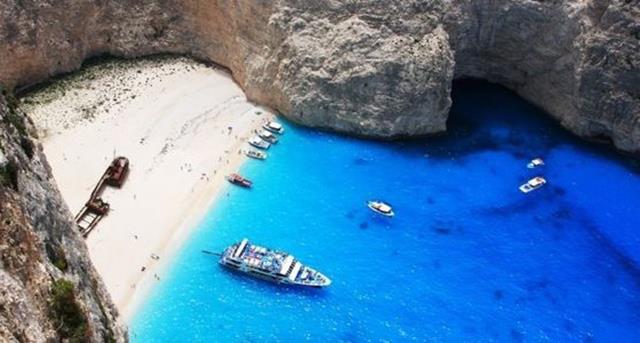 Breathtaking Zanté - a must when visiting the Greek Islands
Romance can be all about indulgence, and with veal rib steak on the menu and creamy tiramisu or panna cotta for dessert (crafted by the best patisserie chef in town) your heart - and tummy - will be full.

Finger food is often the perfect recipe for date night and Ateya Café Meze ramps up the romantic atmosphere as the gentle strum of Greek guitar melts through the air, carried by the warm breeze that the diner is famed for thanks to its position on the island.

One culinary treat that consistently crops up on Grecian menus is baklava. And one of the best at making it is Rosy's Bakery in Corfu.

This family-run establishment offers the ultimate sweet Greek treats, with baked goods laden with kumquats, pistachios, chocolate and oranges. The bakery is a fun place to visit with its walls adorned with jaunty graffiti, declaring phrases such as 'We Got Fat Here'.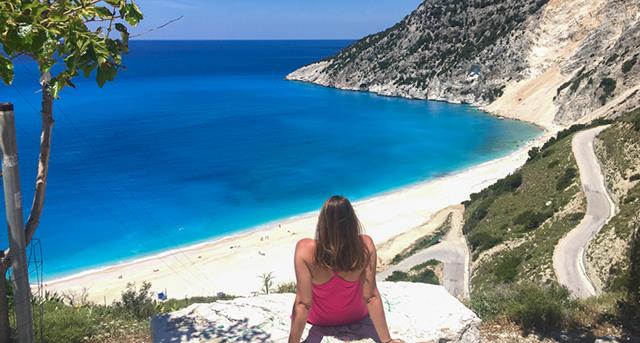 Myrtos beach in Crete has been voted one of the most stunning
The island also boasts a location used in the James Bond movie For Your Eyes Only - a gorgeous balcony at Achillion Palace, offering incredible views. And not far away is Mouse Island , one of Corfu's most-photographed spots, stunningly green and boasting the 13th century church of Pantokrator.

A wonderful spot to enjoy a Greek sunset is The Old Fortress. Built in the 15th century by the Venetians it overlooks Spianada Square and the sea.

As night falls in Corfu there's perhaps only one place to be, Aktaion, where you can see the moon emerging from behind The Old Fortress.
On Kos, you'll find Agios Theologos Kefalos - a mecca for the seafood lovers with its renowned grilled fish dishes. For dessert, try ravani - a syrupy sponge cake crafted on site by the owner's wife.

Visit the Ammos Restaurant in Halkidiki for a true taste of the Med, or enjoy a renowned sunset dinner at Taverna Psarou across the turquoise waters in Zante.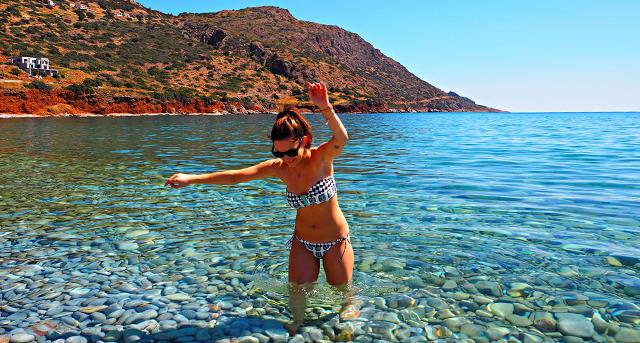 Enjoy turquoise waters in Crete
In Crete you can picnic on the beach or in an olive grove - with  sparkling wines, cheese platters and raki.

One thing is for sure: no matter where you choose to holiday in Greece, food will definitely be central to your sunshine adventure.
First published in the Mail Online -  August 2018
More articles below...