Sometimes those old sayings are absolutely spot-on. I'm thinking of 'it's an ill wind...' and 'every cloud has a silver lining'.

We don't wish problems on anybody...but there's no denying  that the troubles of the euro, and to a lesser extent, the Russian economy, have benefited British winter holiday fans, particularly those heading for the top French resort of Courchevel.

Courchevel is chic, ultra fashionable and at the heart of one of the most extensive and fabulous ski areas in the world, Les Trois Vallees. Now a combination of factors means this breathtaking resort, despite its pricey image, is becoming even more affordable for British holidaymakers.
Courchevel is known to be a snow sure resort due to its location in the Trois Vallées
In fact, although there's no shortage of very high-end hotels and restaurants, there have always been ways of having wonderful holidays here without breaking the bank.

Britain, years ago, made the momentous decision to stay out the Euro zone - and how that resolve is paying dividends now. The pound is currently so strong against the Euro that holidaying in even a top resort such as Courchevel can be cheaper in real terms than it has been for years.

There has also been a perception that the popularity of Courchevel with free-spending Russian skiers has somewhat artificially pushed up prices, particularly during previously cheaper weeks in January, which is when the Russian New Year falls.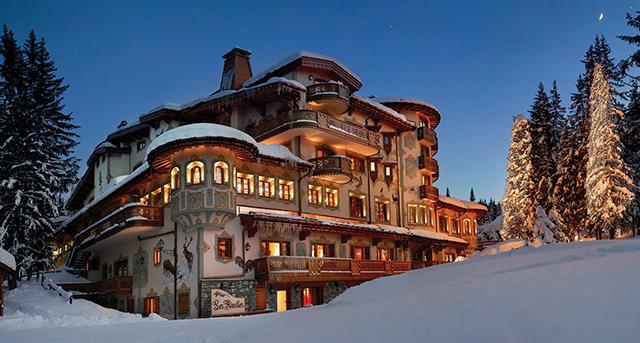 The Hotel Les Airelles was voted the World's Best Mountain Hotel by Condé Nast Traveller readers
Well, guess what, the rouble has found itself in all sorts of trouble lately, hitting in particular the upward mobility of the Russian middle-class. This means that, while there's not a sudden total absence of Russian guests, many are tightening their belts and forgoing  a holiday in the Alps this year.
The belief that too many Russian visitors - with a somewhat over-hyped reputation for loud behaviour - was altering the dynamic of resorts such as Courchevel has been something of a myth anyway, certainly an exaggerated fear. One of Courchevel's great strengths has been its cosmopolitan atmosphere. It's believed that skiers and boarders from 45 countries visited last year - a united nations of snow lovers if ever there was one. It prides itself on its international ambience.
British skiers top Courchevel's visitor number at 33%
The British are the resort's most important international clients, making up 33 per cent of visitors last winter.  Russians made up little more than five per cent, and that could well decrease this year. You'll find more Russians are heading for the slopes of Sochi than Courchevel this winter.

The strong pound also means that the cost of those essential components of a ski holiday - equipment rental, ski-pass, lessons, mountain lunches and apres-ski - have taken on a more comforting look. It will also surprise many to learn that a six-day adult Three Valleys ski pass costs just two euros a day more than the equivalent Dolomiti Superski pass in Italy, usually perceived as a much cheaper country in which to ski. A Three Valleys pass covers 170 lifts and 600kms of runs. Courchevel also has eight free ski lifts easily accessible for beginners, and four free ski travelators. For under fives or over-75s, the ski pass is free. Reductions apply early and late season.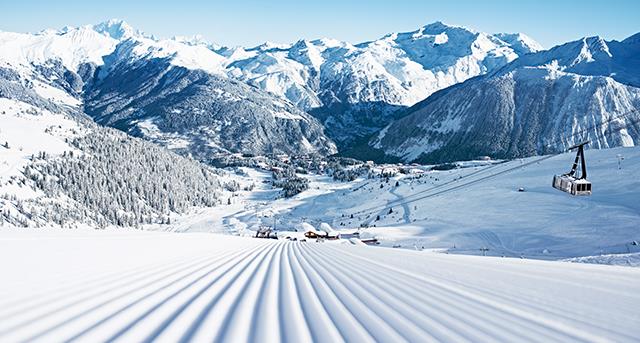 Fresh snow awaits on the slopes of Courchevel
As at any resort, you can push the boat out at lunchtime. But Courchevel also has a good range of affordable lunch spots. One that comes to mind is Le Bel Air, at the top of the Ariondaz lift, where the food is good and prices reasonable. It has a lovely sunny deck too, by the way.

Les Chenus, at 1850, serves exceptionally good burgers at sensible prices and has a plat du jour at 11 euros. And the restaurant at the top of the gondola from La Tania is also known for not ruining the holiday budget.
Incidentally, each of these are also handy for non-skiing members of the party to meet up for lunch, being accessible by lifts pedestrians can take. Le Courcheneige, on the easy Bellecôte run a little above the village, with a  stunning south facing terrace, has a plat du jour from 15 euros.

The village boasts a wide range of good value restaurants - including pizzerias, Savoyard speciality venues and creperies. And even some Michelin-starred establishments are astonishingly good value, such  as the Azimut in Courchevel Le Praz, which has a daily menu from 30 euros. This winter could be the perfect time to raise a glass in Courchevel!
First published in January 2016
More articles below...