Slip, slop, slap time has arrived on the Whitsunday Islands in Australia. That's slip on a top, slop on the sun cream and slap on a hat, as they say over here.

These bountiful islands sit off Queensland's subtropical east coast within the Great Barrier Reef - and on a trip Down Under, it's crazy not to include a few days here.

They're accessible via a short (for Australia) internal flight - two hours from Sydney and 90 minutes from both Cairns and Brisbane - and boats leave from the popular backpacker spot, Airlie Beach.

Captain Cook came across the islands (there are 74) during his epic 1770 voyage on what was recorded as Whitsun. He christened the stretch between the islands and Cape Conway (to their west), Whitsunday passage - hence the name.
Cockatoos show off each evening
It doesn't quite do their exoticism justice. They're brimming with extraordinary life; the fattest of parrots, iridescent fish, fascinating bush landscape and the squeakiest sand on the planet. Most of the Whitsundays have national park status.

Hamilton Island, our first port of call and the most developed, serves family-friendly fun with big resort panache.

At the Reef View Resort there's a pool alongside the restaurant so parents can eat and watch their young squeal and splash.

The big selling point is best appreciated from the upper floors, where this lovely expanse comes to squawking life each evening as great flocks of cockatoos swoop about.

Guests tend to travel around by golf buggy, but you can reach everything you need on foot. There's a yacht-filled harbour with beach shops, boutiques, ice-cream booths and even fish-and-chip counters.

We take a buggy here on our last evening for posh cocktails in the stingray shaped yacht club.

I'm a sluggish sort in the sunshine. My sister Felicity isn't. In local terms, she is the kangaroo to my koala. I would be happy to watch the weddings go by on the beach, but am marched up to Passage Peak - a fairly challenging climb, especially in a warm climate - for the rewarding views.

Then it's off to Dent Island, a golfer's honeypot, for lunch. Dent is a ten-minute boat ride from Hamilton and popular with keen golfers such as F1 driver Fernando Alonso. We aren't golfers, but the course is an attractive diversion and the restaurant serves a tasty lunch.

The big attraction, though, is the water. The Whitsundays are a jumping off point for the Great Barrier Reef.

If you're not inclined to take the full day excursion to a floating pontoon moored beside it and you're not a diver, there are other snorkelling sights which cost much less and don't attract so many visitors.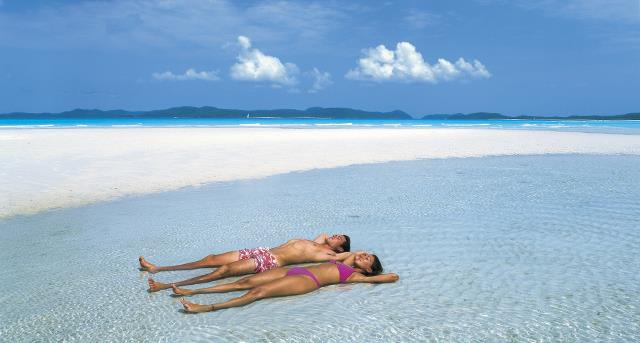 Soaking up both sea and sun on Whitehaven Beach
We opt for one of these, largely because it includes a drop-off at the pearly ribbon of Whitehaven Beach on Whitsunday Island. This four-mile stretch is a 'beaut'.

A short walk from the beach takes us to Tongue Point Lookout, from where we see water swirling away across sand and mud flats like a marble cake.
Stingrays and blacktip reef sharks are dotted about in the shallows. They are common in these waters — and nothing to worry about. Hammerheads have been spotted, but there have only been three recorded shark-related fatalities in the Whitsundays.

So relax — up to a point. It's the jellyfish I am watching out for. Irukandji are tiny (about 1cm) but deliver a punchy sting, which can be fatal. So we all don head-to-toe stinger suits and sally into the sea with some trepidation.

Once we've got over the initial flap of flippers and goggles, the water is a joy.
Clownfish (of Finding Nemo fame) guard their anemone homes, parrot fish chip away at the coral, munching noisily as if on crisps, black-and-white striped zebra fish flit about and jellies bob near the surface.

The coral is like a well-stocked sweet shop, with blue-tipped wands, purple puckered lips that kiss the water, thick wafts of tagliatelle and sugary pretzel twists. It's all very much like the breakfast buffet at our next stop, Hayman Island. This sultry place has a different pace altogether. It's positively quiet.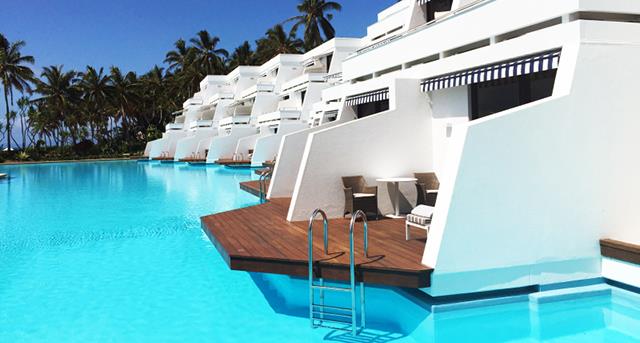 Stunning One&Only, Hayman Island
Reached by a 50-minute ferry from Hamilton, champagne on tap, it offers high living and attracts an international clientele. The hotel is beautifully landscaped with rooms overlooking the ocean, lily ponds, or a cubic pool. 

My sister insisted we undertake a four-mile trek through the bush around the island, swiping away spider's webs with a stick and listening for the slightest slither. We see bush wallabies, one with a baby on board, butterflies the size of sparrows, lots of cross spiders (which primly hold their legs together) and ancient grass trees.

We also spot two newly built residences, priced from £12million. Incidentally, if you are in the market for a Whitsunday retreat — Daydream Island is priced at £75million.
First published in the Mail on Sunday - January 2016
More articles below...