Overview
This amazing Fiji cruise experience combines three and four night itineraries, covering the full length of the magnificent Yasawa Island chain as well as Modriki and the Sacred Islands. You'll have the opportunity to see and do so much on this cruise and you'll come away with memories from a holiday of a lifetime. You will see mother nature at her best, be welcomed into the friendliest culture in the world, discover an underwater world of vibrant life, laze on countless golden sand beaches and luxuriate in warm lagoons. To put it simply, you'll be transported to paradise!
Day 1
Friday
Bula! You are welcomed aboard your Blue Lagoon Cruise and set sail aboard Fiji Princess heading to the outer Mamanuca Islands. The first overnight anchorage is the gorgeous secluded location around Modriki Island. This is the film location for the hit movie Cast Away with Tom Hanks. Cocktails and canapes are served as you enjoy the sunset looking out over the tranquil waters between the islands. Tonight meet the captain during dinne, and enjoy entertainment provided by your talented singing, dancing and guitar playing Fijian crew!
Day 2
Saturday
This morning there is time to step ashore and enjoy a swim or wander along the beach before or after breakfast. You then set sail for the day exploring the southern Yasawa Islands. There is a special stop and an opportunity to swim with the sharks at a secret reef location en-route. After lunch visit the chiefly village of Soso to learn about village life and meet the beautiful children who attend the remote island school. Alternatively, snorkelling, diving, kayaking and a sport fishing trip is also on offer. Following cocktail hour, enjoy a traditional Thali dinner which features exquisite Indian dishes. This evening will be an extravaganza of Bollywood Dancing complete with movies on the big screen. Anchorage: Soso Bay.
Day 3
Sunday
Sunday is a day of rest in Fiji but after breakfast there is a very special opportunity to attend a village church service. Alternatively there is an opportunity for an early morning swim. You will find an island village church service to be a very moving experience with singing and the uniqueness of Fiji. We cruise south to the beautiful little Naukavuca and Narara Islands as you enjoy a Sunday roast lunch. On arrival there is time to enjoy a lazy Sunday afternoon relaxing or enjoy a swim or glass bottom boat and snorkelling trip. Also on board there is an opportunity to join the Chef for today's Fijian cooking lesson and make the traditional dish 'Kokoda'. Tonight, a spectacular Asian theme buffet is served. Bingo 'Fiji style' after dinner with lots of laughs and some good prizes or enjoy a quiet nightcap in the bar. Anchorage: Naukacuvu Island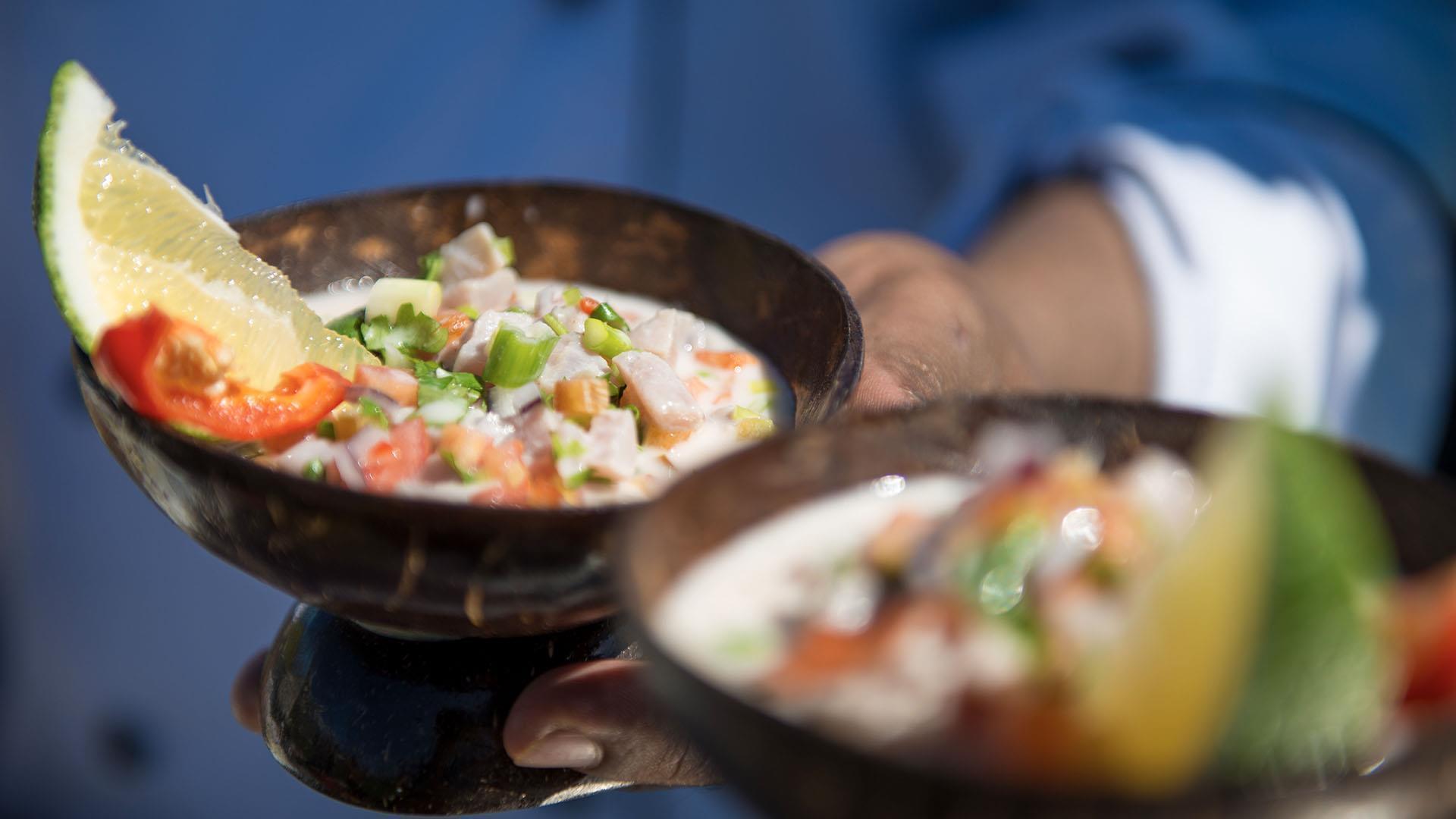 Day 4
Monday
An early morning fishing trip is on offer today with the crew. There will be time for a snorkel, swim or kayak before you leave Naukacuva and cruise to one of the most beautiful and remote island groups on the cruise, the Sacred Islands, where the rest of your day is spent enjoying this tropical paradise. Say farewell to the three night guests and then head ashore to a deserted beach for a picnic lunch. Enjoy a swim, wander the beaches, kayak in the lagoon and in the afternoon meet the new four night guests and learn the art of Fiji High Tea. Back on-board it's happy hour at the bar with cocktails, cold beers and wines on the upper deck.
Day 5
Tuesday
Laze on the sun deck as you cruise past several of the larger Yasawa Islands and beautiful bays. Your destination today is the famed Blue Lagoon, a superb stretch of water circled by islands, that is filled with fascinating coral reefs. Nanuya Lailai is home to Blue Lagoon Cruises' very own private beach. Tie up to a coconut tree and lunch is served on-board, while on shore your private Fiji style beach club awaits, along with sun loungers, onshore massage, a bar and beach volleyball. You'll have plenty of time for swimming, snorkelling, fish feeding, viewing coral from the glass bottom boat or just wandering to a secluded stretch of beach to top up the tan. Enjoy a coconut demonstration and diving for all standards can be pre-booked for this location.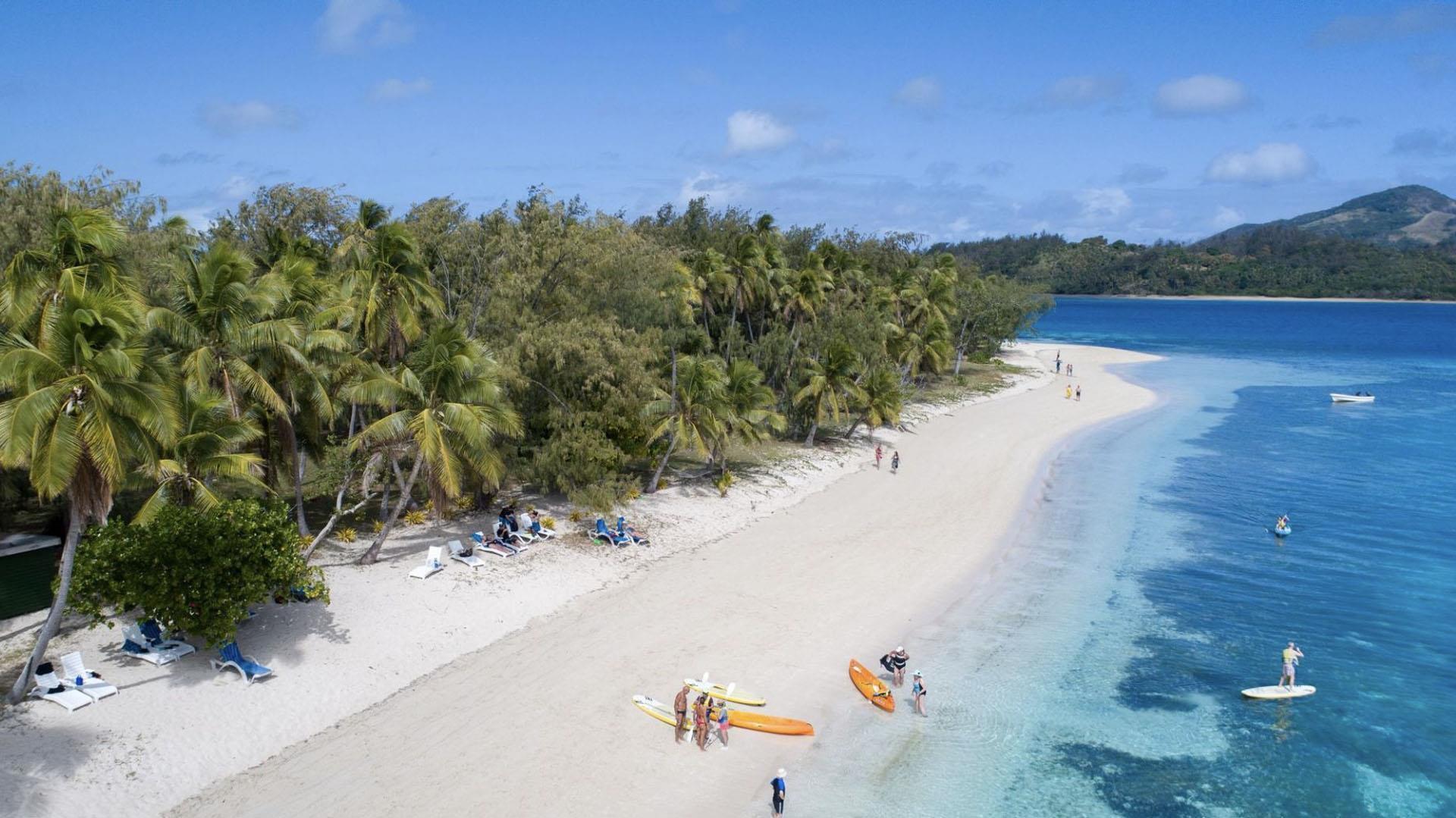 Day 6
Wednesday
Most of the day is at leisure here at your private beach. Laze around or take part in some of the fun Fijian activities. A delicious buffet lunch is served in the dining bure on shore before it's back on-board as Fiji Princess heads North to the mystical island of Sawa i Lau. Afternoon tea is served on-board as you cruise. On arrival set off on a private tour of the Sawa i Lau caves. This evening there's a special visit to the village of Tamusua to see a yaqona ceremony and a Fiji village style feast prepared and cooked by the women. Served outside, you will be Fijian for the night, sitting on mats, eating local food and sharing stories with the villagers about their culture and their home. Later return to Fiji Princess for a movie night.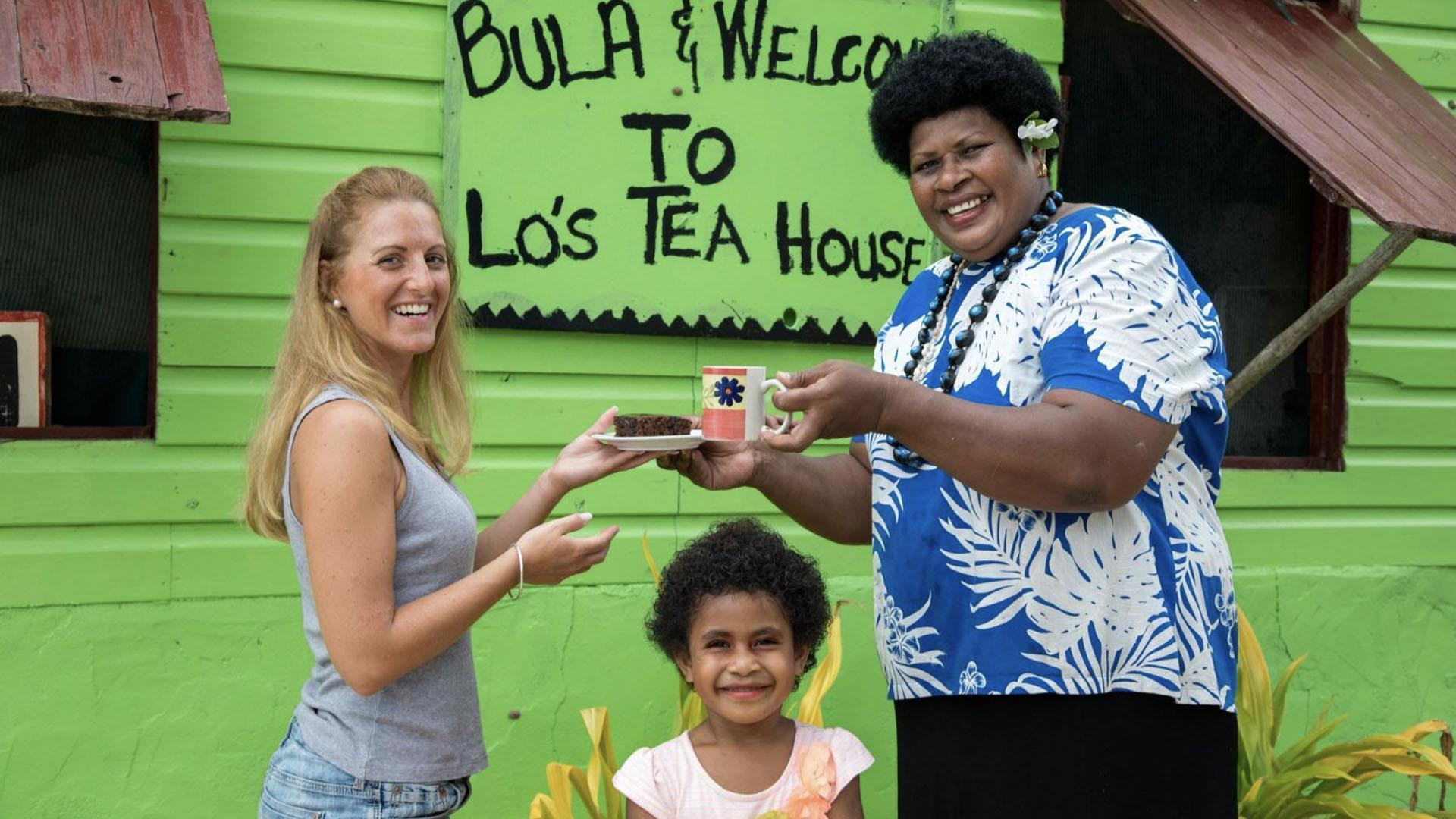 Day 7
Thursday
Today Fiji Princess heads on out of the bay bound for Drawaqa Island where a marine biologist will tell you all about the local fish, marine life and the conservation work the Vinaka Fiji Volunteer team are doing in this area. Conditions permitting you will have the chance to snorkel with manta rays in small escorted groups. If getting wet is not your thing two other great activities are on offer - a visit a local village school or abseiling. Dinner this evening is a barbecue served on the upper deck of the vessel under the stars and this party night is the perfect way to celebrate your time in the Yasawas. The bar is open and the ship's resident DJ plays the tunes on the upper deck. If you haven't already learned the Bula Bula dance you soon will.
Day 8
Friday
An early start today as it is time to cruise for home and return to Denarau Marina. Enjoy breakfast on-board as Fiji Princess cruises back towards her home port. On arrival, and before heading to the airport or your holiday hotel, you will be given a special farewell with the traditional Isa Lei song from the crew, as your exploration of the beautiful Yasawa Islands comes to an end. This action packed seven night cruise makes a superb add on to any longer holiday in Fiji and is great for all the family.