Plane rage!
The worst showbiz temper tantrums in the air.
Long queues, cramped seating and minimal sleep make plane journeys the perfect breeding ground for tempers.
But, with their over-sized egos, celebrities appear more susceptible than most to a mid-flight tantrum.
Here are the most famous members of the Mile High Fight Club...
Kate Moss
Sadie Frost and Kate Moss made headlines when disruptive behaviour caused her to be hauled off an easyJet flight to London from Bodrum, Turkey, following a girl's holiday with Sadie Frost in 2015. According to passengers, the model swigged vodka from her carry-on luggage and shouted at flight attendants after being told they had run out of her favourite sandwiches, before calling the pilot a 'basic b***h' while being escorted from the plane by police at Luton airport, although no charges were pressed.

Gerard Depardieu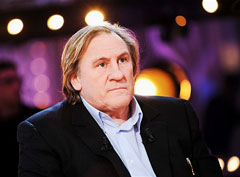 Gerard Depardieu raised a few eyebrows on a delayed flight from Paris to Dublin in 2008, when he tired of waiting to access the toilet. The actor had been told that the bathrooms would remain locked until the plane took off, so decided to relieve himself in an empty bottle, spilling urine on the carpet in the process. The incident delayed the CityJet flight further while Gerard was escorted off.



Liam Gallagher
Liam Gallagher The rock star's career is littered with public spats, but he still managed to surprise by causing a disturbance on a Cathay Pacific flight from Hong Kong to Perth in 1998 with… a scone. The Oasis singer swore at flight attendants and ignored No Smoking signs, before asking for a scone, buttering it and threatening to throw it at the pilot. The airline banned him for life.




Alec Baldwin
Alec Baldwin flew into a rage in 2011 after cabin crew asked him to turn his phone off while the pilot was preparing for take-off, because he was in the middle of playing a game called 'Words With Friends'. The actor was escorted off the American Airlines plane at LAX after screaming and pummelling his fists against the bathroom wall.





Diana Ross
Diana Ross didn't even make it onto the plane before throwing her tantrum. The singer allegedly took offence to being frisked by a female guard after setting the metal detector off while going through security at Heathrow in 1999. She attempted to frisk the guard back before being detained by police, but was released without charge.




Naomi Campbell
Naomi Campbell kicked off after discovering her suitcases failed to board a British Airways flight from Heathrow to LA in 2008. The supermodel shouted abuse at flight attendants before demanding the pilot leave the plane to go and search for the bags, but ended up disembarking herself…escorted by two police officers. She was fined £2,300 and sentenced to 200 hours of community service.



Facing a Cuba miss-out crisis
Airlines about to cash in on those curious Americans
Facing a Cuba miss-out crisis We've been saying all year that you should visit Cuba before it's too late . . . and that sentiment has never been more true than it is now.

Major American airlines are lining up to fly to Cuba, sparking fears that the country's outdated tourism infrastructure will struggle to cope with the influx of visitors.

A deal agreed last month to restore scheduled flights between the United States and the island will mean that in future there will be as many as 110 flights a day from the US to Cuba. Of these 20 will be scheduled flights to the capital Havana, in addition to the current 10 to 15 charter flights. The rest would be to other cities.

The country experienced a tourist boom last year following Barack Obama's decision to relax travel restrictions to America's old Cold War enemy. What followed was a 71 per cent rise in visits from US citizens. America's Department of Transportation expects to award the new flight routes by the summer.

All the big US airlines have said they are eager to begin services to the country, meaning thousands of curious Americans will be taking a vacation there having been denied the chance for more than 50 years - a period that saw the famous Cuban missile crisis and the failed Bay of Pigs invasion.

You should book many months in advance to secure rooms in decent hotels and arrange car rentals.
My best holiday ever
John McEnroe gets really serious when it comes to vacations
How often do you travel?
For about 15 to 20 weeks a year, doing a handful of senior tennis events such as at the Royal Albert Hall and covering others like the Championships at Wimbledon and the French Open.
Your first memory of travelling abroad?
I went to play in Brazil when I had just turned 18 and was the world's top junior player. I got to the airport and nobody knew who I was. I couldn't speak any Portuguese and no one spoke English. Then somebody said something that resembled 'tennis' so I got into a car and was driven at 100 mph in a downpour and miraculously made it to the destination.
John McEnroe in action
What do you need for a perfect holiday?
I like to be close to water and the ocean in particular. I love to get out and body surf. I like mountain biking too as the views are beautiful and I can still stay in shape, so it's the best of both worlds.
Your favourite city?
London is great, but New York is the greatest city in the world. I live there though, so I suppose if I had a couple of days free there are probably more things in London that I haven't done. The Centre Court at Wimbledon is the most memorable place that I have ever played - there is nowhere like it.
Favourite holiday destination?
I went on safari in South Africa after apartheid ended and more recently I've been to Tanzania, which was even more magical. With a safari's it's a combination of seeing something you rarely see and going with friends makes it even more special.
Most relaxing destination?
Because I travel so much I like to stay at the places where I own a property. We have a place in Malibu with unbelievable views and I find that really relaxing.
Where next?
I would love to visit the Holy Land as there is so much history there. I'm not very religious, but it would be interesting to see if that changes after visiting places like Jerusalem and Bethlehem. It would be fascinating to see a lot of religions in one place. And the Grand Canyon - I haven't been, but would like to.
To read the full interview visit www.telegraph.co.uk
Travel Gossip
What's up? What's down? From cheap beers in Borovets to pilot laser fears
Borovets; four bars per sq km & happy hour beer from £1 Apres vous, Borovets
The French may have coined the term, but when it comes to apres-ski it's not the popular plush destinations in the Alps but the Bulgarian resort of Borovets which has recently been revealed as the best in Europe, according to research carried out on behalf of ski operator Crystal. Borovets won the title because it has four bars per sq km . . . and pints of beer cost just £1 during happy hour!

Turkish airport delight
Whether or not Turkey finally realises its dream and becomes part of the EU, it should at least have a top class airport to be proud of. Designs have been revealed for the new airport at Istanbul which is set to become one of the biggest in the world when it is built in 2018. It will serve 90 million passengers a year initially, rising to a staggering 200 million.

Cloak and swagger
It might not be the first place that springs to mind when considering a beach holiday, but Saudi Arabia is planning to spend £100 million developing the unspoilt Farasan Islands, which are home to sandy beaches, coral reefs and nesting turtles, into plush tourist resorts. For the time being the development is aimed at Saudis and expats, but Westerners may become a target in the future . . . if they relax restrictions on female visitors who must be accompanied by a male guardian and are required to wear a black cloak and headscarf at all times!

We have ways of not needing a visa
German citizens now possess the world's most powerful passport, based on how many countries they can visit without applying for a visa. The UK topped last year's rankings alongside Germany, but was ousted after several countries relaxed restrictions to the latter. German passport holders can now visit 177 countries visa-free, out of a possible 218. Britons can visit 175, the same as the French, Spanish and Italians, while US citizens can visit 174. People from Iraq can visit only 30, Pakistan 29 and Afghanistan just 25.

Awarded in very poor taste
The validity of TripAdvisors coveted Travellers Choice awards has been called into question after a 2016 gong was given to the hotel in Tunisia where an Islamist terrorist attack left 38 holidaymakers dead last summer. The Riu Imperial Marhaba in Port El Kantaoui has been closed since the atrocity in June, but this did not stop it receiving the endorsement of the travel review website last month, a blessing coveted by hotels around the world to help boost their profile and raise bookings.

Paws for thought
The Foreign and Commonwealth Office has warned tourists to Nepal to "observe park regulations and follow your guide's instructions" after a Dutch tourist was attacked by a tiger in Bardia National Park. The tourist survived the ordeal by climbing a tree helped by his guide who ran away "to distract the rampant beast's attention".

Pilots want authorities to see the light
The British Airline Pilots Association (BALPA) has demanded action to tackle laser attacks that can distract pilots. A Virgin Atlantic flight was forced to return to Heathrow recently after its first officer was dazzled by a laser. Shining a light at an aircraft in flight so as to dazzle the pilot became a criminal offence in 2010 but Civil Aviation Authority figures show that laser attacks peaked the following year with 1,912 incidents reported. BALPA want lasers classified as offensive weapons which would give police more powers to arrest people for possessing them.


Quirkiest hotel of the month
The Queen Mary is pure gold...
The Queen Mary is pure gold... Combine the Golden State of California with the golden age of cruise travel without even having to leave the shore, staying on board the legendary Queen Mary cruise liner. This iconic cruise vessel has been magically transformed into one of California's most unique hotels at its home in Long Beach, California.

Whether it's the authentic polished wood panelling, the original 1930s artwork, the Art Deco style or the operable portholes, there's no question that the Queen Mary Hotel is unlike any other Southern California hotel. Each stateroom is unique with its own personality and offers a real glimpse into what transatlantic travel was like during the 30's, 40's and 50's. With an impressive history and tradition of excellence, the Queen Mary Hotel is more than a place to rest one's head.

Call to book this unique hotel experience or combine a stay onboard the Queen Mary with some time in glittering WeHo, Santa Monica or Beverley Hills. We can also tailor make your trip taking in other highlights of California including San Diego, San Francisco and Yosemite National Park.

Please call for more details.


When size matters
How airlines are becoming weight watchers
How airlines are becoming weight watchers As people get bigger and airline seats get smaller how to deal with sizeable passengers is becoming a large issue for airlines. A look at this graphic shows the problem:

Some airlines have already started charging a premium for those of ample girth.

Samoa Air charges passengers by weight and has introduced an XL class for grossly overweight passengers. And Uzbekistan Airways weighs passengers for safety reasons.

Meanwhile Etihad became embroiled in a court case when a passenger was forced to sit next to a grossly overweight person that took up a portion of their seat. And other airlines have been known to deny boarding to obese passengers. But there may be a solution in sight.

Airbus have patented a concept which involves swapping rows of individual seats for benches which could accommodate not only larger passengers but children as well. Adjustable, detachable seat belts would ensure all passengers are locked in regardless of size.

Perhaps in the future we'll be booking airline places instead of seats and asking you for your weight along with your name and address when booking a ticket!


What people are saying
A selection of customer comments from Trust Pilot

How DialAFlight saved my daughter's birthday trip to New York
Having booked a trip to New York through lastminute.com only to be badly let down by them I stumbled across DialAFlight by chance and couldn't be happier that I did. I booked the same trip to the Big Apple with them and it was all done and dusted with no fuss, no hidden extras and advisers who knew their stuff.
I cannot praise this company highly enough with special thanks to Trevor for his outstanding customer service. I am booking a trip later in the year and the first call will be to DialAFlight.
Robert Hamil gave DialAFlight 5 stars on Trust Pilot

Claude has given up on the internet after discovering DialAFlight
After being overwhelmed by the internet I came across DialAFlight and a phone number with no prices. With little patience left I picked up the phone. I was greeted by a caring, interested voice who soon eased all my concerns.
Leaving the booking in their hands we ended up with super transfer times with little waiting at airports. The airline itself, picked by DialAFlight was equally good. Even after they had our money they still cared with after sales contact to make sure that everything was going to plan.
Would I use them again? Yes I wouldn't hesitate.
Claude Proctor gave DialAFlight 5 stars on Trust Pilot

So helpful, even though neither of us managed to check-in online
This was the second time we had used DialAFlight. One phone call to say what you are looking for and they ring you back when they have found something suitable, tell you the options and let you think about it if necessary. The flight we chose in the end was a bit of an unknown for them. I checked out the reviews and agreed to it as we saved £600.
We booked in August but by the time we flew to Australia in January, China Southern Airlines had updated the first plane to a new Boeing 787. Unfortunately this plane is very cramped for people like me with long legs but not DialAFlight's fault as they did not know this would happen.
I tried to check in online as DialAFlight could not reserve the seats we wanted on the second plane. I gave up and rang DialAFlight who did their utmost talking me through the process and it still not working. Sadly China Southern's website would not allow either of us to complete the check in but DialAFlight had tried very hard and it was very time consuming. I cannot fault their service and will definitely use them again.
Susan Byers gave DialAFlight 5 stars on Trust Pilot

Hassle free, perfectly planned trips
This company offers personal outstanding service every time. They not only beat competitors on price but did everything they could to cater for the holiday we wanted. They were always on the end of a phone to answer any queries and did their very best to make our holiday the very best experience - even ringing me a few days before to make sure we were happy with the arrangements. If you want a hassle free, perfectly planned trip look no further.
Julie Quinn gave DialAFlight 5 stars on Trust Pilot
Sparkling footnote: Julie's name was pulled out of the hat in our monthly Trust Pilot draw and a case of Prosecco is on its way to her.
Read more reviews at https://uk.trustpilot.com/review/www.dialaflight.com
What's on offer?
A selection of this month's top money savers...