Brexit Breaks boom as holidaymakers beat the rain
Bargains galore as offers flood in from all over the world
There are great deals on offer so give us a call
Here at DialAFlight we are always focused on helping customers take advantage of great deals but in the last week we have seen some amazing offers coming in from hotels across the world.
More about those in a moment. But first let's cut through the hyperbole about the Pound and put it in perspective. This week the Pound touched $1.33 and it still buys you more in Australia, Canada, South Africa and many other parts of the world than it did three years ago.
The Pound Is also stronger against the Euro at €1.20 than it was at the start Of Summer 2014 And no one was shouting 'Crisis!' then. In fact, we were all pretty happy after two years from 2012-2014 when it hovered around the €1.15 to €1.18 mark.
But because of the hype surrounding Brexit, airlines, resorts and hotels left with unsold stock are busy working out ways to ease the burden on Brits anxious to beat the rainy weather.
In Tenerife, they are love bombing our tourists with island locals, taxi drivers and hoteliers uploading images to social media of themselves hugging Brits to show their love for their most important market.
Hotels are queuing up to offer sizeable discounts with large groups such as Starwood offering up to 60% off normal rates. Others are offering free nights, room upgrades and a host of other incentives. Some hotels in the Caribbean are offering up to 50% discounts with free upgrades.
Seasoned travel writers have said that in the immediate future it is better to book with experts such as DialAFlight rather than go down the DIY route and face unexpected problems or surcharges. If you pay in full at the time of booking then we guarantee against any surcharges should the Pound fall back.
And don't forget that even with a weaker Pound, hotel prices and the cost of eating out are still cheaper in most European countries than they are here. So a holiday in France for example will still be better value than the equivalent in Devon and Cornwall.
That's not your face Sunshine! Computer chaos at Stansted
Summer sunsets are causing havoc by interrupting electronic passport gates at border control
Border chaos at Stansted airport
Passengers flying into Stansted have found the low setting sun shining through the window behind them is preventing the computer scanners from recognising their faces.
Biometric passports were supposed to speed up the process of entering the UK by allowing a computer to check travellers' details rather than a border guard. But the computers are struggling to deal with glaring sun coming in through windows at the Essex airport, which can deal with more than 40,000 passengers a day.
Holidaymakers have taken to Twitter to complain with one writing: 'Just queued at Stansted Passport control. On a peak day, less than 25% of electronic gates open. Good planning...'
Where to find the rich and famous this summer
Here's our guide to where celebrities will be letting their hair down this summer
Jamie Redknapp at Cala Deia, Mallorca
Mallorca
Cala Deia is a tiny beach bar a short walk from Deia. It was used as a location for the Night Manager and stars have been flocking there for lunch ever since. This recent picture shows Jamie Redknapp and family. The series also used Cap Rocat, a boutique hotel and restaurant near Palma. Michael Douglas, Catherine Zeta Jones, Andrew Lloyd Webber and other celebs have villas in Deia.
Kate Moss in Club 55, St Tropez
Club 55, St Tropez
Club 55 is an institution in the south of France, where billionaires and celebrities arrive on their yachts for a boozy lunch during the summer months. Kate Moss, Sir Phillip Green, Beyonce and Jay Z are all regulars.
Grab your best beachwear and book a table at one of the restaurant's two lunchtime seatings. Alternatively, splash out on one of their pricey sun loungers for the day.
Ed Sheeran at the Pikes Hotel, Ibiza
Pikes Hotel, Ibiza
Pikes Hotel was a celebrity haunt back in the 1980s. Freddie Mercury threw his 41st birthday bash, which went down in Ibiza history for its lavishness, there and Wham! used the property as the backdrop for their music video to Club Tropicana. It fell into disrepair in the 1990s but over the last few years it has been renovated by Ibiza Rocks and regularly hosts top VIPs, from the Arctic Monkeys to Ed Sheeran.
Gemma Collins at the Ocean Club, Marbella
Ocean Club, Marbella
If reality TV is your thing, then the Ocean Club Marbella is a must visit. The likes of Joey Essex, Mark Wright, Katie Price and Gemma Collins have all graced the enormous white beds at the pool party venue. This is a place to see and be seen though, so if you're planning on doing some laps or handstands in the water, you'll probably be the only one.
Paris Hilton at the Chateau Marmont
Chateau Marmont, West Hollywood
The Chateau Marmont is groaning with Hollywood history. The Eagles track Hotel California was written about the famous venue and Lindsay Lohan, Paul Newman both lived there at one time. These days the likes of the Beckhams, Katy Perry, Leonardo DiCaprio and Paris Hilton regularly dine in their restaurant. Book well in advance though and make sure to request a seat on the terrace.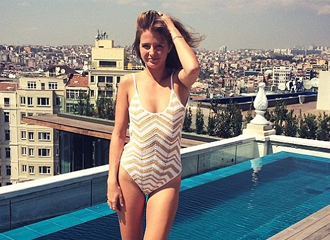 Millie Mackintosh at Soho House, Istanbul
Soho House, Istanbul
Istanbul's Soho House was one of the later members to the chain of private members clubs, but it didn't take long to take off. In the last year everyone from Professor Green and Millie Mackintosh to Eddie Redmayne have made a visit. The good news is you don't even have to be a Soho House member to book a room here.
Simon Cowell at Sandy Lane, Barbados
Sandy Lane, Barbados
It's almost impossible not to mention Sandy Lane when talking about celebrity holiday haunts. Each Christmas celebs including Simon Cowell, Rihanna and Jamie Laing can all be spotted wining and dining at the resort's restaurants and bars. The hotel is popular all year round but December and January are the most popular months for the A-Listers.
Car rental comes clean
Victory for holidaymakers hit for fees they don't expect when renting a car overseas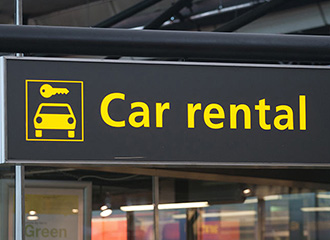 Overseas car rental is overhauled
Holidaymakers will finally be shown the true 'drive-away' price when they book car hire deals, under new rules. Rental companies often hide some fees to keep their headline rates low on comparison websites.
This means they appear near the top of the table for the cheapest deals. But drivers are then stung with extra charges when they go to collect the car. These can add hundreds of pounds to the cost of a holiday.
Now, in a victory for holidaymakers, the Competition and Markets Authority is forcing car rental firms to come clean. Hidden extras include young driver surcharges, fuel charges and child seats. For example, a car seat from Europcar costs a minimum of £77 for a week, and a TomTom satnav £98 a week.
Companies must make the changes by January 2017
My best holiday Ever
Chef Michel Roux Jr never goes away without his shorts and trainers and asks taxi drivers where it is best to eat
Michel Roux Jr sniffs out the best places to eat
How often do you travel?
I love travelling, so I do so as often as I can. It's exciting and inspirational for my cooking. I am based in London but I travel for filming regularly around the UK. I also go to France regularly to visit my family.
Your earliest travel memory
Getting the ferry across the Channel to go to France when I was small.
Favourite part of France
Where I have a house in the Ardeche. It's off the beaten track and very wild. It has wonderful produce and is hot in summer but can be cold and bitter in winter. I like the seasons.
Favourite part of the world for cuisine?
Any part of Asia is interesting but particularly Singapore and Hong Kong.
Where would you open a restaurant?
Hong Kong, as I worked there for six months at the start of my career so I know it well. I am also a fan of Las Vegas - I find it vibrant, fun, ecletic, and you can always see fantastic shows. It is such a great place to visit.
What do you need for a perfect holiday?
A pair of trainers, my shorts and running kit, plus sunshine, warmth, good food and my family.
Most adventurous travel experience?
Tromso, Norway. I went there a few years ago to take part in the Midnight Sun Run. I also went back in January for a fishing trip to catch skrei cod, which was great fun.
Favourite restaurant and bar?
That's hard, but earlier this spring I had a few days in Las Vegas and dined in a Japanese restaurant called Raku. It specialises in teriyaki and grills - they do pork intestine and Kobe beef tendon, which is quite unusual. As for a bar, the Oblix Lounge and bar at The Shard has such spectacular views - they also do jazz from time to time and serve great cocktails.
Favourite airline?
British Airways is very good now for long haul and for short trips I have used easyJet and although you get what you pay for, it offers a very good service. I have had a pretty bad experience with Ryanair and would not book with them unless I really had to.
Best piece of travel advice
?
Ask the locals where to eat. Some of the best advice I have had has come from taxi drivers.
Best health tip for travelling?
Eat before you get on the plane. The in-flight meal is never going to be a gastronomic treat even if you are sitting in the posh seats. Better to settle down and try to sleep on a plane so you awake refreshed by the end of the flight.
Read the original interview on Telegraph Online
Travel Gossip
Money back if it rains on the beach... and new phone apps that can sour those safaris
Iceland comes in from the cold
Iceland comes in from the cold
The number of people searching the internet to discover more about holidays in Iceland has soared after the Arctic minnows dumped England out of the Euros. Statistics from Google show that hits on the "where is Iceland" site surged after their national football team beat England 2-1. Iceland notched up 1.3 million visits last year, a figure that has more than tripled since 2000, with the UK providing the most. And with a new direct flight from Gatwick to Egilsstadir, in the east of Iceland, just launched, the country is expecting record numbers this year.
A windfall if it rains!
In a bid to entice visitors back to its rain-soaked shores, an Italian seaside resort is offering holidaymakers money back if wet weather spoils their time on the beach. The tourist board in Jesolo, near Venice, said it would refund the cost of hiring a sun lounger and parasol if hourly rainfall exceeded 3mm between 11am and 5pm. But to benefit from the offer, tourists must spalsh out an additional euro for rain insurance!
Cornwall creams off the bookings
Booking for holidays to Cornwall have soared following the Euro referendum. One local cottage renting company has reported a 40 per cent increase in business and others have seen a surge in booking inquiries over the past few weeks. Lots of requests are from families looking for longer breaks during the school holidays. But they will be jostling for space with European visitors keen to cash in on the weakened pound.
Unimpeachable service at Watergate
It represents the high watermark of US political scandal - leading to the downfall of President Nixon and even spawning its own suffix. Now Watergate is back in the spotlight with the re-opening of the complex's hotel after a two-year £88m overhaul. The sail-like building on the banks of the Potomac River, in Washington, now has a huge spa, 336 retro-styled rooms and a rooftop lounge with views of the Washington Memorial. And the service is unimpeachable.
San Francisco upsets Airbnb
Airbnb, the beating heart of peer-to-peer holiday accommodation, is suing San Francisco, the city that gave it life. The law suit has been filed after the city's board of directors approved legislation that will penalise the rental-sharing platform with hefty fines if its users offer short term lets for entire homes without first registering with the authorities. Airbnb, founded and based in the West Coast city, is seeking an injunction against the legislation, which it says violates federal law protecting internet privacy.
Nightmare for Dreamland
Dreamland at Margate has entered administration just a year after an £18 million refurbishment - and is now offering free admission. The twenties pleasure park in Kent, which boasts Britain's oldest rollercoaster as its star attraction, has only had half the expected number of visitors. Entry is free, but thrill-seekers will now have to pay for the rides as they go.
Security tight at Orlando
Visitors to Orlando this summer can expect enhanced security measures, following the shooting dead of 49 revellers at the Pulse nightclub and the death of a two year old boy snatched by an alligator on a Disney World resort beach. Now you can expect metal detectors, dogs, officers and random checks at entrances to theme parks. But tourism officials are confident that the high level of security won't put off visitors.
Wild about the safari app
Controversial smartphone apps that allow safari-goers to share their sightings of wildlife may be banned after South African officials reported a surge in overcrowding and reckless driving in the country's national parks. The Latest Sightings app, for example, designed by a 15-year-old boy, lets users upload geotagged sightings to create a real time map of animal movements. The result, according to park officials, has been an increased rate of lawlessness, including congestion, speeding and road kills.
Quirky hotel of the month
A roaring time in Sydney
Make close connections with some amazing Australian wildlife with an overnight stay at Sydney Zoo. The 'Roar & Snore' package includes a stay in a purpose built tent with gourmet buffet dinner, a 90 minute night safari in the zoo, all with sensational views of Sydney Harbour.
Wake to the sounds of the animals at the start of the next day and tuck in to continental breakfast before some behind the scenes exclusive experiences.
Prices start from £199pp based on twin/ double share. (Tents sleep 2-4 people)
What people are saying
A selection of customer comments from Trust Pilot
How we saved money on our cruise.
This was a first for us, using DialAFlight. We were going to connect with a cruise in Alaska and needed accommodation near to the departure port as well as flights since Alaska is not direct from the UK. Also flights back from Vancouver where we docked. Naturally we were apprehensive with such a long journey.
But DialAFlight arranged it all perfectly, even changing our outward flight to get us the best deal, not once but twice, and dealing with all the alterations that the airline imposed, since we booked up long before our departure date. Everything went smoothly and we also saved by not using the cruise line for flights, so win/win. It's certainly an agent we can recommend.
John Chapman

gave DialAFlight 5 stars on Trust pilot.

Sparkling footnote: John's name was pulled out of the hat in our monthly Trust Pilot draw and a case of Prosecco is on its way to him.
Other companies should learn from DialAFlight
The service is excellent. They take time to talk through what you want and keep in touch. We even phoned from Tokyo with an issue (which turned out to be imaginary) and they phoned us back with reassurance. Other companies can learn from DialAFlight's customer service.
G L

gave DialAFlight 5 stars on Trust Pilot.
Toronto is a great place to change planes.
I usually use BA or AA for flights to Texas. But thought I would try DialAFlight this time. I am so glad I did. Graham organised a direct flight going, and a return via Toronto. It was a great idea as it broke the return flight into two parts with a rest and a nice meal between flights.
Brilliant service and great communication. Can't praise this company enough.
Mr Latty

gave DialAFlight 5 stars on Trust Pilot.
You can't find service like this!
I've recently returned from a holiday to Canada which I booked through DialAFlight. This is the second time I have trusted them to organise a big trip for me and would not hesitate in using them again.
I made one call and was put through to Reggie. I explained about the wedding I was attending, where it was and what areas I wanted to be in while in Canada (Toronto, Jordan and Niagara) Reggie took all the details down, did a quick search and called me back. He outlined everything I needed and I feel he almost tailor made this holiday for me around my requests.
Reggie sorted out the flights, which were great, car hire which was spot on and hotels which could not have been more perfectly situated even if I'd built them myself. After I'd booked, I had several emails from DialAFlight with the itinerary, hotel vouchers as well as several calls making sure I had everything I needed.
This type of service you just don't get from your high street travel agent. Top class service. Thank you.
Marc Durrell–Johnson

gave DialAFlight 5 stars on Trust Pilot
Read more reviews at https://uk.trustpilot.com/review/www.dialaflight.com
What's on offer?
A selection of this month's top money savers...
Escape the stresses and strains of everyday life with a 7 night stay at the heavenly 5 star Tanjong Jara Resort on the unspoilt east coast of Malaysia. During your stay you'll enjoy half board as well as a complimentary couples massage. Special airfares are included with Malaysia Airlines. 7 nights from £499pp when you travel before 30 November. Book by 14 July. Why not upgrade to Business Class from as little as £800pp?
Enjoy peak season savings at the sensational Spa Village Resort Tembok, Bali with our special offer which includes full board, return airport transfers as well as a romantic sunset cruise all from £799pp. Also included are special fares from Malaysia Airlines when you book by 14 July. Valid for travel until 30 November 2016.
Step aboard the stylish Norwegian Epic and cruise the Western Med from the comfort of a Balcony Stateroom. Starting and ending in bustling Barcelona, you'll enjoy days in Naples, Rome and Florence before two days in the south of France. Save 10% with our full board offer, including flights from Gatwick all from £985pp. Valid October 2016
Escape to the Indian Ocean paradise of Mauritius with 45% savings at 5* The Westin Turtle Bay Resort and Spa. Our offer includes 7 nights in a Beachfront Deluxe Room as well as half board, transfers and flights with multi award winning Emirates from a choice of UK airports from £1349pp. Offer valid for travel 11 Aug- 23 Sep.
This fantastic 5 star hotel is offering savings of £1200 per room on 7 night all inclusive stays in its Hacienda section. Guests will also receive a 4 category room upgrade to a Deluxe Platinum Grand Sky Terrace and $1500 resort credit, so you'll barely need to spend a penny in resort. Travelling with kids? The hotel is also offering up to 2 free child places for children under 12 sharing a room with two adults. Flights are included with Virgin Atlantic, all from £1375pp when you travel 1 Sep- 24 Oct. Ask about 'Heaven', Hard Rock's dedicated adults only section.
Save 10% on a 12 day self drive tour of South Africa's spectacular Garden Route. Wildlife-spotting, deserted sandy beaches, sheltered lagoons, bush land and mountain passes await as well as an exciting safari for good measure. Experience it all from £1399pp including flights from London. Valid for travel 11 Aug- 3 Dec 16.