I used Airbnb and found a Banksy
DialAFlight MD Peter Stephens tries out the internet phenomenon and gets a surprise
Would you use Airbnb?
In France outraged hoteliers are demanding the authorities ban it. In New York so many people started using it that the State has been forced to change the law to allow people to rent out their homes.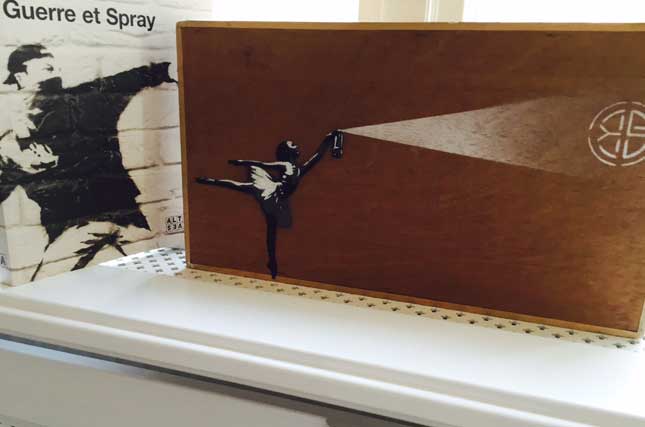 The Banksy I discovered in my apartment
Airbnb is an online marketplace where people can rent their homes to paying guests with each side completing an eBay style rating which keeps both parties on their best behaviour. My daughters and their friends are all fans.
Staying in private homes of course isn't new. Back in the Seventies I spent wonderful summers jumping on and off ferries around the Greek islands staying in the homes of locals. This was Airbnb before the internet. Mykonos was then a quiet island without an airport or any hotels and private homes were the only option. They usually had nylon sheets and smelly toilets but it was real life and it was a chance to meet some fascinating people.
These days I prefer something more comfortable. But I recently agreed to help out with childminding duties when a daughter was on a course in Eastern Europe so I was both intrigued and a little sceptical when she booked our accommodation through Airbnb.
Soon afterwards I found myself entering an austere former Communist housing block off a main shopping street in Budapest.
Dubiously we opened the door of number 16 to find a bright modern apartment and a huge surprise. Incredibly, a real Banksy on the wall! And not just one Banksy but two. One was a typical spray job on the back of an upturned drawer and the other a £10 note bearing Princess Diana's face.
A £10 note bearing Princess Diana's face
The owners who live in Paris, and are clearly the people French hoteliers are complaining about, are collectors of graffiti art and these were just two of several pieces on display. The art was worth more than the entire apartment. As for the accommodation, it was fine.The aircon didn't work well, it was noisy and you couldn't describe the apartment as spacious but it wasn't bad value.
So am I a convert?
Airbnb seems to work well for thirty somethings on a budget but it's a bit of a lottery and you have to take the rough with the smooth. One place I heard about was decorated like a porn palace and another like an old junk shop.
On this occasion we struck gold. But I don't need surprises when I travel so those grumpy French hoteliers can still rely on my business.
Over 40? Insure you're not ripped off
Five ways to make sure you get the best deal
Despite popular belief, there are quite a lot of rewards in getting older...and having the time and money to travel is obviously one of them.
No worries: Don't let the cost of travel insurance ruin your holiday
But when it comes to trying to get travel insurance at a reasonable rate for all those wish-list destinations there are no grey areas - the more ancient you are the more you will have to pay, and in some cases the increases are exorbitant.
And it's no good pointing out how young and fit you feel and how you haven't had a day's illness in your life. Once that date of birth has been inserted into the insurance company computer you can expect to be charged a lot more to get covered.
We're not just talking about those who have reached pensionable age, there is often a steep rise on the cards after your 40th birthday. And to rub salt into the wound, many insurers won't even consider covering you at all when you have passed the magic age of 65.
And if they do, premiums commonly double again and then continue to rise as you pass 70 and up.
These price hikes and cut off points are despite the fact that older travellers are wiser and more experienced and certainly a lot less likely to get injured pursuing some adrenaline-fuelled activity or end up in hospital after diving into the shallow end of a swimming pool after a night on the tiles.
The response from the insurers is that the higher rates reflect an increased risk of other types of medical claim, which are also among the more expensive to settle. Older people, they say, fall ill more regularly, have to stay in hospital longer and are more expensive to treat.
And these companies make sure they win both ways - an insurer won't offer you a discount for being fit, but if you already have an illness or health issue there is a good chance, if they are prepared to cover you at all, that you will be charged even more and they will probably insist on an exclusion clause for related treatment.
So what do you do about it? The Daily Telegraph's travel expert Nick Trend has been researching the problem and offers the following advice:
Shop around and find a specialist insurer, and there are plenty of them.
Buy a multi-trip policy. If you travel four or five times a year or more it will probably be cheaper to take out an annual multi trip policy which will cover you for all travel you do in that year.
Cut your cover. Many policies are now flexible and you can remove some cover, lost or stolen baggage for example, and reduce premiums as a result.
Declare any health problems. If you don't, a claim could be refused and you might be left without any cover at all.
Check activities. If you like to keep fit during your holiday check through which activities are included or excluded to avoid being caught out if you suffer an injury and face an expensive hospital bill.
My best holiday ever
Maria Sharapova needs more than a Thai break to keep her happy
How often do you travel?
I'm off somewhere every month and spend a lot of time on planes flying between countries on my busy tournament schedule.
What do you need for a perfect holiday?
I love to go to a place with a perfect beach where I can relax and clear my head. My favourite beach in the world is Longo Key near my home in Florida. It's just a few minutes walk from my house and it is the quietest, most serene place in the world where I can release all of my energy. Privacy is also essential for any holiday as are a good glass of sangria and great company.
Tennis star Maria Sharapova needs more than a Thai break to keep her happy
How do you like to spend your time on holiday?
I'm excited to experience different cultures, local cuisines and customs. If I am in a big city I try to see and do everything possible. I keep recommendations from friends and magazine articles in my journal and make the most of the places as soon as I arrive.
The most beautiful place you have competed in?
Being in Paris for three weeks during the French Open is always very special. Between matches and training I try to go to a different part of the city each time and find a restaurant or boutique I have never been to before.
Most romantic place you have been to?
The Amanwana Resort in Indonesia. I took a sea plane to this small island, stayed in luxury tents with monkeys and deer greeting us every morning. Swimming in the ocean at sunset was also magical.
Worst travel experience?
I've not had any terrible travelling experiences and I try to find the positives in every place I visit. But during some of my junior tours I stayed in some interesting hotels, a few of which may have been former jails and they weren't very pleasant
Best piece of travel advice?
Less is more when you pack for a trip. You can find most essentials where ever you are in the world so don't worry if you forget a few things. The stress of making sure you have everything can be overwhelming before you have even begun your trip.
To read the full interview visit www.telegraph.co.uk
Travel Gossip
A comeback for Concorde and a setback from El Niño
The perfect place to refuel in Norway
Drumming up business
If you are running on empty a quirky new hotel in Norway is offering the perfect place to refuel - it's a converted oil tank. The architecture may be a matter of taste, but the views are second to none as it is perched on a hill on the island of Skrova overlooking the beautiful sweeping island studded seascapes of the Lofoten archipelago. It sleeps up to seven and there's a hatch leading to the roof which has a hammock for Northern Lights spotting.
Fancy Boeing straight to Vietnam?
Following the successful launch of its brand new Boeing 787-9 Dreamliner aircraft on UK routes in September, national carrier Vietnam Airlines has announced its new schedule for this winter – including a new additional weekly nonstop flight to Ho Chi Minh City. The airline is now operating six nonstop flights per week - three each to Hanoi and Ho Chi Minh City – and remains the only airline to offer direct flights between the UK and Vietnam. Departure times from Heathrow have also been brought forward to 1100hrs, improving options for onward flight connections within Vietnam and Indochina.
Comeback for Concorde
The supersonic airliner Concorde could be breaking the sound barrier again after a group of enthusiasts secured £120m to relaunch the iconic jet which has been grounded since 2000. Club Concorde, which consists of former pilots, charterers and frequent flyers, says flights could begin by 2019. But those hoping to reach New York in three hours will be disappointed - the plan, says the club's president Paul James, is to operate her as a private heritage aircraft under neutral livery.
Good training for Catholics
The Vatican is offering the chance to ride the Pope's private railway as part of a new tour. Departing from beside St Peter's Basilica, the train follows the 1,000ft track into the heart of Rome, then heads up to the Pontiff's summer palace, Castle Gandolfo, in the hills south of the city. The tour costs £30 and includes access to the Vatican's museums
Magaluf to go upmarket
It may not be Happy Hour around the clock in Magaluf for much longer as the local authorities are trying to take the resort upmarket. You might think that would mean bulldozing those ugly high rise hotels built in the Seventies? But sadly no. Hoteliers are being asked to upgrade their hotels and charge higher prices while local restaurants and bars are being asked to go upmarket and give a better service. We wish them luck.
Cathay steers clear of Iran
Cathay Pacific has broken ranks with the airline industry by announcing that it will no longer fly over Iranian air space. Following a safety briefing by the European Aviation Safety Agency (Easa) the Hong Kong based airline said it was suspending flights over Iran and the Caspian Sea due to safety concerns over Russian missile launches in the region. So far Cathay are the only airline to take this action.
It could be a Paddling Bear in Peru
Tourists heading for Peru should be prepared for challenging conditions this winter as a record-breaking El Niño is poised to bring weather chaos to the region. It is feared that floods and landslides could cause the widespread destruction of roads and bridges and there are also public health concerns with the expected flooding increasing the chances of mosquito-borne diseases.
Poisoned Ivory
Ivory poachers have used poison to kill at least 37 elephants in Zimbabwe's premier safari park, rangers report. The poachers struck in Hwange National Park - where Cecil the lion was shot - and have been lacing natural salt licks with cyanide in their determined quest for elephant tusks.
Quirkiest hotel of the month
A Star Wars style hotel for star gazers
Elqui Domos is out of this world
This astronomic hotel is said to resemble the planet of Tatooine from Star Wars so you'd be forgiven for thinking that it has an appearance and name more akin to a galaxy far away than Chile's majestic Elqui Valley.
Whether you're a Star Wars fan or an ardent star gazer, the hotel was built to enable guests to observe and enjoy the grandeur of the night sky with accommodation boasting a detachable roof that can be opened up to watch the stars in bed.
Hotel guests have two categories of accommodation to choose from: Dome Rooms and Observatory Rooms. The former category comprises geodesic structures with an outside deck, living room and bathroom on the lower floor and a double bed on the upper floor complete with a detachable roof.
Observatory Rooms consist of wooden cabins located on the upper part of the land which feature three levels of living space including a deck which offers direct sightlines towards the Elqui Valley's dramatic scenery.
Other services provided by the hotel include astronomic tours, day and night horseback tours as well as reiki, massages and meditation.
A Mile High mystery
Unnamed airline sacks stewardess for offering extra services
A Mile High mystery - Unnamed airline sacks stewardess for offering extra services
Airlines are forever dreaming up little extras to win premium passengers. But a Middle Eastern airline was surprised to discover that one of its cabin crew had her own menu of extras which included joining the Mile High Club for £1500.
The airline has not been named but Saudi Arabian newspaper Sada reported that the flight attendant was immediately sacked and deported. It also suggested she might have made £650,000 on flights from the Gulf to the US during a two year period.
Earlier this year it was reported that some cash strapped air stewardesses in Japan are turning to prostitution in order to supplement decreasing wages and are regularly paid to sleep with the pilots.
Mailbag Update
Feedback helps us improve. Here's what people are saying...

Trip to the Taj Mahal
My mother wanted to celebrate her 83rd birthday visiting the Taj Mahal and as I have used DialAFlight before I asked them to organise the trip for us. Our Travel Manager Elliot did a fantastic job. My mother had limited mobility and their agents Tamarind Travel in Delhi organised a wheelchair for her to use for the whole of our trip and even had someone wheel her around when we got to the Taj Mahal, which was amazing.
Our guide was very informative and helpful so were the staff at our hotel. In all it was a wonderful experience. I would recommend it to anyone who have never visited India.
Ms Donna Murdock travelled to Delhi, May 2015

Outstanding!
Just returned from a Canada/USA holiday. The service I received from Charles was perfect. Charles has planned and booked several holidays for my family and we have never been disappointed. Our recent trip was, once again, excellent. The hotel choices recommended by Charles were excellent. We were surprised to find the hotel in the USA was a suite, which was perfect. I know when I book with Charles the holiday is going to be stress free without any hidden costs. Thank you Charles.
Pat Bojduniak Flew to Toronto, October 2015

Peru adventure
Ralph provided first class assistance in putting together our itinerary for an amazing 11 day trip to Peru via Madrid. He customised the itinerary to accommodate our wishes to see Lima, Cusco, Macchu Picchu combined with a 3 day excursion to the Amazon Rainforest with a weekend stop in Madrid on the return journey.
The accommodation transfers and tours chosen by Ralph exceeded our expectations and we would thoroughly recommend using DialAFlight and Ralph to help plan and book a trip.
The service we received from the local agents chosen by Ralph were excellent and made for a very smooth and enjoyable holiday in locations where English was not the first language. Their involvement no doubt saved us time, money and gave us peace of mind throughout.
Ralph took care of all the bookings and was always accessible if we had any questions or required alterations to our booking. Thank you Ralph and DialAFlight we look forward to booking another holiday with you in the future.
Tim Watts Flew to Lima, August 2015
Sparkling footnote: Tim's name was pulled out of the hat in our monthly Trust Pilot draw and a case of Prosecco is on its way to him.
What's on offer?
A selection of this month's top money savers...