Why you'll never find the best prices online
Research reveals pricing trickery with some online travel sites
It's amazing how many people believe they'll find the best prices online when the odds are stacked against them.
Recent research found large online companies using pricing tricks to fool consumers with some even changing prices according to whether you are on an Apple MAC or a Windows PC. Apparently one group has more spending power than the other.
Misleading 'sales' were just one pricing trick used on a holiday to Mauritius
A customer checking one of the largest online sites found that when he deleted all the cookies from his computer the price of a flight dropped by £200. Others found they were being offered higher priced hotels as a direct result of their previous searches.
Even airlines have come in for criticism by Which? magazine after tracking prices on two major airline websites. In April they found a package to Mauritius on sale with one for £1670 which dropped to £1485 three days after the sale ended and another heralding the end of a sale on emails and their home page more than once.
And Price Comparison sites have come in for criticism from Channel 4 Dispatches this week for featuring only those companies which pay them. That's why you'll never see us on them.
We're there to help our customers through the smoke and mirrors but our advice to anyone doing their own thing is to make sure you delete all cookies before you go online.
Caveat emptor!
What's Up? What's Down?
Car rental muddle, the Superman experience and private jets
Getting the Superman experience
Rising from the ashes of 9/11 in New York is the newly opened One World Observatory. It's the tallest building in the Western Hemisphere and the 102nd floor viewing gallery is now open to the public for an entry fee of £20.
The high tech experience includes City Pulse, a circular bank of television screens which can take you on a virtual flypast of any of the city's sights. A separate section projects a video feed of the traffic below giving you the sensation of hovering above the city so you'll feel just like Superman.
Private jets take off as economy booms
It is said that you can spot a booming economy by counting the number of cranes towering over a city.
We think the same is true of private jets with figures this week showing that Britain now has the second largest number of private jets in Europe close behind Germany.
And Luton has become the fourth largest airport for private business flights after Geneva, Paris and Nice.
Wheels come off in Car Rental muddle
Massive confusion this week as the DVLA scraps the paper part of the Driving Licence. They advised drivers can get a unique code from the DVLA website allowing rental firms to view fines and penalty points. And of course, the DVLA crashed under the strain.
All our suppliers in the USA and Canada are happy to accept the plastic licence without needing a code. It is the same throughout most of the world but in Europe we suggest getting a code as a precaution until the dust settles.
Anyone hiring a car in the UK will need a code.
New South African red tape may deter families?
Families visiting South Africa now need to prove parenthood or guardianship by providing a birth certificate at immigration for any child under 18.
Single parents need three documents. In addition to the birth certificate they need affidavits confirming the consent of the other parent and a court order confirming guardianship of the child.
And holidaymakers arriving with a child who is not theirs - perhaps a family friend - need four documents including copies of parents passports, affidavit and birth certificate.
All of this red tape is apparently designed to stop child trafficking!
My best holiday ever
While the Fat Duck is being refurbished Heston Blumenthal has relocated his restaurant to Melbourne where he is wooing the locals with his amazing skills.
Best holiday ever
I love skiing and my favourite resort is Courmayeur in Italy. It's a pretty town, the people are friendly and they serve the sort of hearty food you'd want to eat on a mountain. I was there earlier this year for the Mountain Gourmet Ski Experience with Sat Bains and Marcus Wareing. It was mostly work but it was one of the best ski breaks ever and I laughed so much that I lost my voice.
Most relaxing holiday
In March my partner Suzanne and I spent six days at the Amanpulo resort in the Philippines. The weather was just right and I ran round the island every day. I can tell I've relaxed when my mind starts opening up and the creative juices start to flow.
Favourite hotel
At the moment it's the Crown Towers in Melbourne. It's unbelievably well run and although there are casinos it's nothing like Las Vegas. The Mandarin Oriental in Paris is great too
Favourite city
If you want Zen purist food the best cities for it are Tokyo and Kyoto. Paris is best for 3* Michelin French fare. For quality casual dining, New York, London, Sydney and Melbourne are the best cities. There are so many great little restaurants in Melbourne that you could eat out for a month and not visit the same place twice. It's such a vibrant city, with beautiful beaches, keen food lovers and amazing ingredients.
Best piece of travel advice
Always put your watch and your mind on the time of the country you are flying to. Try to get a night flight and when you arrive, do some exercise. If you're not into exercising, then walk for an hour. Just make sure you get some air and see the light of day.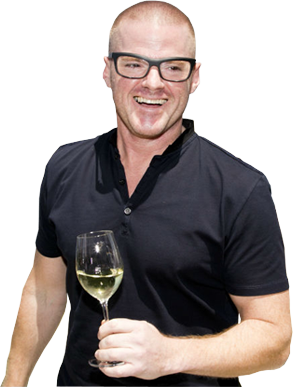 To read the full interview visit www.telegraph.co.uk
Our new app
New app makes life even easier for DialAFlight customers
DialAFlight App features
A complete travel itinerary on your phone or tablet including updated flight status. Download your complete itinerary and this will be updated while you are travelling. It will also update your flight status within four hours of departure showing whether your flights are on time or delayed.
Find your way back to your hotel. Never get lost in a foreign city again. Simply hit the button 'Find My Hotel' and the app knows which city you are in and where you are staying showing you the way back to your hotel.
Hotline to a specialist travel manager. One button gives you a hotline straight to your travel manager and also gives you an alternative contact should that person not be available.
Check-in online. This feature allows you to check-in online with your airline directly from the app.
Download the DialAFlight App here
Mailbag Update
We love feedback as it helps us improve.
Here's what people are saying...
Amazing service. Second to none.

My mother recently booked a flight from the UK to Australia with DialAFlight and the service we received from Otis was exemplary and we felt compelled to let you know that your team are doing a great job.
I myself am a Marketer with key expertise in brand and customer experience and it's not often that I find companies that do this well. Otis took the time to help with changing a return flight and specially requested BA allow a Business Class upgrade as my Mum developed a minor DVT due to a long cold coach journey on top of a long flight.
Although the best option turned out to be a new Business Class ticket with an alternative route home Otis looked at every conceivable option and did so with aplomb. His customer service skills are second to none and my mother and I are extremely grateful for his attention and care.
The excellent service extended to your Reception as well. Jill was super helpful and extremely prompt! So great to see customer service across all touch points. I suspect this is a top down initiative from your leadership team and as customers this is greatly appreciated and acknowledged and we will book with DialAFlight again.
Once again a big thank you.
Honor Clarke from Australia
Flights that weren't available online

We did our own searches on the internet for cheaper flights. So we knew that DialAFlight provided us with flights we hadn't thought of.
They checked up with a phone call to make sure we were happy. I called twice to check on baggage allowance - only because I forgot and the airline didn't clarify on the flight summaries - the calls were answered quickly and each time I was put through to one of two people who were allocated to our flight purchase. It made it more personal and promoted confidence. I was very impressed and it took away a lot of stress for us.
Cassandra Hart | Posted 01 Jun | flew to Malaga
Amazing service once again!

I have used DialAFlight a few times to book holidays to Florida but I was unsure about using them for my trip to Canada as I didn't really know where I wanted to stay. I explained that I had job interviews in Kelowna but wanted to fly to Vancouver for a short visit.
Taylor, my travel manager suggested I fly to Vancouver for a really good price, stay in a hotel there which he sorted and then use the car hire he found to drive to the place my interview was and stay in a hotel there too. He sorted everything. I quickly relaxed knowing I did not have to search hotels, car hire or even worry about distance as he knew where was best to stay for me! I will certainly be using him again for my next holiday!
He told me about the app which allowed me to check my balance, all hotel, flight and car details and even allowed me to print off all vouchers needed and online check reference numbers. It was all done with ease and made a very nerve racking trip so much more enjoyable.
Soraya Zajac | Posted on Trust Pilot
Sparkling footnote: Soraya's name was pulled out of the hat in our monthly Trust Pilot draw and a case of Prosecco is on its way to her.
What's on offer?
A selection of this month's top money savers...