Thailand is famous for its street food. Adventurous and exciting, the culinary showpiece undoubtedly can be found on the bustling streets of Bangkok. Here are some of the best bites to sink your teeth into and where to find them.
So, where in Bangkok should you go? And what to try?!
As odd as it may sound, one of the first places you should head to for some Thai street food, is Chinatown. Known locally as 'Yaowarat', this is the birthplace of streetfood in Thailand and to this day remains an important part of the local food culture. Downtown is also where you'll find some of the best 'sukiyaki' anywhere. A concoction of seafood, egg and noodles, with a helping of chili sauce and pickled garlic may not be the most attractive on the eye, but it's popular for a reason.
Satay is the staple here, with meat slathered with a peanut sauce grilled right before you with a relish (or ajad) made of chillies, shallots and cucumber. Think you've had a satisfying satay before? Wait until you head to Jay Eng for lunch! Perfectly cooked, tender meat accompanied by the most fantastic nutty sauce will leave your lips smacking with delight.
Easy to navigate yourself to and boasting a smorgasbord of offerings, Siam is a foodie's best friend on a trip to Bangkok. It's a large place and you can get lost without directions, though the waft of delicious food will ensure that you never go hungry here. One place that comes with a high recommendation is Som Tam Nua, where you'll find some of Thailand's most iconic dishes, brilliantly executed.
Watch your food being prepared right before you at Som Tam Nua
Curried crab might just be the best treat for you. Might need a napkin though!
With all food made to order here, waiting for your food will only build your appetite as you enjoy the spectacle of the kitchen before you. The chicken wings and Som Tum are two understandable favourites here, with the latter being served with pork sausage and crackling for a real treat. Also more than worth a visit is Somboon Seafood (be careful not to go to Somboon Dee), although you'll need to be prepared to beat the crowds. The curry crabs are a serious showstopper which you're unlikely to beat elsewhere.
Bangkok's old town shouldn't be ignored either, with yet more street food tempting you as you journey along, promising some of the best examples of more Thai favourites. Jay Fai's spicy lemongrass soup with seafood, or "tom yum talay", may be pricier than other dishes you'll find but it is one of the finest dishes prepared by one of Bangkok's best street food cooks - her "drunken noodles" are also certainly worth a try.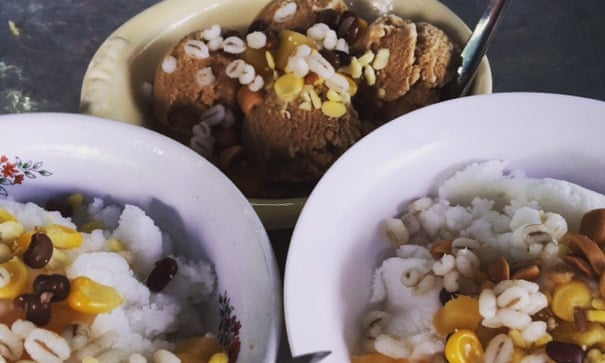 Something for afters perhaps? Why not try out Nuttaporn Ice Cream? Ranging in flavours from coconut milk, to mango, coffee and beyond, you can enjoy this treat with your choice of topping to make it an extra special treat you'll want to take home. Try yours with roasted peanut, shredded coconut, red beans or even sticky rice for a unique sweet snack!